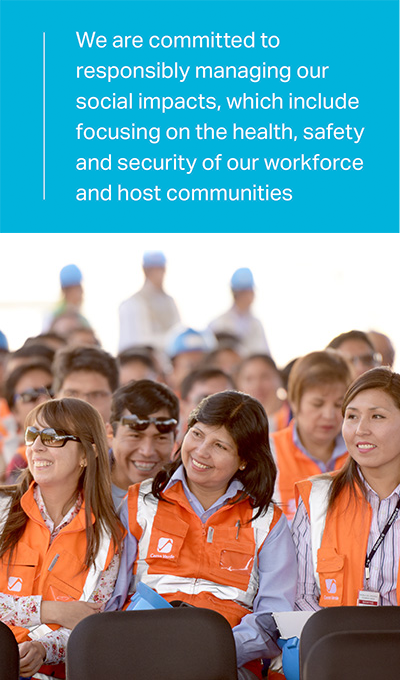 At the core of our business is people. At each of our operations, Freeport-McMoRan aims to be a preferred employer, neighbor, business partner and supplier. We are committed to responsibly managing our social impacts on people, which includes focusing on the health, safety and security of our workforce and host communities and respecting the rights of people who may be impacted by our business.
We believe our greatest strength is our people. We respect and value the different ideas, beliefs, experiences, talents, skills, perspectives, backgrounds and cultures of our workforce. We strive for, promote and foster a workplace where everyone feels a sense of belonging, is treated with respect and their opinions are valued.
Freeport-McMoRan's global workforce is the foundation of our company's success. Our workforce is passionate about supporting the communities where we live and work and making a positive impact in the world.
In the communities where we operate, we aim to work in partnership with our local stakeholders to understand their needs and support them in developing their own sustainable futures. We are deeply committed to supporting the health and well-being of our host communities, including the indigenous peoples near some of our operations, by supporting education, health, capacity building and economic development.
Our various global policies – Community, Safety and Health, Human Rights, and PBC – and our commitments as a founding member of ICMM collectively outline our expectations for helping to protect, support and champion people in a sustained manner. Freeport-McMoRan believes that when people are empowered to make decisions to determine their own future – whether it be our workforce or communities – we can transform tomorrow together.
WHY IT MATTERS?
Mining by its nature is associated with high-risk work that must be carefully understood and managed. On a daily basis, our workforce engages in activities such as drilling and blasting rock, operating heavy machinery, using chemicals, working with high voltage electricity, working at heights, working with high temperature materials as well as other complex tasks. At Freeport-McMoRan, our highest priority is the health, safety and well-being of our employees, contractors, suppliers and the communities where we operate. We understand that the safety of our people is critical to our operational success and efficiency and ultimately to our ability to deliver long-term value to our stakeholders. At the corporate level, we maintain subject matter experts (SMEs) who train, develop and support site teams, routinely conduct site visits and manage a group of site-based SMEs. Collectively, they are responsible for building technical expertise, ensuring consistency in our environmental programs, and sharing best practices.
OUR APPROACH
At the foundation of our sustainability approach – and one of our core values – is safety. Our objective is to achieve zero workplace fatalities and to decrease injuries and occupational illnesses. We are committed to providing a safe and healthy workplace and providing the training, tools and resources needed so our workforce can identify risks and consistently apply effective controls. We share information about potential fatal events, near misses and best practices throughout the company and engage with industry peers to continuously improve our health and safety performance.
During 2019, we developed a refreshed health and safety strategy and slogan, Safe Production Matters, to globally align priorities, empower safe work behaviors and strengthen our safety culture. We are focused on fatality prevention through the use of data and technology as well as behavioral science principles. We have identified key focus areas we believe will have the most positive effect on our health and safety success today and in the future. The strategy is being rolled out company-wide in 2020.
Policies & Programs
Safety and Health Policy – States our commitments, processes and management systems to meet our health and safety objectives.
Contractor Health and Safety Manual – Defines the minimum expectations and requirements for contractors working at our operations.
Occupational Health and Safety Management System – Our framework for managing risks and compliance obligations is certified in accordance with the internationally recognized Occupational Health and Safety Assessment (OHSAS) 18001 Standard. OHSAS requires third-party site-level verification of requirements, with a goal to prevent fatalities and reduce incidents. This standard is being replaced with the new ISO 45001 Health and Safety Management System, and company-wide conversion currently is expected to be complete in 2021.
Our Vice President of Health and Safety oversees safety in the organization, including implementation of company-wide initiatives, safety audit programs and incident investigations. Safety performance is reported regularly to executive management. The Board's CRC reviews adherence to our safety and health policy, safety statistics and trends, and incident reports and provides input on the overall direction of the company's health and safety programs.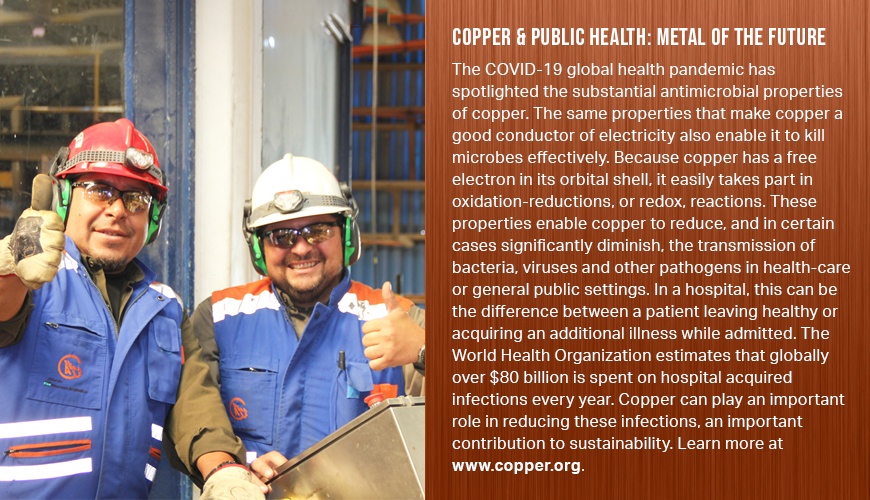 Fatality Prevention
Our Fatal Risk Management (FRM) program is aimed at achieving our objective of zero workplace fatalities by focusing on preventative measures. As part of the program, we seek to identify potentially fatal risks in the field and apply the controls most critical for avoidance. To date, we have identified 23 potentially fatal risks common to some or all of our operations and placed highly visible fatal risk icon placards at work areas where these specific risks are present.
Our FRM program is underpinned by our culture of Safe Production and leading by example at all levels of the organization. We expect every employee to take ownership of their own safety and the safety of their co-workers and the community around them. Our front-line supervisors play a vital role in reviewing assigned tasks for each shift and assisting crewmembers with identifying potentially fatal risks and ensuring everyone on the job is engaged and understands the hazards and required critical controls.
We regularly verify and audit our critical controls to assess their proper use and effectiveness. Critical control verifications prioritize high-risk tasks that rely more on behaviors than engineered controls and provide immediate leading indicator data to strengthen our FRM program as well as our overall health and safety system. We use a mobile platform that guides verifiers through a checklist to validate critical controls are in place and effectively implemented for a task with exposure to a fatal risk. The system captures any variance with our critical controls and allows us to create action plans to address these gaps.
Fatal Events
Regrettably, we incurred three fatal injuries in 2019: two from a single event at our Grasberg operation in Indonesia and one at Tyrone in New Mexico. In 2019, one fatality occurred related to a 2018 incident at our Chino operations in New Mexico (included in 2018 statistics per the date of the injury per U.S. Mine Safety and Health Administration (MSHA) requirements). While we have a strong culture of safety at all levels of our organization, these incidents underscore that we must do better.
To facilitate learning from fatal and potentially fatal events (PFE) and to help prevent reoccurrence, we conduct an investigation that includes a root cause analysis for every incident. Findings, including pre-incident failures and post-incident corrective actions, are formally shared across the organization. When a fatality or PFE occurs, we review the incident with senior management and site senior leadership to understand what happened, take corrective action as appropriate, and discuss opportunities for company-wide improvements. We also review and discuss all fatalities with the Board and the CRC.
We recognize the impact an employee's death or serious injury at work has on such employee's family, loved ones and co-workers. We initiate multiple steps of care after the initial emergency response activity. Generally, a primary family member is contacted and arrangements are made to transport the family members to the employee's location or vice versa. Whether or not the company is liable for the incident, the employee and their family members are cared for during the employee's entire hospital stay. In the case of a fatality, we help support funeral arrangements. In addition, evaluation of the incident is reviewed by senior leadership to determine compensation needs for the family, without consideration for liability and in addition to any local requirements.
Emergency Preparedness and Response
Emergency preparedness and response is a fundamental component of all Freeport-McMoRan activities. Through our Crisis Management Program and Sustainable Development Risk Register our operations maintain plans with procedures for preventing and responding to incidents that could cause severe or catastrophic harm to human health and the environment.
All operations are required to follow our Crisis Management Plan process that includes risk analysis by applying our Sustainable Development risk matrix to risk event scenarios with the intent to eliminate or mitigate the exposure. It also requires identifying the Incident Command Structure and coordinating activities with authorities, such as fire and police departments or federal officials. The plan includes evacuation procedures, employee safety procedures, environmental containment, communications plans and workplace assessments. Disaster recovery and business continuity considerations are core to the planning as well. Operations are required to conduct annual mock or live drills on plan scenarios.
Performance
We measure our safety performance through regularly established benchmarks, including our company-wide Total Recordable Incident Rate (TRIR), which includes employees and contractors. In 2019, we worked 142 million hours and recorded 526 reportable injuries during the year, compared to 131 million hours and 466 reportable injuries in 2018. Our 2019 TRIR was 0.74 per 200,000 man-hours worked, missing our 0.73 target for the year.
Part of the reason for the increased total reportable injuries and TRIR is due to low-energy events such as sprains and strains at certain North American sites, which has been a trend for the last several years. In 2019, we implemented an Industrial Athlete Program to help address and prevent the low-energy incidents through the promotion of pre-shift warm-ups. The voluntary program is designed to support our workforce in staying healthy and fit for duty.
Conversely, we are pleased to see a continued downward trend in the number of high-risk safety incidents, which reflects our sharp focus on workplace tasks with the highest potential consequences and critical control implementation to minimize risk and prevent fatalities. In an effort to better understand and define the spectrum of our high-risk recordable incidents, in 2017, we added an additional category to our risk matrix to quantify high-risk events as either "actionable" or "monitor." While we have always been focused on high-risk events, this change resulted in elevating more incidents to a higher level, which drove increased action items to help prevent reoccurrence. This explains the increase in high-risk events in 2017, and the subsequent improvement in 2018 and 2019, as the action items implemented supported the decreasing number of high-risk incidents.
WHY IT MATTERS?
Human rights are internationally recognized, defined in the Universal Declaration of Human Rights and codified in international law. Mining activities have the potential to impact the way people enjoy these rights – whether as employees, contractors, suppliers, community members, human rights defenders or others. Freeport-McMoRan recognizes that respecting human rights, as outlined in the UN Guiding Principles on Business and Human Rights (UNGPs), is an expectation of stakeholders that can influence our social license to operate and affect market access for our products. Not only does it make good business sense – treating people with respect is simply the right thing to do.
OUR APPROACH
Respect is a core value for Freeport-McMoRan. We are committed to respecting the rights of all people, including our employees, contractors and suppliers, community members, and others who may potentially be impacted by our business activities. We take this obligation seriously in all aspects of our business, and we expect the same of our business partners.
Not only is our responsibility to respect human rights a business imperative, we also believe it represents a unique opportunity. We aim to promote human rights through proactive engagement with host governments and communities and by providing training to our employees and contractors. Our corporate level Human Rights Working Group supports our site-level implementation of the UNGPs.
We participate in multi-industry dialogues on respect for human rights including Business for Social Responsibility's human rights working group, Sustainability 50's executive-level, peer-to-peer collaboration forum on human rights, ICMM's Community Support Working Group, and the Voluntary Principles on Security and Human Rights (VPs). These external initiatives, together with local and international-level stakeholder engagement, influence our human rights approach. We also continue to work with global risk analytics and advisory firm Verisk Maplecroft, which provides us with advisory support on our UNGP implementation and assists in implementation of site-level Human Rights Impact Assessments (HRIAs). HRIAs are the primary way we conduct specific human rights due diligence at our operations. They involve direct input from a broad cross-section of internal and external rights-holders and support continuous improvement of our management systems by testing their effectiveness in identifying and addressing potential, actual and perceived human rights risks and impacts.
We are always open to direct engagement with stakeholders on our human rights approach.
Policies & Practices
Our Human Rights Policy commits us to respecting human rights. The policy has evolved since it was first established in the late 1990s, and was most recently updated and approved by our Board in August 2017. It includes a commitment to conducting our operations in a manner consistent with the Universal Declaration of Human Rights, the laws and regulations of host countries, and the UNGPs. In the area of security, the VPs are the guidelines for our security programs, including interaction with host-government security personnel, private security contractors and our internal security employees.
Application of our Human Rights Policy is supported by our Principles of Business Conduct, Supplier Code of Conduct, and Responsible Sourcing of Minerals Policy together with our other global Sustainable Development (SD) policies and practices.
Principles of Business Conduct- Sets forth the global system of principles that our employees and members of our Board must follow in all activities. The PBC highlights our commitment to promoting the rule of law and respecting human rights.
Supplier Code of Conduct – Based on our PBC and sets forth our expectations for suppliers (including contractors) in areas such as safety, human rights, anti-corruption, community and environment. The company has incorporated standard language on human rights into our contract templates.
Responsible Sourcing of Minerals Policy – Adopted and published in 2019, commits our business to identifying and mitigating human rights violations in our supply chains of minerals and metals for our downstream processing facilities.
Other global SD policies include Anti-Corruption, Community, Environmental, and Safety and Health. These policies and supporting management systems along with relevant external standards and initiatives form the overall framework that guides our sustainability programs and management of salient human rights risks. Other external standards include the ICMM Performance Expectations and Position Statements and the Copper Mark responsible production framework.
Governance
Human rights falls within the scope of the Corporate Responsibility Committee (CRC) of our Board and our Sustainable Development Leadership Team (SDLT). Please refer to the Governance section for more information on both the CRC and SDLT, as well as examples of the topics (human rights and other) they considered in 2019.
Scope of Potential Human Rights Impacts
We developed a dashboard of human rights issues related to our operational activities to frame our UNGP implementation. The dashboard reflects the scope of our potential human rights risks and impacts as well as the scope of our HRIAs and our continued efforts to integrate human rights considerations across relevant business functions at our operations. Each dashboard topic is mapped to specific human rights to support a comprehensive, rights-driven approach. Certain dashboard topics such as artisanal mining and indigenous peoples may not be relevant at every operating location.
Salient Human Rights Issues
Our SD framework is implemented based on operation-specific factors and influences, including regional context, type of operation and social setting. Our Risk Register process plays an essential role in this regard, by prioritizing risks that could have the potential for negative consequences to our business and/or our stakeholders in relation to areas such as health and safety, labor relations, respect for human rights, the environment, community stability and economic impacts.
The global, prioritized outcomes of our Risk Register process (focus areas) are reviewed annually by our SDLT and communicated to members of our Board. We manage these priority areas as part of ongoing operations, including associated potential impacts on rights holders. Some examples include:
Health & Safety, including fatality prevention and occupational health
Security and Human Rights, including providing security for our operations in a way that respects human rights
Workforce, including labor relations, working conditions, non-discrimination, and the right to freedom of association and collective bargaining
Community Engagement & Development, with a focus on building trust, minimizing or mitigating any negative impacts from our operations, economic activities/livelihoods, public health and artisanal mining
Engaging with Indigenous Peoples, including respecting the social, economic and cultural rights of Indigenous Peoples and supporting their effective representation and participation in engagements with our company
Tailings Management & Stewardship, including having comprehensive measures in place to ensure that our facilities are designed, built, operated and monitored to minimize risk to employees, neighboring communities and the environment
Water Stewardship, including working collaboratively with stakeholders in order to secure access to water in a socially and environmentally responsible manner
Climate, including striving to enhance our resilience to the risks associated with climate change for our operations, our communities and our stakeholders
Responsible Value Chains, including working to identify and mitigate human rights violations in our supply chains using a risk based approach
Our approach toward and performance regarding our focus areas are described throughout our annual sustainability reporting. However, not all of our focus areas are salient at every operation. Salient human rights issues vary by site and are identified through our site-level Risk Register process as well as our site-level HRIA methodology. Please refer to our Due Diligence section for recent examples, such as our New Mexico operations HRIA.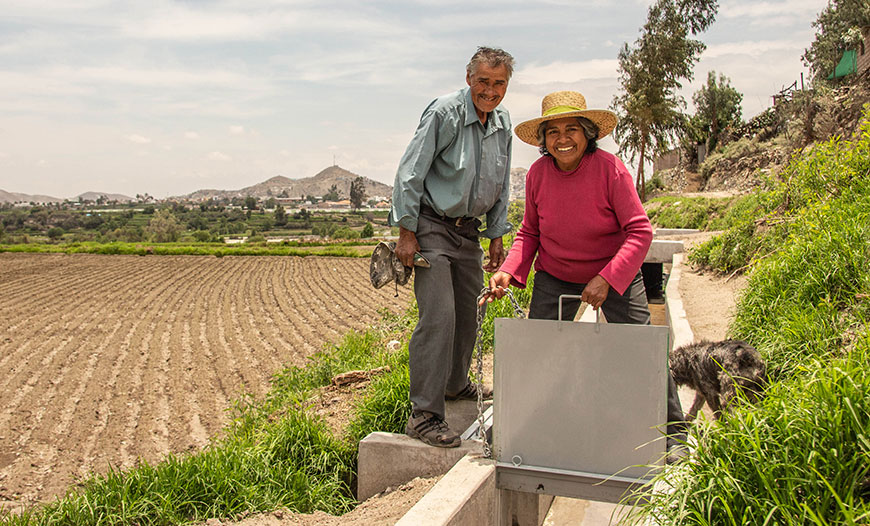 Day-to-Day Management
Each of our operating sites has an SD Leader that operates under the leadership of the site General Manager. Operations also have Community Grievance Officers who are responsible for community grievance management. At higher risk operations, our site-level Human Rights Compliance Officers oversee compliance and training activities, and manage grievance mechanisms for the reporting, documentation and remedy (to the extent possible) of human rights related allegations that are reported in our areas of influence.
Our corporate-level Human Rights Working Group, launched in 2018, supports our site-level implementation of the UNGPs and integration of human rights considerations across our business. The team is sponsored by our Vice President of Environmental Services and Sustainable Development, and is co-led by our Director of Sustainability Programs and Enterprise Risk Management, and, Manager of Business and Human Rights. The group is comprised of representatives from our Safety, Supply Chain, Human Resources, Sales, Security, Legal/Compliance, Environment, Community Development and Product Stewardship departments. The scope of the working group is reflected in our Human Rights Dashboard, which summarizes the human rights issues relevant to our operational activities.
The group met five times in 2019 and addressed key issues, projects and programs related to our Human Rights Policy implementation, including:
El Abra HRIA planning
Our new Responsible Souring of Minerals Policy and implementation
Our Responsible Sourcing of Goods and Services framework development
Development of site-level UNGP implementation guidance
Human rights related legal developments
Our performance in the Corporate Human Rights Benchmark
Human Rights Defenders
Violence against human rights defenders has become an issue of global concern. Our Human Rights Policy commits us to respect the rights of all individuals who may be potentially impacted by our business, engage with affected stakeholders in the development of our human rights approach and prohibit harassment. This includes human rights defenders. We do not condone any form of violence against those who peacefully promote and defend human rights in relation to our activities and expect our business partners to do the same. We recognize the value of an active and open society supported by the rule of law and believe it is important that our stakeholders are able to express their opinions in a safe manner without fear of reprisal or persecution.
Stakeholder Engagement
We formally engage with a range of stakeholders on an ongoing basis, including employees, community members and other interested stakeholders, such as development institutions, investors, banks, NGOs, civil society, government, suppliers / contractors, downstream customers, responsible sourcing initiatives, commodity and trade associations, and international governmental agencies.
We engage with our employees through:
Various internal engagement efforts, including Internal company communications
Everyday interactions with frontline managers
Interactions with labor representatives
Training
Surveys
Formal internal grievance mechanisms
For more information on our ongoing internal stakeholder engagement, please refer to the Workforce section.
Each of our mining operations maintain five-year community engagement and development plans, reviewed and updated annually, that identify affected or interested parties for ongoing engagement and consultation. Our community engagement takes place in a number of different formats depending upon the cultural context. Issues raised by community stakeholders help inform each operation's SD Risk Register and assist in developing social investment strategies. Hundreds of individuals and entities are engaged annually through:
Community Development staff
Community foundations
Workshops
Participatory group panels
Town hall meetings
Surveys
Site-level community grievance mechanisms
For more information on our ongoing external stakeholder engagement and examples of how we have taken stakeholder input into account, please refer to the Communities and Indigenous Peoples sections.
External engagement also occurs through regulatory consultation processes with local governments and community groups, including indigenous peoples and vulnerable groups.
For more information on our ongoing external stakeholder engagement, including examples of stakeholder input and how we have taken such input into account, refer to the Communities and Indigenous Peoples sections.
At the international level, we engage the financial community, civil society, downstream customers, responsible sourcing initiatives, commodity and trade associations, and international governmental agencies to discuss and receive feedback on our human rights approach. Our Annual Report on Sustainability is a key communication tool that supports our direct engagement efforts. For additional details, please refer to the Stakeholder Engagement section. Refer to our 2019 Report to the VPs Plenary for examples of how we engage on security and human rights with fellow Voluntary Principles members (government, NGO and corporate) at the initiative level.
Communication, Training and Awareness Raising
Employees. We are guided by our PBC, which defines the expected behavior of all employees and our Board – including respect for human rights. Per our annually recurring, company-wide performance target, we conduct comprehensive training on our PBC including annual certification by management-level employees and induction training for all new employees. This process requires employees to certify that they understand it and have no known instances of non-compliance. Managers and supervisors also are responsible for ensuring that the employees who report to them understand these principles.
In addition to PBC training, we promote awareness of our Human Rights Policy and the VPs among employees through a variety of mechanisms, including annual classroom and online training, the distribution of pamphlets and other media and periodic training. Please refer to our 2019 Report to the VPs Plenary for more information on human rights and security training for employees.
In 2019, we also organized webinars to deliver UNGP implementation guidance to SD Leaders across sites. This included highlighting the linkages between the UNGPs and other ICMM Performance Expectations/Copper Mark requirements with a human rights nexus.
Suppliers and Contractors. We have incorporated standard language on human rights into our corporate contract templates. Suppliers receive and are expected to perform in accordance with our Supplier Code of Conduct. Our Supplier Code of Conduct is based on our PBC and sets forth our expectations for suppliers in areas such as safety, respect for human rights, anti-corruption, community and environment. For the purpose of the Supplier Code of Conduct, "Supplier" is defined as a business that provides goods or services to our company. A supplier may include suppliers, contractors, consultants, vendors, their subcontractors and any other contracted third parties.
On-site contractors are subject to an onboarding process that consists of a review of company policies, procedures, and security protocols, including validation of required certifications. This includes our Contractor Health and Safety Manual, which defines the minimum expectations and requirements for contractors working at our operations. As with our employees, site-specific health and safety training is conducted with contractors and tailored to task-specific hazards and critical controls. Our health and safety performance and associated reporting encompasses our direct employees as well as on-site contractors.
Some sites also provide targeted training on human rights and/or the Supplier Code of Conduct in addition to the on-site contractor onboarding process. Examples in 2019 include:
PT-FI's Human Rights Ambassador program provides representatives from contractor companies with "train the trainer" instruction on human rights and the VPs. Those trained are responsible to serve as Human Rights Ambassadors within their respective companies, promoting awareness of PT-FI's human rights policy, emphasizing shared responsibility in respect for human rights and delivering annual human rights training for their company's workforce conducting work in the PT-FI project area. In 2019, approximately 4,440 contractor employees and 450 private security contractor employees received induction or refresher training on either directly from PT-FI or via its Human Rights Ambassador program.
Cerro Verde conducts targeted training on its Supplier Code of Conduct for local suppliers of goods and services.. In 2019, 265 suppliers located in Arequipa and Lima were subject to this training.
Community members and third parties. Our engagement with communities and other third parties on our Human Rights policy and program varies by operation. For examples of how we engage with community members and others on security and human rights at our PT-FI operation in Indonesia and our Cerro Verde operation in Peru, refer to our 2019 Report to the VPs Plenary. Refer to the Due Diligence section for information on community engagement conducted for the New Mexico operations HRIA following our site-level HRIA methodology. Our Community Policy, Human Rights Policy and other SD policies are available to community members and other external stakeholders (local and international) in multiple languages in the Policies section of our website, as well as on the websites of our subsidiaries.
Risk Register Process
As we seek to further embed respect for human rights across our organizational activities, we use our Risk Register process to identify the human rights risks at each operation and address potential and actual impacts on rights-holders across risk categories as outlined in our Human Rights Dashboard. This process is informed by ongoing stakeholder engagement, grievance management and the results of HRIAs. Each of our mining operations and metals processing facilities maintains a Risk Register. These are implemented by SD Risk Register committees under the leadership of the SD Leader and site General Manager. Our Risk Register process falls within the scope of our annual external assurance program.
In addition to our Risk Register process, our Project Development Sustainability Review process supports the integration sustainability considerations into development or expansion project phases and is designed to help multi-disciplinary project teams to identify risks, unintended consequences, trade-offs and opportunities – including those related to human rights and security – so they may be addressed early and during each stage of project development. During 2019, PT-FI conducted a project development sustainability review for the construction of its new smelter in Gresik, Indonesia.
Audits and Assessments
To facilitate implementation of our policy commitments and objectives, including those related to human rights, we use a combination of audit and assessment programs along with an annual program for independent, site-level assurance of our sustainability framework and implementation of our ICMM membership commitments. Our site-level HRIAs help us apply a human rights lens to our established management systems and test their effectiveness in identifying, mitigating and remediating human rights risks and impacts. Please refer to the Audits and Assessments section for more information.
Performance Targets
We set company-wide performance targets to support key objectives, including in areas prioritized in our Risk Register. This includes a target of incurring zero gross human rights violations at our operations caused by our employees or contractors as well as a target of incurring zero fatalities. For a full list of our 2019 performance and 2020 targets, please refer to the Performance Targets section.
GRIEVANCE MECHANISMS & REMEDY
We have established grievance mechanisms for employees, community members, and members of our supply chain and others to report concerns. These mechanisms help us address concerns early and remediate impacts directly. Our grievance mechanisms support our commitment to remedy.
As highlighted in our PBC, we have an open-door culture whereby employees are encouraged to openly discuss any questions or concerns about the way we conduct business. This open communication is vital to our growth as employees, a team and a company. Each of our employees has a responsibility to immediately report suspected violations of the PBC, our policies and procedures, or the law to the appropriate personnel , including supervisors, local or corporate Human Resources representatives, local or corporate Legal department, local or corporate Compliance Officer, or others as appropriate. Our global, publicly available reporting channels associated with our PBC are available to our employees. They also are available to members of our supply chain via our Supplier Code of Conduct. We also maintain long-established, site-level community grievance mechanisms at our operating facilities per our Community Policy, as well as dedicated human rights grievance mechanisms at high risk operations. All of these grievance mechanisms are available in local languages.
We do not tolerate retaliation against anyone who raises a question or concern about our business practices in good faith. We are committed to:
Protecting the confidentiality of anyone who reports potential violations should they request it
Cooperating with human rights-related investigations
Supporting appropriate remediation for proven violations
Per our Human Rights Policy, use of our internal and external grievance mechanisms does not preclude access to judicial or other non-judicial grievance mechanisms. In the event of accusations made via a state-based non-judicial grievance mechanisms (e.g. such as proceedings through the OECD National Contact Points), we would participate in related proceedings constructively, cooperatively and in good faith.
The ICMM's updated good practice guidance on Handling and Resolving Local-level Concerns and Grievances, together with input from employees, community members and their legitimate representatives, is informing updates to our community grievance mechanism. This guidance integrates the effectiveness criteria outlined in the UNGPs. This initiative is in line with our policy commitment to engaging with affected stakeholders and their representatives in the development of our human rights approach.
While we seek to avoid causing and contributing to adverse impacts on individuals and communities, we acknowledge that they may occur. We are committed to providing for or cooperating in remediation of adverse impacts that are caused or contributed to by our business activities. Remedy can take a range of forms, including cessation of impact, apology, restoration of what was lost, cash or in-kind compensation, and / or rehabilitation through the provision of medical, psychological, legal or social services. Remedy also involves the identification of lessons learned and taking steps to prevent reoccurrence.

Grievance Mechanism
Target End User
Source
Examples
Freeport-McMoRan Compliance Line
Employees
Suppliers

Site-level Community Grievance Mechanisms
Community members and their representatives

Site-level Human Rights Grievance Mechanisms
Employees, suppliers (including contractors) and community members and their representatives
Freeport-McMoRan Contacts
Employees, suppliers (including contractors), community members and their representatives, and others
WHY IT MATTERS?
Freeport-McMoRan believes that diverse, inclusive and representative workforces offer a broad range of experience, knowledge, background, culture and heritage, which can drive innovation, enhance our operations and improve our relationships with stakeholders. We understand that our people are our greatest strength and are our competitive advantage. However, maintaining a skilled, stable and diverse workforce in the mining industry can be challenging due to the cyclic nature of mining tied to commodity price fluctuations, geographically remote operations, shifting local demographics, technological advances that are changing the way we work and competition for talent from both inside and outside of the industry.
OUR APPROACH
Freeport-McMoRan operates in regions of varying ethnic, religious and cultural backgrounds, and we often are the largest employer in our local communities. A key to our success is the ability to recruit, retain, develop and advance talented employees with diverse perspectives. We focus on attracting and retaining talented people by offering quality employment with competitive compensation and opportunities for professional development. We are committed to fostering a culture that is safety-focused, respectful, inclusive and representative of the communities where we operate.
Policies & Programs
Our PBC, Human Rights Policy, Supplier Code of Conduct and other core policies outline our company culture, our commitment to doing what's right, and the expectations for all employees and contractors. These policies are available in the local languages of the regions where we operate, and it is our expectation that our workforce understand and comply with our trainings, policies and procedures.
We respect the rights of our employees, including rights to freedom of association and collective bargaining and prohibiting forced, compulsory or child labor and human trafficking. We do not tolerate any form of harassment or discrimination against individuals based on race, color, sex, religion, national origin, disability, age, veteran's status or any other characteristic protected by applicable law.
For more information on our policies, please refer to the Business Integrity section.
PERFORMANCE
At the end of 2019, Freeport-McMoRan's global workforce was comprised of approximately 27,500 employees and 40,600 contractors. The change from the prior year of 26,800 employees was due to personnel increases across our North America, South America and European operations. Our largest was at our Safford operations in Arizona due to the development of the new Lone Star mine.
WHY IT MATTERS?
The relationship between a mine and local communities is dynamic. Mining is an inherently cyclical business with production levels and profits fluctuating over the life of the mine. While the majority of Freeport-McMoRan's assets are long-lived, mining resources are finite. We must aim to support our host communities during the entire lifecycle of the mine, not only managing and mitigating our impacts, but by providing sustainable benefits that will exceed the lifespan of our operations. Further, increasing automation and shifts in the global economy are changing mining methods, processes and labor requirements. Collectively, these challenges make it increasingly important for mining companies to work collaboratively with local communities to support them in developing the necessary skills and capacity to adapt and succeed over the long-term.
OUR APPROACH
Freeport-McMoRan works actively through engagement, investment and partnership activities to support our host communities in maximizing the social and economic benefits of mining. Our work increasingly is focused on supporting our communities to develop the requisite skills to successfully adapt to technological and economic changes in the future in order to reduce their dependency on mining over the long-term. This includes building a foundation of resiliency during times of commodity market fluctuations or other economic disruptions after fluctuations that may have social impacts.
While each of our community programs are tailored to the site-specific dynamics of the operation and host communities, our overarching objectives in partnership with our local stakeholders are to: (1) build enduring trust, (2) minimize or mitigate any negative impacts from our operations while maximizing the benefits, (3) support our communities in building resiliency and citizen well-being over the life of the mine, and (4) develop the skills and capacity to thrive beyond the mine.
Policies & Programs
Community Policy – Mandates engagement and collaboration with local communities to minimize and mitigate unavoidable adverse impacts while maximizing opportunities to deliver value from our presence.
Engagement and Development Plans – Each of our operating mine sites maintains a five-year community engagement and development plan, updated annually, which provides a strategic framework for their approach toward engaging with and providing development assistance to the communities and neighboring tribal stakeholders near our operations.
WHY IT MATTERS?
Indigenous peoples have been present for thousands of years in aboriginal territories around the world. These populations inhabit landscapes that collectively hold some of the world's most diverse people, languages, cultures and biodiversity. Freeport-McMoRan acknowledges that some indigenous peoples have historically occupied areas near our operations or have ancestral connections to these lands, and we are committed to engaging with these groups to establish and maintain long-term relationships built on transparency and trust that earns our social license to operate.
OUR APPROACH
Freeport-McMoRan's local stakeholder engagement and social investment objectives include formal interactions with indigenous peoples in Papua, Indonesia; Native Americans in the United States; and the traditional communities of Alto El Loa in Chile.
Our approach aims to respect the social, economic and cultural rights of indigenous peoples, including supporting their effective representation and participation in engagements with our company. This approach includes adherence to the ICMM Position Statement on Indigenous Peoples and Mining and working towards obtaining free prior and informed consent for new projects and material expansions of existing projects. Through ongoing engagement, cultural promotion and preservation projects, as well as training and development programs, Freeport-McMoRan seeks to address needs while being sensitive to cultures and customs of indigenous people.
AMERICAS
We continue to build our relationships with federally recognized Native American Tribes in the Southwestern United States, including the Hualapai Tribe, the San Carlos Apache Tribe, the Tohono O'odham Nation, the White Mountain Apache Tribe and other tribes that have historically occupied areas or have other ancestral connections to lands near our operations.
During 2019, we maintained our Native American College Scholarship Program, DreamCatcher entrepreneurship training program and San Carlos Training Institute to support skills and education development for tribal students. Over the last eight years, 286 college scholarships have been awarded to tribal members through our scholarship program, and an additional 67 women entrepreneurs from our partner tribes and the Navajo Nation have been trained to start or grow small businesses on their respective reservations through Project DreamCatcher. We also continued our Native American Partnership Fund that prioritizes funds to education and training, health and wellness, cultural preservation, economic development, and environmental protection and management programs.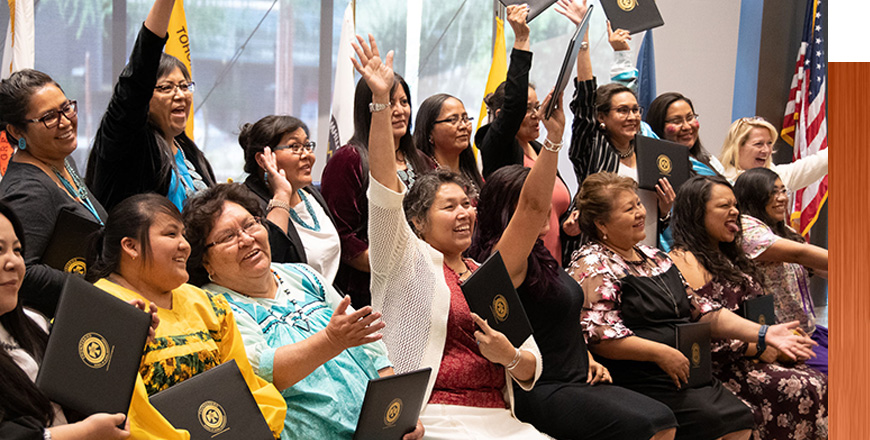 In May 2019, due to our ongoing commitment to respect the cultural heritage of Native American tribes and to further our mutually respectful relationships with both the Tohono O'odham Nation and the Mescalero Apache schools, we were invited to support and participate in the Mescalero Apache school and Mescalero Apache families' annual pilgrimage to an area near our New Mexico operations to harvest agave for their cultural use and dietary purposes. We hosted a similar event at our Sierrita operations for Tohono O'odham community members.
Our El Abra mine in Chile operates in close proximity to Alto Loa, which is comprised of 12 indigenous communities. In 2019, we were actively engaged with 15 indigenous groups near the city of Calama, including relationships with seven new indigenous groups that obtained legal recognition during the year. El Abra also continued its indigenous peoples apprenticeship program established in 2017 to provide work experience for students that have completed their post-secondary education. Seven communities currently participate in the program, and through 2019, more than 110 employment positions have been filled by members of neighboring communities.
INDONESIA
PT-FI has engaged with Papua's indigenous populations – the Amungme and Kamoro as well as the five neighboring ethnic groups – Dani, Damal, Nduga, Mee and Moni (collectively known as the "seven suku") – for decades through multiple formal agreements that promote workforce skills training as well as health, education, economic development, public infrastructure development, and participatory monitoring and evaluation of PT-FI funded projects.
PT-FI engages in continuous identification, analysis and integration of indigenous community members and organizations into its community engagement process.
PT-FI regularly discloses information to indigenous communities on the company's operations through: (1) continuous communication with the indigenous councils of the Amungme and Kamoro; (2) continuous communication with all PT-FI-impacted villages at a minimum of every two weeks; (3) weekly communication with community development contractors who have Lowlands village facilitators in each impacted village; and (4) direct communication with indigenous communities through PT-FI Community Liaison Officers (CLOs).
PT-FI's pro-active, participatory engagement and outreach approach with indigenous communities includes groups not always part of the formal consultation processes. Village consultation involves community stakeholders that are accepted and appointed by each community. Furthermore, PT-FI's CLO team consults directly with village communities on a regular basis. PT-FI also engages with the indigenous councils and their elders on all issues related to the company and indigenous communities.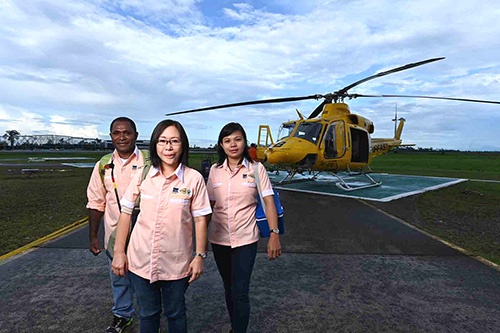 PT-FI's Partnership Fund, established in 1996, has invested in indigenous health, education, socio-cultural and socioeconomic development. To further strengthen the outcomes of the Partnership Fund for indigenous communities, PT-FI, the indigenous councils and other third parties worked to restructure the organization into a grant-making foundation in 2019. The indigenous councils are represented on the new governing board and the new supervisory board. The executive board is led by an Amungme Executive Director, a Kamoro Secretary and a PT-FI treasurer to symbolize the common objective of developing the indigenous communities near PT-FI's operation.
The two indigenous customary councils (Lemasa and Lemasko) and PT-FI signed a Memorandum of Understanding (MOU) in the year 2000 in which all three parties committed to monitor five main aspects that the indigenous communities considered important: human and socioeconomic resources, human rights, land rights and environmental rights. A forum consisting of representatives of the three parties engages in joint monitoring activities throughout the year and has an annual meeting to brainstorm and recommend improvements towards all parties. In 2020, PT-FI plans to further strengthen the joint monitoring activities and has contracted Cenderawasih University to establish a formal Monitoring and Evaluation system. All three parties will be trained in participatory monitoring and evaluation at village level. Monitoring and Evaluation activities will focus on PT-FI funded projects.
PT-FI has financed research and publication of several books documenting the social uniqueness of Papuan culture, including "Introducing Papua," "Highlands of Papua" and "South Coast of Papua." The Amungme and Kamoro Community Development Organization (LPMAK), which manages the Partnership Fund, also has published two books – one on Amungme and Kamoro folklore and another on traditional music.
PT-FI collaborates with the Maramowe Weaiku Kamorowe Foundation to develop, preserve and promote Kamoro art and culture. The Foundation provides assistance to 300 Papuan craftsmen and craftswomen and with marketing their carvings and weavings. The Foundation, together with Kamoro craftsmen, weavers and dancers conducted cultural promotions in several schools, colleges and other institutions in the city of Timika and outside Papua. The Foundation also initiated the filming of Maramowe, which tells the story of Kamoro culture. This film will become be used to introduce Papuan culture to the young generation of Kamoro and the general public.
PT-FI also assists groups of Kamoro mothers who are members of the Kangaroo Jaya Cooperative in making their noken, a traditional woven bag from native orchids, which has been designated as UNESCO world cultural heritage artifact.
Please refer to the Assessing & Managing Impacts and Land Use & Customary Rights sections for more information.