We must maintain acceptance to operate through shared value at the local level in order to reinvest in our existing properties, and invest in new ventures, thereby increasing the production of metals needed for a healthy and prosperous world. Our sustainability performance is critical to meeting society's responsible sourcing objectives so that we can place our products, which power societal advancement, into the global marketplace today and into the future.
To supply essential metals to current and future generations, we are guided by our stated business objectives, principles and policies, and we work continuously to improve our systems. Throughout this report, we review the progress we are making on key issues, including those emerging, which affect our company and our stakeholders. We aim to continuously improve our sustainability performance and are eager to engage stakeholders on this ongoing journey.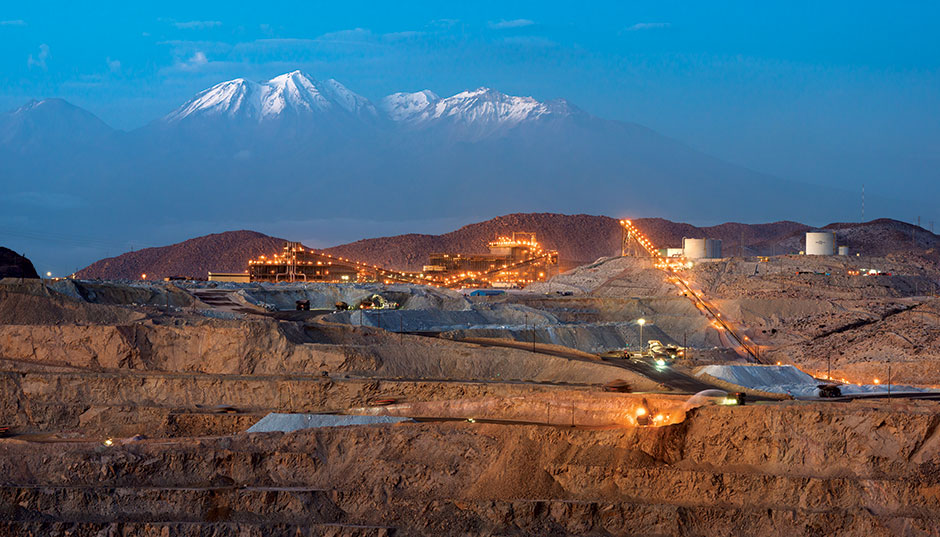 Sustainable Development Leadership Team
The company's Sustainable Development Leadership Team considers both imminent matters and emerging trends while providing strategic guidance for our programs. The team is sponsored by our Executive Vice President and Chief Administrative Officer and is led by our Vice President of Environmental Services and Sustainable Development. Our Chief Operating Officer, business unit presidents, as well as Vice President-level or senior staff from the safety, supply chain, security, human resources, sales, legal/compliance, and land and water functions comprise the team.
During the year, the team reviewed and addressed key issues and projects including:
An updated Sustainable Development Leadership Team Charter with a focus on core issues directly related to our sustainability objectives of maintaining local acceptance and market access
Our updated Human Rights Policy, which includes an explicit commitment to the UN Guiding Principles
Supply chain due diligence framework drivers and approaches
Emerging global initiatives and commodity-specific programs to create "sustainability standards" to demonstrate responsible production
Individual business-to-business due diligence activities related to responsible product sourcing
Common topics raised during engagements with the socially responsible investment community, ESG* analyst firms and other financial stakeholders
Project scoping and initial results of the Cerro Verde (Peru) Human Rights Impact Assessment
Development and status of the company's initiatives to recruit and advance career opportunities for women in the workforce
Multi-year pathway to enhanced disclosures on climate-related impacts and opportunities, including considering recommendations of the Task Force on Climate-related Financial Disclosures (TCFD)
Draft ICMM performance expectations to be implemented and assured at the site level
Key observations related to independent assurance of our sustainability programs, including implementation of the ICMM Sustainable Development Framework
* Environmental, social and governance
Audits and Assessments
To ensure implementation of our policy commitments and objectives, we utilize a combination of audit and assessment programs along with an annual program for site-level independent assurance of our sustainability framework that encompasses commitments of the ICMM Sustainable Development Framework. Our health and safety management systems and environmental management systems obtain independent certification to Occupational Health and Safety Assessment Series (OHSAS) 18001 and International Organization for Standardization (ISO) 14001, respectively. These systems include corrective and preventive action tracking for internal and external audit findings. Our Tailings Stewardship Program includes inspections and reviews all active and inactive tailings storage facilities. Engineers of Record inspect our operating TSFs on a quarterly basis. In addition to our own audit programs, customers and financial institutions periodically request to conduct sustainability-focused audits or assessments at certain facilities. Our operations are routinely inspected by regulatory agencies of host governments. Findings and feedback from these processes can be improvement opportunities for our collective programs.
Project Development Sustainability Review
Our Project Development Sustainability Review process allows us to integrate sustainability considerations into mine development or expansion projects. The review is designed to help multi-disciplinary project teams identify risks, unintended consequences, trade-offs and opportunities so they may be adequately addressed early and continuously through each stage of project development. Project Development Sustainability Reviews may occur at the scoping, prefeasibility, feasibility and/or engineering/construction stages of projects, and are also applicable to exploration projects.
This review complements our operational Sustainable Development Risk Register procedure for existing operations. Since its inception in 2011, we have implemented reviews for 25 projects, including two during 2017. Key areas of focus identified at different project stages include access to water, energy and materials, potential impacts to hydrology, air quality, biodiversity, human rights, community receptivity to the project, economic impacts, and land acquisition and resettlement.
As a leading global copper producer, we are keenly focused on generating values for shareholders through our large-scale and geographically diverse portfolio of long-lived copper reserves and resources. In doing so, we provide significant benefits to a range of stakeholders from local communities to suppliers to our host governments.
Beyond our operations, the products we produce are critical to the technologies and infrastructure necessary for a lower carbon economy and for overall societal advancement, including contributing to the UN Sustainable Development Goals. We believe that global economic expansion, the increasing role of renewable energy and limitations on global copper supplies will continue to drive growth in our business. As previously announced, we are evaluating two brownfield opportunities to expand our production profile. This 2017 Working Toward Sustainable Development Report, "Powered by Copper," highlights the key elements of our sustainability programs that are integral to our business objectives.
We currently mine approximately 3 million tons of rock every day, and energy is a significant component of our operating costs. Our continued focus on operational improvements and efficiencies has enhanced our sustainability efforts as it relates to our carbon footprint. We have rapidly adopted "Internet of Things" capabilities, which include a wireless network that allows us to monitor machine health in real time. These capabilities have enabled us to achieve a 90 percent rate of haul truck availability of our Americas fleet of 400 haul trucks. This performance indicates that, absent operational improvements made over the last eight years, 28 additional trucks would have been required in our fleet in order to maintain today's mine plans. As a result, we avoid associated capital and operating costs, as well emissions from the additional trucks. An ongoing global benchmark of mining equipment utilization has validated that our operational efficiencies are well above median performance and generally top quartile.
Efficient use of resources is core to our operating plans and we are pleased to report the achievement of an 82 percent rate of recycling and reuse of water introduced into our systems. Maintaining this performance is particularly critical in arid locations as risks associated with physical availability of water and potential for stakeholder conflicts is higher. To reduce our water footprint, we are continuously seeking opportunities to use renewable and recycled sources. We also expect to take advantage of the accelerating trend toward the availability of economic renewable energy projects to support our operational power requirements.
Operating responsibly on the ground, which includes our site-level suppliers and contractors, directly underpins our ability to maintain access to markets throughout the metals value chain. We specifically amended our Human Rights Policy in 2017 to formally implement the UN Guiding Principles on Business and Human Rights as we aim to prevent adverse impacts to individuals as a result of our activities. We will continue to conduct operational-level human rights impact assessments across our mining portfolio while leveraging the associated stakeholder interviews to garner views regarding the positive benefits of our presence.
Our commitment to the sustainability of the communities where we operate is essential to our success as it is interdependent with acceptance of our long-lived operations. This is why we take a deliberate and strategic approach to collaborating with local stakeholders to understand critical needs and deliver education, economic development, infrastructure and public health projects.
The products we produce are critical to the technologies and infrastructure necessary for a lower carbon economy and for overall societal advancement, including contributing to the UN Sustainable Development Goals.
Since 2007, we have invested approximately $2 billion in programs for social advancement to address today's needs while aiming to promote long-term resiliency in neighboring communities.
The dedication of our global workforce to safe production is a proud hallmark of our company. Our daily focus on collaboration, accountability and frontline leadership reinforces our safety culture which, in turn, increases productivity. Empowering one another to stop work if something is unsafe and implementing effective critical controls is key to our fatal risk management program. We clearly have more work to do as, regrettably, five fatalities occurred in 2017 across our global operations. We are undeterred in our focus on fatality prevention, and the health and safety of our employees and their families continues to be our paramount focus.
We continue to progress our discussions with the Indonesian government to address the long-term stability of our Grasberg operations, which is a significant catalyst for social and economic progress in Papua Province. We remain disheartened that since August 2017, there have been a series of sporadic shooting incidents within the PTFI project area and in nearby areas; some resulting in injuries to workforce members, community residents and host-government security personnel. The investigation of these incidents by Indonesian authorities remains ongoing and we continue to restrict the use of the road leading to our mining and milling operations to secured convoys. The security of our workforce and local stakeholders is a critical concern. The company is engaging with authorities on these challenges while upholding its commitment to the Voluntary Principles on Security and Human Rights.
Our accomplishments are not only "Powered by Copper" but also "Powered by Great People." Our Board of Directors and senior management team appreciate the dedication and professionalism of our over 50,000 employees and contractors. Our collective contributions and close collaboration drive our success.
In closing, we want to thank our stakeholders for their constructive engagement on the evolution of our sustainability programs.
Respectfully yours,

GERALD J. FORD


Non-Executive Chairman of the Board


RICHARD C. ADKERSON


Vice Chairman of the Board, President and Chief Executive Officer

June 6, 2017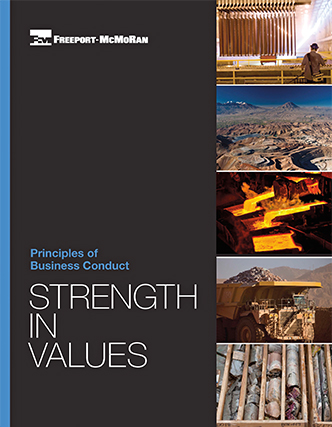 Business Ethics
We are committed to the highest level of ethical and legal conduct. The Freeport-McMoRan Principles of Business Conduct (PBC) are a commitment to integrity and define the expected behavior of all employees and our Board. We conduct comprehensive training on our PBC, including annual certification of management-level employees. This process consists of computer-based training, as well as a signed certification that the employee understands the PBC and is not aware of cases of non-compliance. Furthermore, managers and supervisors are responsible for ensuring that the employees who report to them understand these principles.
Anti-Corruption
Corruption is sometimes widespread in local government systems and cultures near our operations. We do not tolerate the offering or payment of bribes, kickbacks or other similar payments to any person or organization or government official to secure advantages for our business. Likewise, we do not accept any of these payments. Our Anti-Corruption Policy and Guidelines require compliance with the U.S. Foreign Corrupt Practices Act of 1977 (FCPA) and other relevant anti-corruption laws, including local laws.
The company deployed a new anti-corruption online training module in 2017. The training is mandatory for annual completion by select groups of employees utilizing a risk-based approach. For example, senior-level employees who may interact with government officials are required to complete the training. The online training does not replace our existing classroom training programs; rather, it has been developed to supplement existing systems and extend the reach of the company's overall compliance efforts.
During 2017, in-person classroom training was conducted at El Abra, Cerro Verde, our offices in Santiago, Chile, and at exploration sites in Asia, Eastern Europe and Africa. Training also was conducted for support functions, including the Accounting, Communications, Environmental Services, Global Supply Chain, Human Resources, Legal, and Sales and Marketing departments along with senior management personnel responsible for approval procedures and internal controls.
In recognition of the potential legal liability that could result from actions of our business partners under the FCPA and other laws, the company has implemented its online due diligence platform, the Freeport Compliance eXchange (FCeX). FCeX is a survey-based software platform designed to assess risk in the areas of anti-corruption, international trade and human rights. FCeX has enhanced the company's ability to identify, assess and mitigate compliance risks.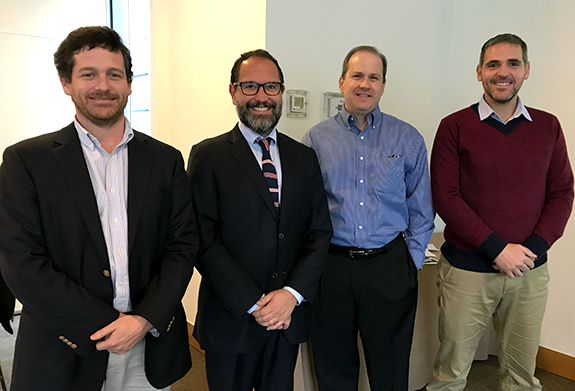 Annually, Freeport-McMoRan performs company-wide audits with the assistance of our internal audit firm to assess risk and plan for the following year's audit strategy. Formal fraud risk assessments have been implemented at Atlantic Copper, El Abra, Cerro Verde, PTFI and our corporate offices, and mapped with business controls which are tested and reviewed annually. The fraud risk assessments consist of more than 100 risk scenarios across more than 15 process areas, such as Asset Management, Purchasing, Payables and Financial Reporting. All of these risk assessments include corruption as a risk factor.
Information and Reporting
Among other reporting mechanisms, Freeport-McMoRan maintains a Compliance Line to provide guidance and assistance to workforce members with any questions or concerns related to our PBC, policies or procedures. To encourage our workforce to report potential violations of business conduct, our Compliance Line allows anonymous reporting.
During 2017, 235 reports were made through the Freeport-McMoRan Compliance Line relating to various topics, including employee workplace conduct, environment, health and safety, protecting company assets and conflicts of interest. All reports are investigated and, if substantiated, appropriate disciplinary action is taken, up to and including termination of employment.
PHOTO DESCRIPTION: Freeport's Chile Annual Compliance Workshop in Santiago featured special guest presenter Juan Ignacio Piña (second from left), former president of the State Defense Council, who addressed "Compliance and Integrity." The seminar also included presentations by company compliance leaders.
We inform, consult and involve communities and partners in order to develop and improve our policies, programs, projects and initiatives. We formally engage with community stakeholders across our portfolio, as well as economic partners and development institutions, government, regulators, non-governmental organizations (NGOs), community leaders and general members of the public. Annually, hundreds of entities are engaged via community foundations, formal grievance systems, community liaison officer interactions, workshops, participatory group panels, town hall meetings and specific surveys. Engagement also occurs through regulatory consultation processes with governmental entities and community groups, including with indigenous peoples.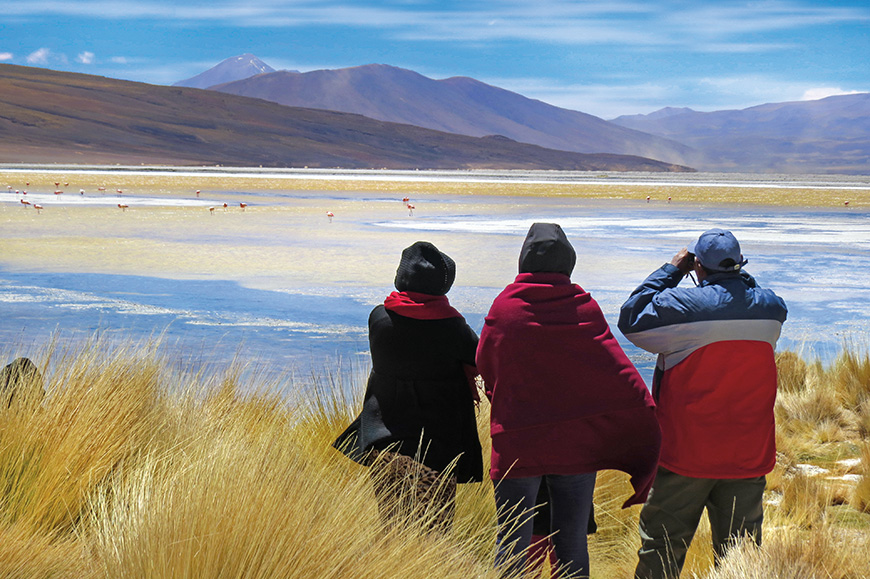 Consistent dialogue allows us to work alongside community members to avoid and mitigate impacts, and capture opportunities to implement projects that drive sustainability. Capacity building through engagement is critical to assisting communities to be resilient to downturns in commodity cycles and their planning for eventual closure of our operations.
In 2017, we engaged with over 70 investor organizations, sustainability analyst firms, banking institutions and NGOs regarding our programs and performance. Many of these organizations included multiple members or affiliations thus expanding the reach of our communications. We also work closely with our commodity sales departments to engage both downstream customers and international governmental agencies on sustainability programs and to address specific environmental and social areas of interest that could affect access to markets for our various products within the value chain. We believe that effective stakeholder engagement can help reduce sustainability-related risks and enable us to continue to deliver positive contributions to society.
Example Stakeholder Group Interaction Regarding Sustainability Focus Areas

Biodiversity | Community Engagement and Development | Corruption | Climate-Related Impacts and Opportunities | Human Rights
Labor Relations | Product Stewardship | Health and Safety | Tailings | Water Supply and Management

Academia

Habitats within and near our operations provide local educational opportunities aligned with our focus on science, technology, engineering and mathematics (STEM)

Workforce

Through annual biodiversity photo competitions

NGOs

Partnering with organizations such as Wildlife Habitat Council to promote improved habitats and educational opportunities

Academia

Arizona State University Lodestar training program for community capacity-building

Thunderbird School of Global Management DreamBuilder program for free entrepreneurial training

Foundations/Trust Funds

Funding, governance and sustainable investment decision support

Governments

Engagement with the company regarding long-term capacity building in education, healthcare and economic development

Local and Regional Communities (including Indigenous Peoples)

5-year community engagement and development plans with community engagement methods and development objectives aligned with identified risks and opportunities

Investment Community

Briefings on our social development programs

Workforce

Volunteerism and Matching Gifts program

NGOs

Engagement with local development organizations to support capacity building in communities

Governments

Implementation of the Extractive Industries Transparency Initiative (EITI)

Workforce

Anti-corruption training and awareness programs

Suppliers

Communications on expectations of proper business conduct, including our Supplier Code of Conduct

NGOs

Active participation in the CDP since reporting year 2006

Suppliers

Coordination with OEMs on technology advances for efficiency and safety

Customers

Engagement regarding our company-wide human rights programs and performance

Governments

Engagement regarding requests for impartial and independent investigations to security incidents, and human rights training/socialization of company policies and programs with government bodies and government-provided security

Local Community

Human Rights training and communications regarding grievance mechanisms

Investment Community

Program updates via teleconferences, meetings and email information exchange

NGOs

Active promotion and involvement in the Voluntary Principles on Security and Human Rights

Engagement with and participation in the Corporate Human Rights Benchmark

Workforce (including security contractors)

Human Rights training programs and communications regarding grievance mechanisms

Governments

Engagement and coordination with governmental bodies regarding status of collective bargaining agreements

Investment Community

Updates via teleconferences, webcasts and in-person meetings

NGOs

Engagement with the Business and Human Rights Resource Center regarding labor matters

Workforce

Ongoing engagement regarding schedule, wages, benefits, worker conduct and safe workplaces

Governments

Engagement and monitoring governmental bodies regarding current or emerging compliance requirements associated with market access for our products

Trade Associations

Participating in and monitoring product stewardship related agendas

Customers

Proactive communication in the value chain concerning common stewardship and sustainability performance attributes of our operations and products

Governments

Interaction with regulators, including operational inspections

Investment Community

Performance updates via teleconferences, webcasts and in-person meetings

Workforce (including unions)

Workforce training and outreach regarding safety performance, particularly fatality prevention with employees and contractors

Governments

Engagement regarding regulatory obligations and closure planning

Local Community

Engagement with community members regarding dust prevention programs associated with our tailings storage facilities or mitigation of remediation impacts at PTFI

Investment Community

Correspondence via teleconferences, meetings and information exchange, particularly regarding Controlled Riverine Tailings Management at PTFI

Governments

Coordination on strategies for long-term water supplies; engagement regarding regulatory obligations and projects to protect or enhance water quality

Local Community

Engagement with community groups, including indigenous peoples, on long-term mutually beneficial options for water supplies; coordination on projects to protect or enhance access to clean water for populations near our operations

NGOs

Active participation in the CDP Water Disclosure since reporting year 2010
---
The table below is a broader presentation of our engagement activities with stakeholder groups.
Stakeholder Groups

Typical Areas of Interest

Typical Methods of Engagement

Communities | Customers | Employees and Contractors | Governments | Indigenous Peoples |
NGOs | Shareholders and Financial Community | Suppliers | Unions

Local communities have important needs and interests associated with our operations and expansion projects.

Employment opportunities
Economic development
Education
Health and safety
Environmental protection
Land and water stewardship

Public community engagement forums (e.g., Community Partnership Panels)
Community Liaison Officer engagement
Formal governance structures of community trust funds
Local media placements
Specific meeting requests
Community grievance mechanisms

The natural resources that we produce are essential to the world's economies. Our products are sold to customers in the global marketplace.

Quality products
Delivery commitments
Regulatory compliance
Product stewardship
Sustainability programs

Site-level sustainability audits or data requests
Daily interactions with our sales department
Customer satisfaction surveys
Operations tours
Product information sheets
Supply chain sustainability surveys

At December 31, 2017, we employed a diverse workforce of approximately 25,200 employees and 28,000 contractors across our operations.

Health and safety
Operational change
Workforce management
Alignment with community interests
Training and career development

Health and safety programs and initiatives
Timely site-level dissemination of company news and events
Two-way communications with supervisors and management
Direct home mailings
Freeport-McMoRan Compliance Line
Company intranet
Principles of Business Conduct
Surveys and evaluations

We work with governments at national, regional and local levels.

Resource access
Environmental protection
Taxes and royalties
Economic development
Water projects
Workforce development
Security and human rights

Interaction with company management
Regulatory processes and requirements
Governmental representation at stakeholder engagement forums
Engagement via national and international trade associations

We engage with the indigenous Papuans in Papua, Indonesia; Native Americans in the United States; and the communities of Alto Loa (Chile's First People).

Land and water stewardship
Education
Employment and career development
Cultural heritage

Local leadership by tradition or election
Training and capacity-building programs
Workshops and meetings
Community Liaison Officer engagement
Community development programs and trust funds
Grievance mechanisms

NGOs

We interact regularly with NGOs (international and local) focused on a broad range of sustainability topics. These groups frequently include development agencies, educational institutions, civic organizations, environmental protection groups and groups interested in issues related to human rights.

Economic development
Education
Human rights
Health and safety
Biodiversity and environmental performance
Corporate governance
Ethics
Public health

Formal partnerships
Mine tours/site visits
Research and studies
Inquiries and requests for information
Project proposals
Conference participation

We regularly work with institutional investors, securities analysts, socially responsible investment (SRI) analysts and investors, banks, rating agencies and the financial media.

Financial performance
Access to capital
Human rights
Health and safety
Environmental performance
Climate-related impacts and opportunities
Security matters

Public news releases and presentations
Public filings with the Securities and Exchange Commission
Public presentations to the investment community
Communications between our Sustainable Development department and the SRI community
Annual meeting of stockholders/solicitation of proxies
Sustainability reporting
Topical survey participation

Our suppliers range from local businesses near our operations to large, international companies.

Adherence to our Supplier Code of Conduct
Safety and environmental stewardship
Long-term business relationships
Agreement terms

Contract administrators
Community development representative interaction with local businesses
Entrepreneurial programs

Employees at certain operating sites are represented by unions according to applicable agreements.

Wages and benefits
Work schedule
Health and safety
Job security

Communications with employees and labor representation on workforce related topics per governmental requirements and Collective Labor Agreements
PHOTO DESCRIPTION: El Abra regularly engages with indigenous communities near its operations, including through participatory environmental monitoring of the Salar de Ascotán watershed.
The Freeport-McMoRan Sustainable Development framework is based on operation-specific factors and influences, including regional context, type and stage of operation and social setting. Essential to this framework is the Sustainable Development Risk Register process, which prioritizes the most significant risks that could have negative consequences to our business and our stakeholders in areas including health and safety, respect for human rights, the environment, community stability and economic impacts. The Sustainable Development Department and senior, multi-disciplinary experts coordinate with operations personnel to ensure prioritization processes are consistent with corporate procedures and provide associated guidance. The company's Sustainable Development Risk Register process is being updated in 2018 to include additional topics, such as climate-related impacts, with more extensive categorical definitions for risk evaluation. This update is intended to reflect due diligence priorities of downstream consumer-facing companies in our value chain, including members of the Responsible Minerals Initiative.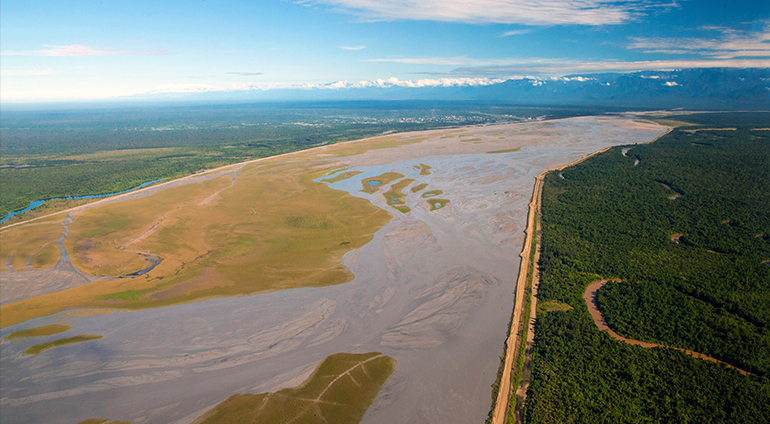 Sustainability focus areas identified through this process are reviewed by our Sustainable Development Leadership Team and communicated to our Board of Directors. Our current focus areas are described in Sustainability Focus Areas, throughout the website and in the 2017 Working Toward Sustainable Development Report.
PHOTO DESCRIPTION: Operating the controlled riverine tailings management system is a key focus at PTFI. The leveed deposition area contains the footprint of coarser tailings and other sediments being colonized by aquatic plant species.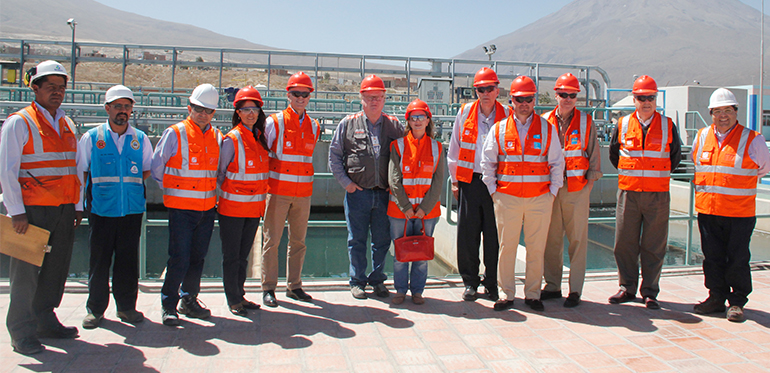 Sustainability focus areas identified through the Sustainable Development Risk Register process are reviewed annually by our Sustainable Development Leadership Team and communicated to our Board of Directors. The focus areas have not changed significantly over recent years and are described here and throughout the sustainable development section of our website.
Sustainability Focus Areas

Biodiversity

We own, lease and operate large land holdings, some of which are in and adjacent to areas of high biodiversity value. Our operations are managed to identify potential impacts and, where practicable, implement actions that conserve and enhance biodiversity, including during reclamation activities.

Community Engagement and Development

Our social and economic development programs are designed to be responsive to issues raised by communities, including vulnerable groups and indigenous peoples, and to help us maintain good relations and avoid disruptions of operations. Nevertheless, social and political instability in the areas of our operations may adversely impact our operations.

Corruption

As a U.S.-based mining company with substantial assets located outside of the U.S., our business may be adversely affected by issues related to corruption. We maintain a robust anti-corruption training and reporting program in addition to our Principles of Business Conduct training. Any violation of the U.S. Foreign Corrupt Practices Act and similar anti-corruption laws of jurisdictions in which we operate could result in significant criminal or civil fines and penalties, litigation and loss of operating licenses or permits.

Climate-Related Impacts and Opportunities

Carbon-based energy is a significant input to our operations and increased regulation of greenhouse gas emissions may directly or indirectly increase our costs. In 2017, approximately 80 percent of our global purchased power was from low carbon sources. We continue to model multiple carbon tax scenarios to understand the range of potential increases to our operating costs. The potential physical impacts of climate change on our operations and supporting infrastructure are highly uncertain and episodic; however we are reviewing potential adaptation measures.

Human Rights

Respect for human rights is a core value and we continue to integrate the UN Guiding Principles on Business and Human Rights into our business systems while advancing human rights impact assessments. Our operations may be adversely affected by security risks stemming from events including political instability, labor strikes and civil strife. The Voluntary Principles on Security and Human Rights serve as guidelines for our security and human rights programs.

Labor Relations

Thirty-nine percent of our global employee base was covered by collective labor agreements at year-end 2017. We engage openly with our employees and union leadership to successfully negotiate and uphold labor agreements, recognizing that prolonged strikes or other work stoppages at our operations can adversely affect our business, our workforce and regional stakeholders.

Product Stewardship

Our product stewardship team engages downstream customers, industry associations and international governmental agencies on operational and product-specific sustainability issues. We believe that proactive engagement on product stewardship issues is mandatory to address risks associated with market access.

Health and Safety

The safety of our global workforce is our highest priority. During 2017, we sadly incurred five fatalities and fell short of our total recordable incident rate target. Through implementation of our Fatal Risk Management Program, we aim to eliminate fatalities by identifying and implementing critical controls and delivering multi-faceted training and enhanced communications throughout our workforce.

Tailings

Managing the volume of tailings, waste rock and leach material produced in our mining operations presents significant environmental, safety and engineering challenges and risks. We maintain large leach pads and tailings impoundments containing viscous material that must be engineered, constructed and monitored to assure structural stability and avoid leakages. Through our Tailings Stewardship Program, we implement control systems, including independent expert input and reviews, to address and mitigate these risks.

Water Supply
and Management

We recognize the importance of efficiently managing water resources at mining operations in both arid and wet regions. While all of our mining operations require secure and reliable quantities of water for mining and ore processing, most of our operations are located in arid regions of North America and South America. We maintain a global water management program designed to increase water use efficiency in our processes while minimizing the use of fresh water.
PHOTO DESCRIPTION: Collaboration with local stakeholders on projects to improve water quality and availability is core to Cerro Verde's social investment priorities. In addition to potable water facilities and the recently commissioned wastewater treatment plant for the Arequipa Region, Cerro Verde provides financial and technical support to over 6,500 local farmers to improve irrigation systems for prevention of excess water losses.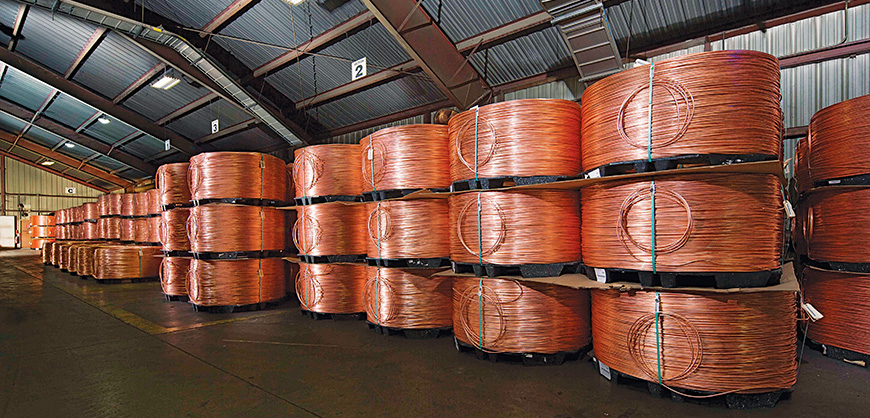 ​
Environmental and social performance of mining operations and of the metals we produce continue to be of increasing interest to members within the value chain, from customers to commodity associations to regulatory institutions. We currently see the most interest coming from European entities and regulators. This trend presents an opportunity to engage on the vital importance of our products for social progress as well as on the programs that guide our responsible operating practices. Members of our Product Stewardship team engage downstream customers and commodity and trade associations, as well as international governmental agencies on operational and product-specific sustainability topics. Our mining operations that produce metals subsequently sold into European markets and our metals processing facilities, including our cobalt refinery in Finland, are receiving increased due diligence from consumer-facing businesses and governmental agencies.
Our Product Stewardship team is led by our Vice President of Environmental Services and Sustainable Development and is coordinated with our global product sales and legal teams with support from multiple technical experts.
During 2017, the team addressed topics including:
Multiple commodity, business association and international governmental organizations' emerging responsible sourcing frameworks
Specific customer due diligence requests for information and/or site audits related to sustainability policies, programs and performance
Input into development of a draft Organisation for Economic Co-operation and Development (OECD) Portal for Supply Chain Risk Information that will include the metals we produce
Updates to the company's Sustainable Development Risk Register assessment process that includes additional topics of interest to value chain partners
Participation in commodity-specific life cycle inventory (LCI) updates and life cycle assessments (LCA) for our products – quantifying the environmental impacts of our products considering inputs such as water, energy and raw materials, as well as releases to water, land and air
Emerging nongovernmental sustainability certification, benchmarking and reporting initiatives
Compliance with global chemical legislation (e.g., the European Union's Registration, Evaluation, Authorisation and Restriction of Chemicals (REACH) program, U.S. Toxic Substances Control Act (TSCA), and developing programs such as Korea REACH)
Maintenance of up-to-date product Safety Data Sheets and product labels consistent with the Globally Harmonized System of Classification and Labeling of Chemicals (GHS) as adopted in the international jurisdictions where our products are produced, transported and used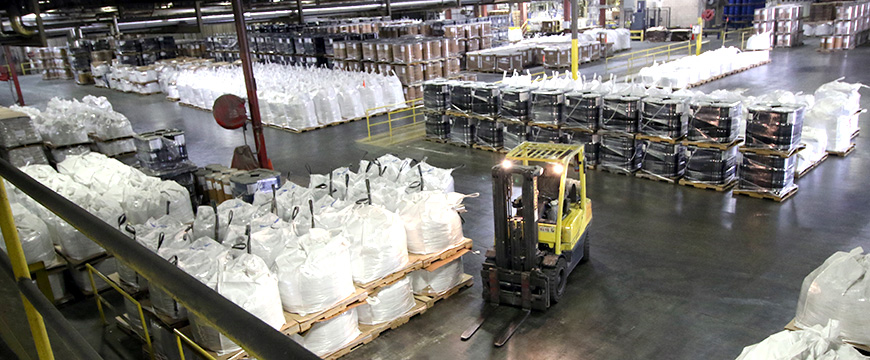 ​
PHOTO DESCRIPTIONS: (top) Copper rod manufactured at our Miami, Arizona rod plant is prepared for shipment. Our company supplies more than 40 percent of the copper consumed in the United States. (bottom) When added to low alloy steel, molybdenum improves its strength, making it ideal for lightweight applications such as fuel-efficient vehicles. Climax's facility in Fort Madison, Iowa is the world's largest molybdenum conversion facility and produces metallurgical tech oxide, lubricant grade and six types of chemical-grade molybdenum products.
We set company-wide performance targets to support key objectives, including in areas prioritized in our Sustainable Development Risk Register.
Performance Targets
Business Ethics

Provide comprehensive training on our Principles of Business Conduct, including annual certification of management-level employees

All employees were trained in 2017, including a 100% certification rate of management-level employeesa


With our online training module, annually train 90% of selected employees who interact with, or have the potential to interact with, government officials on anti-corruption laws, regulations and company policies and procedures

In 2017, 98% of the employees selected to participate in the online training completed the course
Workforce

Increase the percentage of women in our workforce, including representation in managerial roles, to 15%


Women comprise 12% of our employee population and hold 11% of all managerial positions
Safety & Health
Incur zero fatalities

Sadly, five work-related fatalities occurred at our operations in 2017


Meet company-wide total recordable incident rate (TRIR) of 0.63


At 0.76 for 2017, we did not meet our target TRIR
Human Rights

Incur zero gross human rights violationsb at our operations caused by employees or contractors

We did not incur any gross human rights violations at our operations caused by employees or contractors
Communities

Invest (in aggregate) 1% of the average of the previous three years' annual mining operations revenue (as reported in Freeport-McMoRan's audited consolidated financial statements) in community programs, including in-kind support and administration

Approximately $153 million was invested in community programs across our operations (99% of our $154 million target)
Environment

Incur zero significant environmental events (rating of three or higher on our Sustainable Development Risk Register)


We did not incur any significant environmental events. We had 11 spills or releases that were reportable to national agencies based on applicable regulationsc


Incur zero penalties in amounts exceeding $100,000.


We incurred $317,000 in penalties paid as a result of Notice of Violations (NOVs) at Cerro Verde in 2006 and 2008

| | |
| --- | --- |
| Note: | All performance targets are annually recurring. |
| a. | PTFI management-level training and certification was launched in the fourth quarter of 2017 and final results will be reported in 2018. |
| b. | There is no uniform definition of gross human rights violations under international law; however, the United Nations Office of the High Commissioner report: The Corporate Responsibility to Respect Human Rights – An Interpretive Guide, provides guidance on identifying such types of violations. |
| c. | Excludes PTFI where 35 reportable spills occurred, including 21 from pipeline sabotage. |
Added to our policies are external standards and initiatives in which we participate. Taken collectively, this set of internal and external commitments form the operational boundaries for working toward sustainable development. Examples of external standards and initiatives that influence our sustainable development programs are presented in the table below.
External Standards and Initiatives
Business for Social Responsibility (BSR)
We have been an active participant in the Business for Social Responsibility multi-industry human rights working group since it was first established in 2012.
Climate Disclosures Project (CDP)
We have participated in the CDP since reporting year 2006 and CDP Water Disclosure since 2010.
Corporate Human Rights Benchmark (CHRB)
We participate in and engage with the CHRB on our human rights transparency and performance.
Extractive Industries Transparency Initiative (EITI)*
We endorse the EITI and participate in country-level implementation where we have operations.
Fund for Peace Security, Rights and Development Roundtable
We participate in the Fund for Peace Security, Rights and Development Roundtable as part of continual improvements to our human rights programs.
Global Reporting Initiative (GRI)
We have reported according to the GRI guidelines since the 2005 reporting period.
ICMM (Sustainable Development Framework)*
We have been an active member of ICMM since it was established in 2001.
International Organization for Standardization (ISO) 14001
Our mining operations maintain Environmental Management Systems certified to ISO 14001 standards.
Occupational Health and Safety Assessment Series (OHSAS) 18001
All mining and metals operations have achieved accredited OHSAS 18001 certifications of their health and safety management systems
Sustainability 50
We participate in Sustainability 50's multi-industry dialogue on human rights.
Task Force on Climate-Related Disclosures (TCFD)
We initiated a multi-year process to adopt applicable reporting recommendations of the TCFD.
UN Guiding Principles on Business and Human Rights (UNGPs)
We are committed to the UNGPs and we are integrating human rights considerations across our business.
Voluntary Principles on Security and Human Rights*
We have been an active member of the Voluntary Principles on Security and Human Rights since it was first established in 2000.
Wildlife Habitat Council (WHC)*
We have been a member of the WHC since 2006 and have 15 conservation and education based programs across the mining portfolio that are certified through WHC's Conservation Certification process.
* Indicates direct employee participation in committees or governance bodies and/or company funding in addition to membership dues.
Industry Associations
We actively participate in associations at international, national, regional and local levels. Many of these organizations (examples listed below) have sustainability-related programs or initiatives. We maintain membership in these organizations and directly participate in committees or governance bodies and/or provide funding in addition to membership dues.