ECONOMIC IMPACT
NORTH AMERICA
The company commissioned the L. William Seidman Research Institute at Arizona State University to develop annual economic impact reports for counties and states in the United States where the company has operations. Fact sheets from the reports are provided below.
Arizona
Colorado
New Mexico
Texas
SOUTH AMERICA
In May 2022, Apoyo Consultaría completed an annual study to identify and estimate the impact (direct and indirect) of Cerro Verde's activities on the local region of Arequipa and national economy of Peru for 2021. The study concluded that Cerro Verde has had significant impact on both the regional and national economies in terms of employment, tax revenue, domestic purchasing and additional voluntary social investment.
Cerro Verde generated, directly and indirectly, a total of 94 thousand jobs in various sectors during 2021. The study estimated that for every person Cerro Verde employs 10.2 indirect jobs are generated in the economy across sectors, including machinery/vehicles, administrative and support services, utilities and others. The site also purchased 91% of its goods and services from the domestic market, mainly in the categories of machinery and vehicles, administrative support services, and utilities.
Additionally, Cerro Verde voluntarily contributed $5.5 million to the Arequipa community, investing in road and sanitation projects, water infrastructure, education and health programs and capacity building initiatives. Cumulatively from 2005 to 2021, Cerro Verde has invested $240 million in social development programs in the region. In 2021, Cerro Verde's operations and activities accounted for 2.3% of Peru's national gross domestic product and 40% of Arequipa's gross domestic product.
INDONESIA
PT-FI's presence in the province of Central Papua over several decades has continued to spur sustained economic growth and development in Timika and surrounding areas, transformed the region into an important economic center. As a result, Timika has experienced significant in-migration from other nearby provinces as well as from other parts of Indonesia as people are in search of employment opportunities and improved health and education.
PT-FI's social investment program implementation aligns with government development plans focused on community empowerment programs, especially in villages directly impacted by our mining operations. Partnership and collaboration are the main themes of social investment programs that encourage optimizing benefits for local communities. PT-FI is committed to empowering people and working to support resilient communities.
PT-FI provides funding and technical assistance to support various community development programs in areas such as health, education, economic development and local infrastructure. In 1996, PT-FI established a social investment fund with the aim of contributing to social and economic development in the Mimika Regency. Prior to 2019, the fund was mainly managed by the Amungme and Kamoro Community Development Organization, a community-led institution. In 2019, a new foundation, the Amungme and Kamoro Community Empowerment Foundation (Yayasan Pemberdayaan Masyarakat Amungme dan Kamoro, or YPMAK) was established, and in 2020, PT-FI appointed YPMAK to assist in distributing a significant portion of PT-FI's funding to support the development and empowerment of the local Indigenous Papuan people.
Among the various programs, YPMAK supports a scholarship program for the local Indigenous Papuans, which aims to increase the number of Indigenous Papuans receiving education, who can then help support development in Papua and Indonesia. In 2022, the program had 1,222 active scholarship recipients and supported 1,530 students in the boarding school program.
PT-FI also provides capacity building assistance, mentoring and guidance to Papuan entrepreneurs through the company's Micro, Small and Medium Enterprises Development Program, which is aimed at developing local economic activities through provision of mentoring for Papuan entrepreneurs. These programs are intended to boost the economic capacity and standards of living of local communities in a sustainable manner and build the capacities of local businesses to engage in market competition.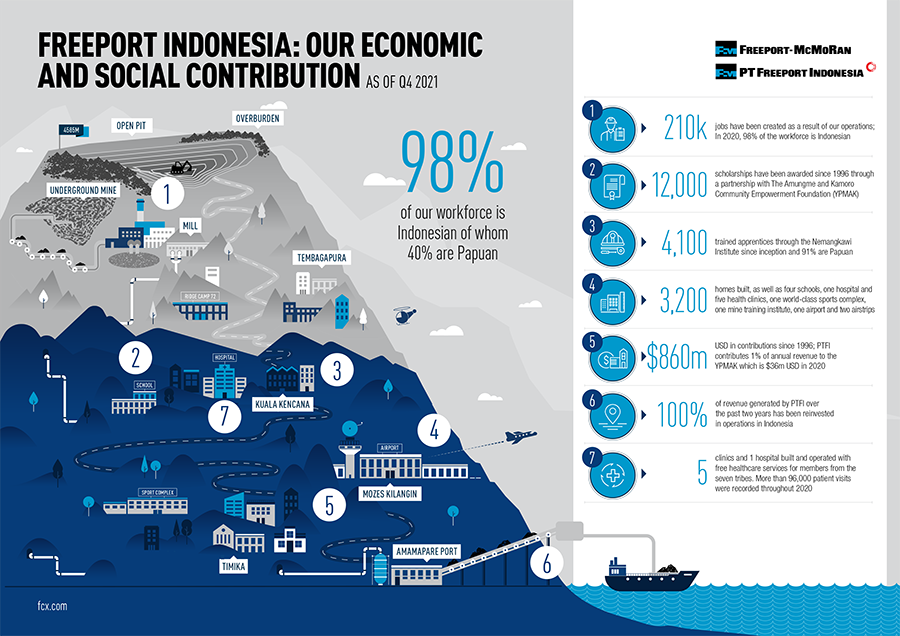 LOCAL PROCUREMENT
Purchasing goods and services from local suppliers provides direct and indirect benefits to our local communities. FCX remains committed to supporting our local host communities and recognizes the critical role our host communities, and the businesses in these communities, play in our daily operations and our company's success. Information on our approach is available in our annual report on sustainability. To learn more about our policies & programs, please see our Tools for Suppliers webpage.
---
To learn more, please see our 2022 ANNUAL REPORT ON SUSTAINABILITY
---

BACK TO ECONOMIC CONTRIBUTIONS > ECONOMIC IMPACT