ECONOMIC IMPACT
NORTH AMERICA
The company commissioned the L. William Seidman Research Institute at Arizona State University to develop annual economic impact reports for counties and states in the United States where the company has operations. Fact sheets from the reports are provided below.
Arizona
Colorado
New Mexico
Texas
SOUTH AMERICA
In May 2022, Apoyo Consultaría completed an annual study to identify and estimate the impact (direct and indirect) of Cerro Verde's activities on the local region of Arequipa and national economy of Peru for 2021. The study concluded that Cerro Verde has had significant impact on both the regional and national economies in terms of employment, tax revenue, domestic purchasing and additional voluntary social investment.
Cerro Verde generated, directly and indirectly, a total of 94 thousand jobs in various sectors during 2021. The study estimated that for every person Cerro Verde employs 10.2 indirect jobs are generated in the economy across sectors, including machinery/vehicles, administrative and support services, utilities and others. The site also purchased 91% of its goods and services from the domestic market, mainly in the categories of machinery and vehicles, administrative support services, and utilities.
Additionally, Cerro Verde voluntarily contributed $5.5 million to the Arequipa community, investing in road and sanitation projects, water infrastructure, education and health programs and capacity building initiatives. Cumulatively from 2005 to 2021, Cerro Verde has invested $240 million in social development programs in the region. In 2021, Cerro Verde's operations and activities accounted for 2.3% of Peru's national gross domestic product and 40% of Arequipa's gross domestic product.
INDONESIA
PT-FI's presence in the province of Papua over several decades has continued to spur sustained economic growth and development in Timika and surrounding areas, transformed the region into an important economic center. As a result, Timika has witnessed high-population in-migration from other parts of Papua, as well as all of Indonesia, as people are in search of employment opportunities and improved health and education.
PT-FI's social investment program implementation aligns with government development plans focused on community empowerment programs, especially in villages directly impacted by our mining operations. Partnership and collaboration are the main themes of social investment programs that encourage optimizing benefits for local communities.
Indonesia's Department of Energy and Mineral Resources outlines self-reliance as one of eight categories the private sector must strive to achieve as part of its community development and empowerment programs. The department defines self-reliance as a business independent of private sector support, and one of our primary goals in working with our communities is to help build resiliency over the life of the mine. PT-FI believe resilient communities have the ability, among other things, to foresee, plan and prepare for potential future scenarios such as changes in mine plans and unforeseeable events like the COVID-19 pandemic. We are committed to empowering people and building resilient communities.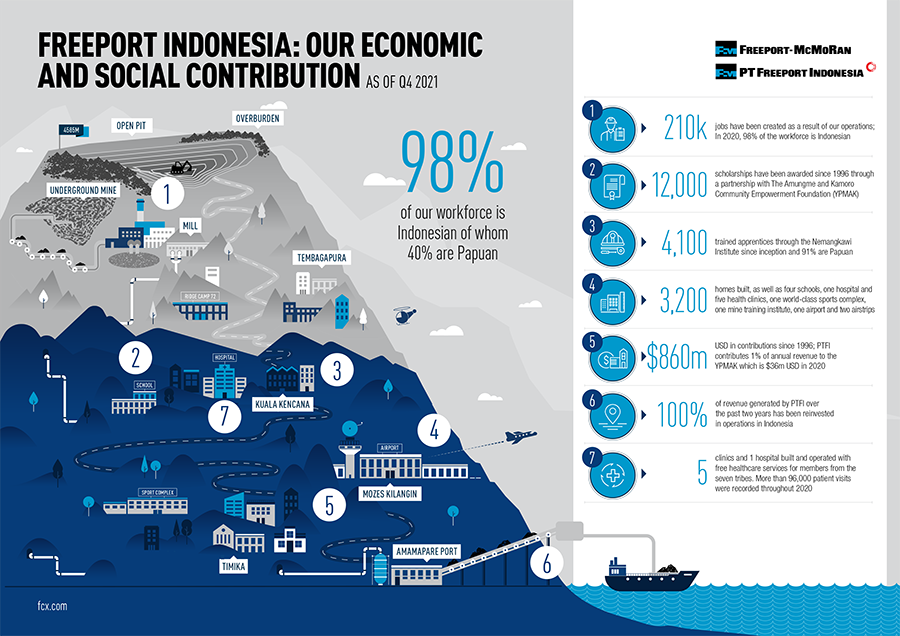 Economic Empowerment and Resilience
During 2021, PT-FI provided capacity building assistance, mentoring and guidance to 196 Papuan entrepreneurs through the company's Micro, Small and Medium Enterprise (MSME) program. Of these, 72% were from the seven local ethnic groups (collectively known as the "Tujuh Suku") and 55% were women. In turn, participants employed around 1,460 people from the surrounding communities through their businesses that provide various goods and services to PT-FI and others in the region. These businesses generated a total of $19.6 million USD in revenue.
PT-FI continued its multi-year agreement with Bank Rakyat Indonesia (BRI) to increase Papuan entrepreneurs' access to financial capital to grow their small businesses. Fourteen Papuan entrepreneurs received a combined total of approximately $90,000 USD in micro-loans from BRI and another three Papuan entrepreneurs received a combined total of approximately $25,000 USD through PT-FI's Revolving Fund initiative. PT-FI connects Papuan entrepreneurs to BRI and underwrites the micro-loans while BRI administers them. The goal is to transition borrowers from the PT-FI Revolving Fund initiative to BRI by providing direct professional support and sustainable access to capital for Papuan entrepreneurs.
Highlands Communities
PT-FI's economic development initiatives focus on Indigenous highland communities, which surround our operations: the Waa Valley consisting of the Tsinga area with eight villages and hamlets, the Arowanop valley with its six villages, the Jila area in the eastern part of Amungsa with its nine villages and hamlets, and the Hoea area with its four villages and hamlets.
For 22 years, Amungme Gold Coffee has been farmed and processed by indigenous Amungme farmers with support from Freeport's entrepreneur business program to meet growing demand from consumers. The Amungme Gold Cooperative has 158 coffee farmers working on coffee plantations spread over an area of 35 hectares located in four high plains communities near the PT Freeport Indonesia operations.
The cooperative increases the income and welfare of its members and provides low-interest loans, financial education and management skills to coffee farmers and processors. In 2021, farmers produced 1.3 tons of coffee, which is marketed and sold in Papua, Indonesia.
Lowlands and Coastal Communities
In 2021, economic development initiatives continued to focus on the Indigenous communities in five lowland Kamoro villages and three coastal villages, which are Koperapoka, Nayaro, Nawaripi, Ayuka, Tipuka, Omawita, Fanamo and Otakwa.
PT-FI's catering contractor continued purchasing fish catches through the Maria Bintang Laut Cooperative, which generated approximately $340,000 in revenue for local fisherman in 2021. Twenty-nine fishermen sold their fish catches at the co-op throughout the year.
PT-FI, in coordination with the local government and the Catholic Church have been creating coconut plantations in the coastal villages of Mimika in Papua. The program, part of a comprehensive sustainable economic development initiative, started in 2015 and has since expanded to increase acreage to approximately 180 hectares of land in five coastal villages where more than 13,000 trees have been planted.
PT-FI's agriculture and animal husbandry program employs around 400 people from two villages in the lowlands and produces broiler chickens, eggs and pigs. In 2021, the program had a combined revenue of nearly $3.6 million. PT-FI's cacao development initiative in the lowland areas of our operation involved 340 farmers (55% Papuan) who farmed 234 hectares and assisted in the distribution of 6,400 cacao trees.
LOCAL PROCUREMENT
Purchasing goods and services from local suppliers provides direct and indirect benefits to our local communities. When we purchase locally, we provide working capital to businesses that enables their growth, helps diversify the local economy and contributes to increased resilience and capacity. Each region has a documented local procurement strategy which focus on establishing a process to enable access to opportunities for local suppliers. Each mine site works with their Community Development teams, non-governmental organizations, and tribal partners (where applicable) to identify initiatives to enhance opportunities for local suppliers. Further, we seek to support the small business sector by investing in efforts such as training, certification, access to capital and "buy local" campaigns, that facilitate the development, growth and retention of small and medium size enterprises in local communities. We have implemented an advanced risk and data-based responsible sourcing framework to ensure the products we purchase are responsibly produced.
---
To learn more, please see our 2021 ANNUAL REPORT ON SUSTAINABILITY
---

BACK TO ECONOMIC CONTRIBUTIONS > ECONOMIC IMPACT