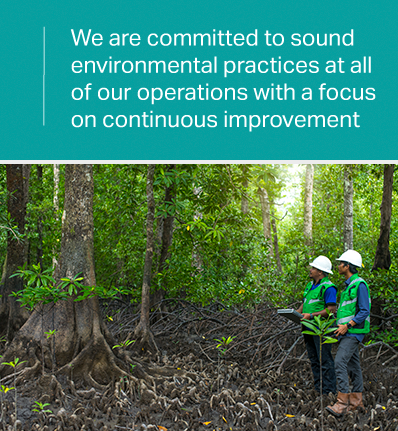 Freeport-McMoRan recognizes that the very nature of our business depends on and impacts the natural environment. Our goal is to conduct our mining and processing operations in a manner that minimizes adverse impacts on the environment and enables ecosystems to be protected and maintained through responsible environmental stewardship.
We believe that environmental protection and stewardship are the keys to ensuring the long-term viability of our business, including maintaining the necessary support from our host communities and governments. We are committed to sound environmental practices at all of our operations with a focus on continuous improvement.
Our workforce incorporates environmental awareness into their daily activities and implement actions necessary to protect the environment. This commitment is reflected in the highest level of our executive management and is one of the principal responsibilities of the Board's CRC, which provides oversight to management on the effectiveness of our environmental practices.
Polices & Programs
Our Environmental Policy serves as the framework for the protection of natural resources in the regions where we live and work. The policy is based on our objective to be compliant with laws and regulations and to minimize environmental impacts using risk management strategies based on valid data and sound science. It requires that we review and account for the environmental effects of our activities throughout the mining life-cycle and that we plan and conduct our operations in a manner that optimizes the economic use of resources while minimizing the adverse environmental effects.
All of our mining and mineral processing operations and technology centers maintain Environmental Management Systems (EMS) certified to ISO 14001:2015. As part of the EMS, our workforce is trained on site-specific subject areas, receives annual environmental refresher training and is monitored closely and supported in the field by environmental professionals through our Boots in the Field program.
Site management teams identify, manage and mitigate environmental risks through our Risk Register and the use of environmental critical control systems designed to prevent significant environmental incidents from occurring at our operations. We maintain a strict focus on implementing critical controls to eliminate off-site releases and prevent impacts to water resources.
At the corporate level, we maintain subject matter experts (SMEs) who train, develop and support site teams, routinely conduct site visits and manage a group of site-based SMEs. Collectively, they are responsible for building technical expertise, ensuring consistency in our environmental programs and sharing best practices.
PERFORMANCE
The EMS at each of our operations are independently audited on an annual basis. During 2019, we also conducted internal environmental audits at nine operations, and our facilities were inspected by governmental regulatory agencies on approximately 210 routine occasions. Since 1996, an independent environmental audit has been conducted at PT-FI every three years, and the next audit is scheduled for completion in 2020, subject to global health conditions around the COVID-19 pandemic. An executive summary and responses to the most recent 2017 audit recommendations are posted on our website. All operations have corrective and preventive action programs associated with the overarching EMS as well as audit and inspection findings.
For 2019, Freeport-McMoRan had two global environmental targets: (1) incur zero environmental penalties over $100,000 on an individual basis, and (2) incur zero significant environmental events as defined in our Risk Register process. We met both objectives in 2019.
Fines paid in 2019 included two Notices of Violations (NOV) at Sierrita for dust events related to a tailings impoundment in 2018 ($30,000) and one at Cerro Verde in 2007 ($94,682). In addition, we funded a $200,000 supplemental environmental project in 2019 associated with the Sierrita dust events.
Late in 2019, we had two new dust-related NOVs at Sierrita. Typically, when our operations receive a NOV from a regulatory agency, the citations involve brief and minor exceedances of permit conditions or other record-keeping violations, which have zero or minimal environmental impact.
We are committed to constantly improving our environmental performance across all of our operations. For example, in order to address the ongoing dust occurrences at Sierrita, which has been a challenge for the company, we have implemented additional control measures including the formation of a new tailings dust control management team, development of a wireless GPS system to track dust suppressant applications, and establishment of daily satellite imagery of the tailings facility.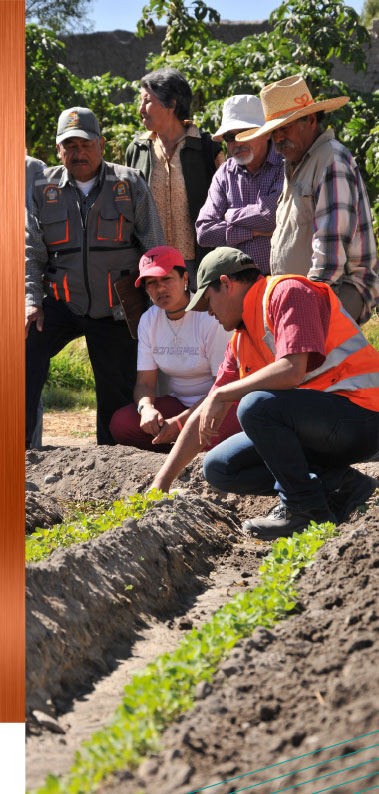 WHY IT MATTERS?
Freeport-McMoRan recognizes that climate change poses considerable near and long-term challenges for society and to our own financial and operational performance. Mining is energy-intensive and generates significant greenhouse gas (GHG) emissions that contribute to climate change. However, copper plays an essential role in the technologies necessary to develop and deliver clean energy, helping to transition the world to a low-carbon economy. We believe we have the opportunity to supply the world with responsibly produced copper, which includes operating in a way that manages and mitigates our GHG emissions and other climate-related risks.
Our Approach
Reducing emissions and improving our energy efficiency provides us with cost savings and environmental benefits within and beyond our operating boundaries. Particularly in the Americas, we have spent the last three decades focused on developing and implementing innovations across our mines and processes which have resulted in lower costs and enhanced energy efficiency.
As part of our ICMM membership, we are committed to implementing the ICMM Climate Change Position Statement requirements as well as the Performance Expectations at a site and corporate level as included in the Mining With Principals framework. These obligations include: implementing governance, engagement and disclosure processes, advancing site-level adaptation and mitigation solutions, engaging with host communities as well as others in value chain, monitoring and disclosing our Scope 1 and 2 emissions, and working towards more aligned reporting of Scope 3 emissions. We are also implementing the requirements of the Copper Mark, which include establishing and reporting on site-level GHG and energy metrics.
Finally, we are committed to aligning our climate strategy and related disclosures with recommendations of the Task Force on Climate Related Financial Disclosures (TCFD) in the coming years. Concurrent with our sustainability report, we published our first stand-alone Climate Change report, based on these commitments. We have provided a brief summary of our climate change efforts in this section, and we encourage you to read the full report available in the Reports & Documents section for more detail on our approach, historical performance, and strategy going forward.
PERFORMANCE
As shown below, our global annual absolute CO2 equivalent emissions range between 8-10 million metric tons per year, with approximately 70% from our FMC operations (including FMC Mining and FMC Downstream Processing) and 30% from PT-FI in Indonesia. Our FMC emissions are dominated by Scope 2 emissions as a result of purchased electricity while PT-FI's are dominated by Scope 1 emissions, resulting from coal use to generate reliable electricity for our remote operations in the eastern Indonesian province of Papua.
AMERICAS
In 2019, we undertook a significant effort to analyze our GHG emissions in the Americas back to 2012. This work has enabled us to identify levers for change in the future and has reaffirmed our approach to asset optimization and processing innovation. Over the last decade, we have developed and implemented industry leading technologies for leaching of oxide ores, implemented step change crushing technologies that reduce energy demand by over 30% per metric ton of milled material and developed a new, highly efficient process for leaching sulfide concentrates that replaces traditional smelting and refining.
We also have implemented an asset management strategy where we rebuild engines, frames and truck beds, resulting in the reuse of approximately 70% of a typical haul truck. This net result is over $1 billion in capital avoidance, and an estimated GHG emissions avoidance of 325 tons of CO2 equivalent per truck, or more than 150,000 metric tons in the last decade.
In addition, the gradual decarbonization of country-level energy grids, combined with specific power purchase contract terms for renewables, allows us to maintain our focus on lowering operating costs while reducing the amount of GHGs emitted per metric ton of product.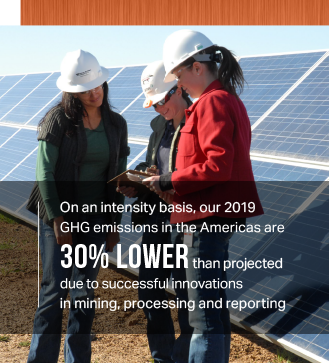 Between 2012-2016, ore grades at our operations decreased, requiring more ore to be both moved and processed to produce the same amount of copper. This resulted in emissions climbing during the period. However, we took the following actions which countered our increasing emissions trend:
2014-2016: We installed new highly efficient milling technology at Morenci and at Cerro Verde, which enabled significant improvements in absolute emissions intensity as well as significant production gains at both sites.
2014-2019: We saw a significant decrease in the carbon intensity of our electricity consumption due to Peru and Arizona grid decarbonization trends.
2018: Advances in information allowed us to switch to a market-based approach for a significant portion of our delivered electricity, enabling us to reflect actual emissions versus estimates calculated using the standard published grid factors provided by regulators.
The graphic to the left illustrates both our absolute and intensity performance for our copper operations (excluding downstream of refining) and includes projections of what our performance would have been ("Business as Usual") in the absence of the above actions. On an absolute basis, our total GHG emissions for this part of the business remain stable at 4.8 million metric tons, which is 30% lower than our Business as Usual projections. On an intensity basis, Americas' performance has improved significantly with carbon intensity per metric ton of copper produced decreasing by 18% versus 2012 levels and 30% lower than Business as Usual.
Looking forward, we expect to achieve similar success as we did in the last decade. We have set a corporate target to achieve an additional 15% reduction in carbon emissions per metric ton of copper produced in the Americas by 2030, using a 2018 baseline. Over the next several years, the company will be focused on recovery from COVID-19 impacts by maintaining safe and financially viable operations as well as supporting the economic recovery of the communities where we operate. As business conditions allow, we will look for opportunities to invest in innovative mining and processing technologies as a means of working towards our 2030 emissions reduction goal, as well as to further develop our climate change strategy.
INDONESIA
PT-FI accounts for approximately 30% of total FCX emissions, and approximately 50% of the company's total direct, Scope 1, emissions. This is primarily related to its self-generation of coal-fired electricity for reliable power due to its extremely remote location. In 2017, we saw a significant reduction in emissions due to an export ban from Indonesia, which limited the amount of concentrate we were permitted to ship and required us to reduce production at site. In 2019, another significant reduction was experienced as a result of ramping down our open-pit operation during the transition to underground operations. Overall, while PT-FI's emissions have reduced over 27% since 2015, they are likely to increase somewhat in 2020-2021 as our transition to underground mining is completed and underground production levels normalize.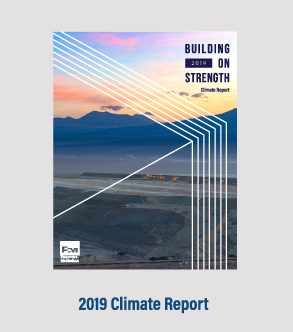 Electricity for our remote PT-FI operations in the eastern Indonesian province of Papua remains reliant on coal-fired power for electricity and alternative sources of energy are not currently reasonably available. PT-FI invests In projects to improve energy efficiency and engages on an ongoing basis to identify alternative sources of energy but the physical and economic challenges are significant. The Paniai Regency of Papua, which borders the Mimika Regency where PT-FI is located, holds the potential for large-scale hydropower projects and a significant natural gas resource is located in West Papua. Access to these resources or the development of renewable energy sources would enable PT-FI to shift to lower carbon electricity over the longer term.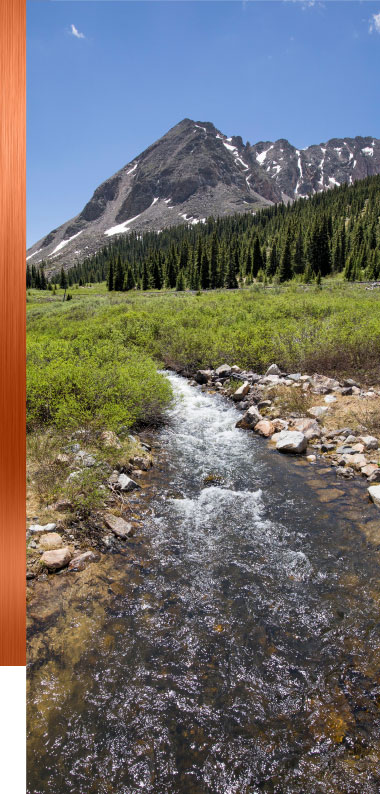 WHY IT MATTERS?
Access to safe water is a fundamental human right. Water is essential to the well-being of our communities and the environment and is necessary for our mines, smelters, processing facilities and reclamation projects. Many of our operations are located in arid environments where competition for water supply is significant. Although from time to time the PT-FI Highlands in Indonesia is also susceptible to lack of rainfall, management of excess water supply is the primary challenge. The unique circumstances at each of our operations reinforce the critical importance of managing the impacts of our activities on water availability and quality, optimizing our water utilization, and respecting the rights of others.
OUR APPROACH
Freeport-McMoRan is dedicated to responsibly managing water resources. We recognize the importance of working collaboratively with stakeholders in order to secure access to water in a socially and environmentally responsible manner, and we are dedicated to continuous improvement of our water stewardship programs.
Policies & Programs
While implementation varies depending on the site-specific circumstances of each operation, Freeport-McMoRan maintains an extensive global water management program designed to balance the needs of our operations with the needs of our communities and the sustainability of the environment and ecosystem. The goals are the following:
1. Improve water use efficiency in our processes
2. Minimize use of fresh water at our operations
3. Reduce our water footprint by transitioning to renewable or recycled water sources
4. Continually review water supplies and its impact on the surrounding community, environment and ecosystem, including possible impacts from climate change and other regulatory legal changes
We are implementing the ICMM Water Position Statement, which outlines our commitment to responsible water use and public reporting. During 2020, we also plan to publish our first corporate water report to enhance our transparency and accountability of our water management.
Water Use Efficiency
In order to efficiently manage water resources, we must understand water availability requirements. We have developed ground water and hydrologic (predictive) models to understand water availability at each of our sites. We also apply operational-based models to understand our utilization and inventory management requirements.
With this information we are able to identify opportunities to minimize water loss (such as evaporation or seepage), recycle and reuse water, and maintain compliance with water quality standards. Taken together, these ongoing studies inform our efforts to reduce our overall water utilization – including requirements for fresh water – where operational efficiencies and production requirements permit.
In addition to optimizing water use at our mining facilities, our water management practices are aligned with strategic objectives designed to maintain the safe operation and structural stability of our tailings storage facilities. As of 2019, our successful efforts in recycling water reduced our reliance on new freshwater needs to 18% of our total water demands.
Water Footprint
To achieve a reduced water footprint at our operations, we continuously analyze the sources of our water and actively seek renewable and recycled sources. In 2019, we have made progress in achieving this management objective and actively are engaging with the ICMM Water Working Group and member companies to develop industry reporting metrics that enable us to communicate transparent and consistent water information to stakeholders. We also serve as a leading member of an international coalition conducting studies to bring desalinated water to the Southwest United States and are working with another international coalition to capture raw sewage and convert it into usable water. In 2019, the company was able to offset 63% of its fresh water needs in Arizona through recharging Colorado River water in areas of the state where water is needed.
Water Quality Management

Monitoring water quality is an important component of our water management program, necessary to measure our impacts on surface and groundwater resources. We collect thousands of water samples each year across all of our operations. The samples are analyzed for various chemical and physical parameters either at our own certified laboratories or at independent laboratories. The results of the analysis are compared to historical data trends and applicable regulatory standards determine how we are impacting overall water quality. The results help us prioritize our efforts to protect water resources. During 2019, we collected and analyzed more than 19,000 water quality samples at our operations in the Americas.
Stormwater Management
Preventing on-site and off-site impacts to water resources also is core to our water management program. Stormwater is actively captured, managed and contained on-site for operational use through various diversions, containment structures and dams. We are reviewing the potential for more frequent and intense precipitation events that could result in impacts to on-site and off-site water resources. This information will help us evaluate our capacity to route on-site water to areas with adequate storage capacity.
Each of our active mining and metals processing facilities evaluate climate-related risks and opportunities through the Risk Register process. This includes reviewing the potential for physical climate risks, including impacts on water supplies and quality, in order to reinforce the resiliency of revenue generating operations and support community well-being. In 2019, we had one significant weather event, which occurred at our El Abra operations in Chile in February when record rainfall in the nearby Andes Mountains caused flooding throughout the normally arid region. The floods resulted in a 21-day closure of our mine and significant damage to the communities throughout the Alto El Loa region. Following the event, the El Abra relief team worked on proactive measures and lessons learned, including construction of a second access road to the mine area, additional access to the conveyor for maintenance and work with the communities to rebuild damaged infrastructure.
PERFORMANCE
Our objective is to maintain high rates of recycled or reused water in our total water utilization, and our performance has exceeded 80% in recent years. In 2019, our operations utilized 1,711 million cubic meters of water, including new water withdrawals of 303 million cubic meters. 82% of our total utilized water was from recycled or reused sources. By accounting for discharge quantities of 96 million cubic meters, our water use efficiency was 87% for 2019.
Freeport is committed to implementing the new Global Industry Standard on Tailings Management. As a member of ICMM, Freeport-McMoRan Inc. confirms it agrees to the following statement: As of its official launch on August 5, 2020, all ICMM members are committed to implement the Global Industry Standard on Tailings Management. All tailings facilities with "Extreme" or "Very high" potential consequences will be in conformance with the Standard August 5, 2023. All other tailings facilities not in a state of safe closure will be in conformance with the Standard by August 5, 2025. Freeport-McMoRan Inc. currently is working towards meeting this commitment.
WHY IT MATTERS?
The health and safety of our people, communities and the environment is our top priority and fundamental to Freeport-McMoRan's extensive tailings management programs. Tailings are the by-products of processing and extracting metals from ore. Typically, our tailings comprise a slurry of finely ground natural rock particles, which are transported from processing facilities to management and storage facilities. We recognize that a failure of tailings facilities and other impoundments at any of our mining operations could cause severe – and in some cases catastrophic – property and environmental damage and loss of life.

OUR APPROACH
Freeport-McMoRan has comprehensive measures in place to ensure that the facilities are designed, built, operated and monitored to minimize risk to employees, neighboring communities and the environment. We have a strong commitment from our Board and executive management to provide the necessary resources to our operations to maintain the safety of our facilities and the integrity of tailings management systems and to continuously improve these systems.
In addition to applicable regulations, we implement the ICMM Position Statement on Preventing Catastrophic Failure of Tailing Storage Facilities as an integral component of our tailings management systems and various national and international guidelines. We continue to engage in industry initiatives on tailings management, including initiatives led by ICMM, and we support the development of a safety-focused global tailings standard that can be widely adopted to improve performance of the broader industry and minimize risks of catastrophic failures to as low as reasonably practicable.
Safe, robust and reliably constructible designs are paramount. For new tailings projects, we work with our Engineers of Record (EoRs) and seek input from our Tailings Review Boards (TRBs) on siting studies which consider various technologies based on rigorous Multiple Accounts Analysis (MAA) for site context and selected evaluation criteria. Our MAA approach provides transparent rationale for identifying the preferred Tailings Storage Facility (TSF) alternatives by using a broad internal stakeholder group to consider evaluation criteria, scoring and weights. This stakeholder group ensures decisions made at our operations reflect our corporate values and include environmental, technical, social and economic aspects. Once we understand preferred options, conceptual and design phases proceed with our EoR and we engage external stakeholders on formal options studies, as appropriate. We engage our TRBs throughout the selection and design process and typically continue with the same EoR and TRB members into construction and operations (only making personnel changes in the best interest of the facility).
AMERICAS
Freeport-McMoRan affiliates in the Americas currently operate 18 active TSFs and manage 58 inactive or reclaimed TSFs.
Policies & Programs
Our objective is to have zero catastrophic structural failures at any of our TSFs. Our programs take into account the significant consequences that would result from a potential failure, and we apply substantial financial and technical resources, both internal and external, to materially reduce the likelihood of failures.
Our Tailings Management and Stewardship Program launched in 2004 has evolved significantly over the last 15 years. Today, we employ substantial engineering expertise, technological monitoring, and local and corporate management oversight to validate these facilities are designed, built, operated and monitored to minimize risk to employees, neighboring communities and the environment. These safeguards generally fall within four categories: (1) engineering and design; (2) rigorous adherence to construction and operational parameters through monitoring and use of technology; (3) multi-tiered oversight; and (4) adherence to practices grounded in continuous improvement and learning from past experiences, including industry failures and best-practices. The safeguards are effectively implemented through the promotion of open and ongoing communication throughout the organization and a bias for action at all levels.
Governance
Freeport-McMoRan maintains multi-tiered oversight of the TSFs at its operational sites:
Corporate Senior Leadership – Participates in key decisions and provides resources to site management.
Corporate Tailings and Water Team – Technical resource provides guidance and direction to site tailings team along with development and review of program initiatives.
Site Tailings Management, Engineers and Operations – Implements the program and regularly monitors, identifies and addresses potential risks.
Engineer of Record (EoR) – External resource provides expert design, technical support, inspection, review and guidance to achieve design intent.
Tailings Stewardship Team (TST) – Third-party engineer and internal expert team inspects all tailings facilities, reviews documents and monitoring data, identifies potential deficiencies, and recommends corrective actions.
Technical Review Boards (TRB) – Third-party internationally known expert panels provide independent opinions and guidance on the physical integrity, safety and performance of our TSFs and management systems and has direct access to Senior Corporate Leadership.
For closed and inactive sites, we have a similar oversight structure that reports through the Vice President of Environmental Services and Sustainable Development and includes the same site-level engineers, EoRs, TSTs and TRB structures.
Performance
Our EoRs and site engineers inspected our TSFs multiple times throughout the year. Our TST visited all active sites and seven inactive sites, each with multiple TSFs, in 2019. Our TRBs visited two sites for quadrennial reviews and met for interim review updates for nine sites (each with multiple TSFs), as well as for five specific TSF projects during 2019. The review and inspection processes produce recommended actions, which we track until implemented. Examples include actions we began in 2018 and continued in 2019 to construct buttresses out of an abundance of caution. We completed a buttress at Sierrita that is sized for TSF raising over the next ten years. We initiated construction of a buttress at Henderson and will continue to raise it in a proactive phased approach in coming years.
For more information on our extensive Tailings Stewardship Program, including 2019 key enhancements and activities, please refer to our Tailings Management and Stewardship section.
INDONESIA
PT-FI operates a controlled riverine tailings management system implemented based on methods approved and permitted by the Government of Indonesia. PT-FI tailings are the finely ground natural rock particles that remain after the economically valuable minerals have been removed from the ore. The tailings are transported from the concentrating facility along with water and a very small quantity of concentrating reagents. These reagents have been demonstrated to dissipate within a short distance of the concentrating facility.
Policies & Programs
The PT-FI tailings management system uses an unnavigable river to transport the tailings and natural sediments from the concentrator in the Highlands to a large engineered and managed deposition area in the Lowlands, referred to as the ModADA. The river is not used for potable water, agriculture, fishing or other domestic or commercial uses. Levees have been constructed on both the East and West sides of the ModADA to laterally contain the footprint of the tailings and natural sediment within the designated area. Quantities of finer tailings and other sediments deposit in the estuary and the sea to the south.
This system design was selected after a careful and comprehensive analysis of more than 12 alternatives in partnership with the Government of Indonesia. After evaluating the topographical, seismic and geotechnical, geological, climatological and environmental conditions of the project area, it was clear that a conventional style tailings dam in the Highlands would not have been safe, stable or effective. Independent, environmental management expert audits have reaffirmed that this management system is the best and safest site-specific management alternative. This system has been in service for more than 20 years and has performed safely with no human health related issues.
Governance
In addition to regular internal and external audits and assessments, PT-FI tailings management oversight includes the following:
FCX Corporate Senior Leadership – Participates in key decisions and provides resources to site management.
FCX Corporate Tailings and Water Team – Technical resource provides technical support and assists with guidance and direction for site tailings team and associated program initiatives.
Site Tailings Management, Engineers and Operations – Implements the program and regularly monitors, identifies and addresses potential risks associated with ModADA and coastal zone areas.
External Design Engineer – External resource provides design, ongoing engineering support, periodic inspections, and levee construction quality review.
ModADA Management Board (MMB) – Multi-disciplinary expert panel that provides oversight and recommendations to PT-FI leadership and engineering teams on priority activities. They meet onsite to assess system performance and risks associated with the ModADA and coastal zone area and focus on the structural integrity of the levees and the geochemical stability of the deposition. They track progress on detailed recommendations as well as associated stakeholder engagement.

Performance
PT-FI's environmental impacts are well-documented, monitored and managed and have been subject to the Government of Indonesia's regulatory oversight, including the approval of the environmental impact analysis (AMDAL) for PT-FI operations and the approval of annual work plans. Impacts of the system, including increases in sedimentation, were predicted in numerous studies and are consistent with the design and operation. Monitoring programs have established, except for elevation changes, the environmental impacts of the tailings deposition are reversible at the end of the mine's life.
Large-scale demonstration reclamation projects show that several land use options are possible after final closure of the deposition area. When mining is completed, this area can be reclaimed with natural vegetation or used for agriculture, forestry, grazing of livestock and aquaculture among other options, depending on stakeholder ambitions.
PT-FI and Indonesia's Ministry of Environment and Forestry recently established a new framework known as the "Tailings Roadmap" to drive continuous improvement in environmental practices in PT-FI's operations. Issued in December 2018 and amended in January 2019, KepMen 594 is the regulatory action known as the Tailings Roadmap. The basic elements of this framework include three studies to increase tailings retention within the Lowlands, to protect the coastal ecosystem and to evaluate large-scale beneficial uses of tailings within Indonesia. The approved Terms of Reference for these studies were signed in the fall of 2019. The scalability and economic viability of tailings reuse, whether for transportation infrastructure (roads and bridges) or building infrastructure (formed products such as prefabricated building walls), is currently being evaluated. The current aspirational target date for completion of the studies is September 2020, although the impacts of COVID-19 on that date are uncertain.
For more information on this topic, including our extensive biological monitoring system and beneficial use of tailings opportunities, refer to the Controlled Riverine Tailings Management at PTFI summary document. In addition, please see our Statement on Future Projects and Riverine Tailings.
WHY IT MATTERS?
Biodiversity sustains and stabilizes healthy ecosystems – which provides people with valuable resources, like food and water, necessary to ensure quality of life. Climate change, including global warming and its impact on water supplies, together with human activity is disrupting biodiversity and contributing to its loss. Freeport-McMoRan is committed to proactively managing the impacts of our mining operations on the environment including biodiversity. Proactive management is critical to maintaining social acceptance from our local communities and expected by our global stakeholders.
OUR APPROACH
Freeport-McMoRan seeks to avoid and minimize the adverse impacts of our operations on biodiversity and ecosystem services while promoting opportunities to conserve and enhance resources in the areas where we operate.
In 2019, we continued our efforts to begin implementation of the mitigation hierarchy – a framework that emphasizes best practices for managing biodiversity and ecosystem services through the avoidance, minimization and restoration of impacts. We manage risks and potential impacts with the long-term ambition of 'no net loss' for new mines and major expansion projects at existing mines. In 2019, we developed guidance for consistent and rigorous application of the mitigation hierarchy across all operations.
Policies & Programs
In addition to our Environmental Policy, which states our commitment to contribute to the conservation of biodiversity, and our Environmental Management Systems – our framework for understanding the potential impacts of our operations on biodiversity – we also implement the following:
ICMM Position Statement on Mining and Protected Areas – We have addressed the commitments in our operational practices, including committing to no mining nor exploring in World Heritage Sites.
Wildlife Habitat Council's Conservation Certification (WHC) – We participate in the program, which formally recognizes meaningful biodiversity conservation, environmental education and community outreach programs. Eighteen of our operating sites and facilities currently are certified through WHC, 15 of which are recognized with gold-tier certifications.

Stakeholder Engagement
Our conservation initiatives aim to produce benefits for both biodiversity and people, build trust, and support our social license to operate. We seek to engage our employees, local communities and other interested stakeholders in this work. We foster diverse partnerships with global stakeholders across private and public sectors and civil society to achieve greater accountability and promote the long-term efficacy for our biodiversity projects. These collaborations often serve as the basis for our community outreach and STEM education opportunities for learners of all ages. For example, in 2019, employees across our North American sites engaged approximately 1,500 students and community members through pollinator-focused education and outreach activities, including Earth Day celebrations, pollinator education workshops and hands-on planting events in the field. A key internal stakeholder engagement effort is our annual biodiversity photo contest. Each year, employees submit photos from across the business with winning photos featured in WHC's annual calendar, used to showcase efforts by member companies to enhance and preserve wildlife.
Click here to view Photo Contest Finalists.
AMERICAS
Our commitment to biodiversity conservation is further evidenced by our Biodiversity Action Plans that aim to address risks while promoting conservation opportunities. The plans are based on an adaptive management approach that allows us to effectively address new biodiversity risks resulting from operational and ecological changes at the sites. All of our sites in North America have implemented Wildlife Protection Plans and several operations also are implementing risk-based Avian Protection Plans that focus specifically on minimizing potential risks to migratory birds.
We conduct site-specific, multi-year biodiversity programs either voluntarily or due to regulatory obligations. These programs are designed to address the most significant biodiversity issues at each site, including the chart to the right.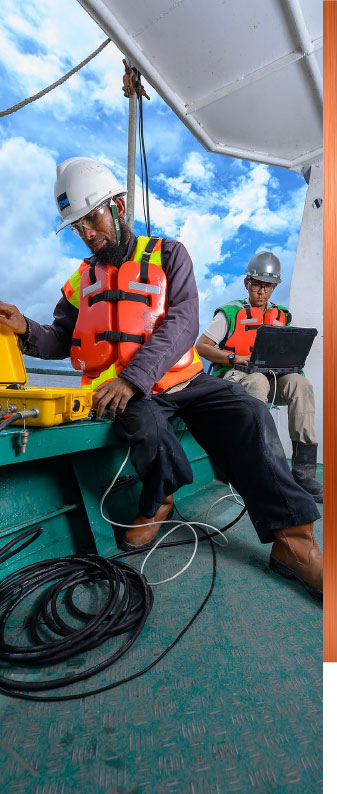 INDONESIA
PT-FI's operations located in Papua, Indonesia, encompass multiple ecosystems and host one of the richest and most biodiverse regions in the world. Conserving and protecting Papua's biodiversity and ecosystem is a priority for both PT-FI and Freeport-McMoRan. Through the site's Biodiversity Action Plans, we aim to:
1. Recognize the important role biodiversity plays in sustainable development. 2. Establish a strong partnership with multiple stakeholder groups involved in conservation and natural resource management, including local governments and citizens.
3. Effectively manage local biodiversity for the region, including monitoring, restoration, reclamation and reforestation programs.
4. Provide biodiversity education, research and information opportunities.
PT-FI's mining area (9,946.12 hectares) is located between 2,700 meters and 4,200 meters above sea level (ASL) and includes the Grasberg open pit mine (the final phase of Grasberg open pit mining was completed in 2019), an underground mining complex, a milling complex and extensive supporting infrastructure. The ecosystems in the mining area range from upper montane forest subzone to alpine zone. The broader project area (116,783.75 hectares) extends from the mining area at about 2,700 meters ASL down to the Arafura Sea to the south.
The project area is adjacent to the Lorentz National Park to the east, comprising 2.3 million hectares. Lorentz National Park is the largest protected area in Southeast Asia and the only protected area in the world that incorporates continuous intact tracts of ecosystems from alpine to tropical marine environments, including extensive lowland wetlands. In 1999, Lorentz National Park was declared a World Heritage Site by the United Nations Educational, Scientific and Cultural Organization (UNESCO). Results from comprehensive biodiversity inventories conducted by PT-FI in its project area are used to inform and develop management options at Lorentz National Park.
Mine development activities have impacted biodiversity in the PT-FI project area with about 9 percent of the project area being disturbed by mining activities in the subalpine zone, tailings management areas in the lowland zone, the mill and Tembagapura town site in the montane zone, and associated infrastructure from the port site to the mine site.
Ongoing biodiversity inventories are conducted regularly to ensure we have the latest information to better understand mine-related impacts on biodiversity. Using that information, we can develop appropriate biodiversity conservation programs using principles of restoration ecology for rehabilitation and restoration of disturbed areas in the Grasberg minerals district.
Flora and fauna from Papua often become the object of illegal trade. Countering illegal wildlife trade is a priority for Papua's natural resource agencies and part of PT-FI's commitment to biodiversity conservation. PT-FI cooperates with the Indonesia Animal Rescue Center, Papua Regional Police, Forest Protection & Nature Conservation, Forest Rangers, Forestry Department, Lorentz National Park Center, and Wasur National Park Center to repatriate protected animals to their habitats. To date, PT-FI has assisted in releasing back in their natural habitat more than 46,000 pig-nosed turtles, 139 Black-capped lories, 21 dusky pademelons, seven yellow-crested cockatoos and six double-wattled cassowary, including the release of a pair of cassowary in 2019 into Lorentz National Park that were confiscated from an animal smuggler. Selected initiatives of PT-FI's biodiversity management program include:
1. Biodiversity Research and Monitoring
PT-FI conducts research and monitoring in area ecosystems ranging from approximately 4,000 meters above sea level to coastal and marine areas. Routine flora and fauna monitoring is conducted through collaboration with consultants, research organizations and universities.
Biodiversity research on Papua is very limited with most research and publications available focusing on Papua, New Guinea. Since PT-FI's project area is a large and rich untapped biodiversity resource, the company has offered the area in which it operates as a natural laboratory that can be studied by scientists.
Since 1994, PT-FI has invited subject matter experts from various institutions within and outside Indonesia to conduct biodiversity research. A series of ecological studies conducted by PT-FI included plants, mammals, birds, amphibians, freshwater fisheries resources, aquatic insects and terrestrial insects. This research has revealed many new species – ranging from aquatic biota to plants and terrestrial fauna – such as 20 new species of crabs, 45 new species of aquatic insects, five new species and one new genera of terrestrial insects, 17 unconfirmed mammals species, 20 potential new frog species, and one new taxa, one new genera and 28 new species of plants. Today, PT-FI has more than 300 reference collection specimens of fish, 200 specimens of crustaceans, 30 specimens of mollusks and approximately 5,000 herbarium specimens. PT-FI delivered a set of the specimens to both Indonesian and overseas museums for their collection. Most of this information is directly applicable to the ecosystem of the Lorentz.
Studies in the PT-FI mining area in 2016 and 2018 encountered a healthy population of the elusive and mysterious New Guinea Singing Dog. Results of tissue analysis indicate this population is distinct from all modern domestic dog species and may well predate them. This would make the Singing Dog, the apex predator of New Guinea, a missing link between the first early canids and modern dogs. These studies were conducted in cooperation with The State University of Papua (UNIPA), Cenderawasih University (UNCEN) in Papua and the Southwest Pacific Research Project in the USA.
PT-FI's lead scientists also have published their findings in a number of books and posters on the biodiversity of Papua, especially biodiversity in the Mimika Regency. Biodiversity books include: "Freshwater Fishes of the Timika Region, New Guinea" (2000), "Aquatic Biota of Mimika Waters, Papua" (2002), "Mimika Butterflies" (2003), "Birds of Mimika" (2004), "Subalpine and Alpine Fauna of Mimika, Papua, Indonesia" (2005), "Mangrove Estuary Crabs of the Mimika Region, Papua" (2009), "Freshwater Crustacea of the Mimika Region, Papua" (2009), "Mangrove Estuary Shrimps of the Mimika Region, Papua, Indonesia" (2015), "Field Guide to Frogs of the Mimika Region, Papua, Indonesia" (2015), and "A Guide to the Birds of the Mimika Region, Papua, Indonesia" (2015).
To support biodiversity exploration in Papua, PT-FI has established permanent monitoring sites in all ecosystems in the area, from the mine at about 4,000 meters above sea level to the coastal and marine areas. Regular flora and fauna biodiversity monitoring are conducted in those sites involving consultants, research organizations and universities.
2. Education and Biodiversity Outreach Programs
Education and outreach is a major focus of PT-FI's biodiversity efforts, including construction of wildlife sanctuaries and the creation of the Natural Succession Discovery Park on a former tailings disposal area to serve as an outdoor education classroom. PT-FI has established wildlife areas, partners with local schools for education outreach, and provides internships at an on-site nursery for high school and college students.
PT-FI recognizes the uniqueness of the ecosystems and habitats in which it operates. As part of its environmental commitment, PT-FI looks for varied and creative ways to implement biodiversity outreach programs to involve students, teachers and community to promote biodiversity and endemism in Papua. Some of programs includes:
Established the Natural Succession Discovery Park using a former tailings disposal area to serve as an outdoor education classroom for local school students to learn about successional processes/trajectories in nature. In 2019, 2,697 schoolchildren visited the Discovery Park and 58 volunteers supported PT-FI planting mangroves in the estuary.
Developed ecosystem diorama displaying flora and fauna from the various local ecosystems from estuarine to alpine.
Constructed a butterfly sanctuary for students and the community to learn about the diversity and life cycle of lepidopterans at the sanctuary as well as how butterflies and other pollinators play a key role in the propagation of economically important crops. This facility also plays a role in conservation of breed protected butterflies (e.g., Priam's birdwing butterflies) and several others. From 2016 to 2019, approximately 4,200 butterflies of 17 species were raised and released to the wild.
Constructed sanctuaries for bird species, including the Cassowary and wallaby, to rehabilitate individuals confiscated from smugglers before release to natural habitats. The program included collaboration with the Papuan Natural Resources Conservation and Mimika Quarantine offices.
Established an orchidarium in the shape of the island of Papua New Guinea, including a trail where native orchids from throughout the project area are grown.
Worked with local universities to develop a jungle trail for educational purposes. This extensive trail, used frequently by schoolchildren and local residents, has a myriad of trees and plants identified with plaques highlighting common and scientific names as well as medicinal, economic and cultural uses.
Organized a children's bird-watching club as an ideal forum to grow student interest in nature and understanding of the broad diversity of avifauna in Papua.
PT-FI has received the following awards and recognition for its biodiversity programs:
In 2017, PT-FI received the Wildlife Habitat Council (WHC) Gold Award, given to one exceptional gold-certified tier program, as well as three individual awards: Marine-Intertidal Projects, Training Programs and Other Habitat Projects – Subalpine Ecosystem Restoration. PT-FI was also a finalist for the Forest Project award.
For four consecutive years (2013 – 2016), PT-FI received the Indonesian Green Award for Biodiversity Programs from the La Tofi School of CSR for its biodiversity and conservation programs.
In 2014, PT-FI received the WHC's prestigious Corporate Land for Learning of the Year Award.
In 2012, PT-FI received the WHC Corporate Land for Learning certification for its Environmental Education program and was recognized as Rookie of the Year.
Since 2011, PT-FI has maintained its WHC Habitat at Work certification.
3. Papua Endemic Wildlife Repatriation
Papua has one of the world's largest variety of biodiversity and greatest concentrations of endemic flora and fauna. As a consequence, flora and fauna from Papua often become the object of illegal trade. Countering illegal wildlife trade is a priority for Papua's natural resource agencies and part of PT-FI's commitment to biodiversity conservation in Papua.
PT-FI cooperates with a wide variety of Indonesia agencies to help repatriate protected animals to their habitats. Below are highlights of conservation events that occurred from 2006 to 2019:
Released 45,796 pig-nosed turtles (Carettochelys insculpta) in Lorentz National Park
Released 21 dusky pademelons (Tylogale brunii) in Wasur National Park, Merauke, Papua
Released 139 black-capped lory (Lorius lorry), five dusky lory (Pseudeos fuscata) and three yellow-crested cockatoo (Cacatua galerita)
Released two copper ring-tail cuscus, two spotted cuscus and 10 Southern Cassowaries (Casuarius casuari)
Released 13 green tree pythons (Morelia viridis), 20 white-lipped python (Leiophyton albertisi) one vipor boa (Candoia aspera) and one amethystine python (Morelia amestistina)
Released three freshwater Papuan crocodiles (Crocodylus novaguineae) and three panana lizards (Tiliqua gigas)
Released four red-bellied slide-necked turtle (Emydura subglobosa), one New Guinean white-bellied snapping turtle (Elseya branderhorsti) and two New Guinean giant softshell turtles (Pelochelys bibroni)
Released three rainbow lorikeet (Trichoglossus haematodus) and one brown dorcopsis (Dorcopsis muelleri)
PT-FI also participated in a Multi-Stakeholder Forum of Environmental Sustainable Development specifically for wildlife conservation in Mimika. The forum consisted of government bodies, local community forest rangers, non-governmental organizations, individuals and other private companies in Mimika. The forum's purpose was to reduce animal smuggling and increase awareness by producing promotional media (leaflets, banners, posters, social media, etc.), radio talk shows, workshops and training, and animal repatriation programs.
4. Continued Re-vegetation and Restoration of Ajkwa and Waii Islands in the Ajkwa Estuary
Sedimentation in the estuaries of the southern part of Papua, especially in the Mimika Regency, is very high due to high rainfall and associated erosion in the region. In the course of PT-FI's operations, natural sedimentation in Ajkwa estuary has inter-mixed with the fraction of tailings not deposited in the ModADA, moving down river to form new islands in the estuary: Ajkwa Island and Waii Island. Ajkwa Island began developing in 1997. Since then, unassisted natural succession has begun to transform the island from a previously barren landform into a mangrove ecosystem. Since there is a lack of information about natural successional processes that create estuarine habitats in this region, PT-FI conducts long-term monitoring to track ecosystem succession. The monitoring program conducted on Ajkwa Island includes invertebrate species.
To accelerate mangrove colonization, since 2002, assisted mangrove colonization programs have been implemented. Through 2019, approximately 300 hectares of newly formed land (Waii Island), Yamaima and Pasir Hitam have been revegetated with mangroves – achieving a survival rate greater than 90 percent.
5. Progressive Reclamation and Restoration of Subalpine Ecosystems at Grasberg
The Grasberg open pit is at an elevation of more than 4,000 meters above sea level. At this elevation, the ecosystem is devoid of trees and instead dominated by grasses, ferns, herbs and shrubs. During the life of the Grasberg open pit, overburden rock was moved to expose ore for mining and placed in stockpiles surrounding the pit. When the individual stockpiles reached their overburden storage capacity, the surfaces were re-vegetated to form an ecosystem similar to that found during pre-mining conditions. PT-FI reclaimed the overburden stockpile areas once the final elevation and contour are attained, and drainage and erosion control systems operational. PT-FI also studies re-vegetation techniques in subalpine and alpine ecosystems, propagates flora using a large variety of native plants and establishes vermi-composting to support reclamation and ecosystem restoration efforts. Since 1999, 411 hectares of overburden stockpile areas have been reclaimed in Grasberg by using native plant species.
6. Tropical Reforestation Initiatives through Tree Planting
Replanting trees with large biomass per unit land area and protecting large areas of intact forest are some of the most efficient ways to absorb excess CO2 from the atmosphere. PT-FI recognizes the importance of reforestation and is committed to incorporating tropical tree planting efforts into its conservation activities. One reforestation initiative in the project area consists of encouraging employees and their families to be actively involved in tree planting activities. PT-FI implements reforestation efforts with involvement by local communities though commemorating events such as Earth Day, Environment Day and Indonesia Independence Day as well as religious ceremonies. PT-FI's activities outside the project area include participating or sponsoring tree planting activities in Timika, Papua, and in other areas outside the province of Papua (including West Sumatra, West Java and Central Java).
WHY IT MATTERS?
Mining requires the development of infrastructure such as open-pit mines, roads and processing facilities that can alter the natural environment. Mining companies are responsible for managing these impacts, which include reclamation of the land for post-mining use. The purpose of reclamation is to return areas impacted by mining and processing activities to a healthy state with lands that support productive post-mining land use. Freeport-McMoRan understands that effectively reclaiming disturbed land and responsibly closing our mine sites is critical to maintaining the trust of our local communities, governments and other interested stakeholders.
OUR APPROACH
Freeport-McMoRan's reclamation and mine closure planning processes are integral to our site planning and ongoing operations. We engage local communities, governments and other interested stakeholders early and often on these issues, and we seek to minimize land disturbances whenever possible.
At each of our operations, we have mine closure and reclamation plans with site-specific environmental measures designed to minimize long-term impacts, promote ecosystem re-establishment and protect the watersheds where we operate. To support future anticipated closure and reclamation costs, each operating mine site has asset retirement obligations which are estimated and accounted for in accordance with the Securities and Exchange Commission's requirements and subject to review by an independent accounting firm.
Due to the geological nature of the deposits and large resource base, most of our mining operations are long-lived, so implementation of closure plans may not occur for years or decades in the future.
Our reclamation programs incorporate multiple aspects associated with environmental management and community well-being, such as water and air quality, erosion, wildlife and grazing habitats, and revegetation programs – all elements working together to advance ecosystem reestablishment. Although our traditional post-mining land use has been focused on wildlife habitats, we are increasingly exploring opportunities for open space, wildlife habitat, grazing habitat, recreational and educational use, renewable energy sites, and new industrial uses of our lands post-closure.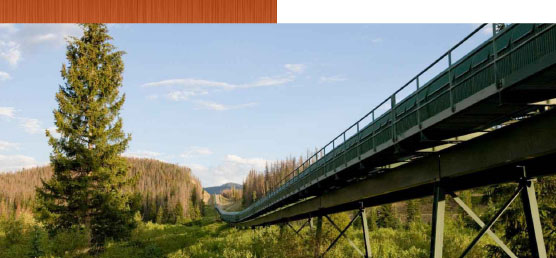 In 2019, we hosted our second annual Henderson Sustainable Development and Entrepreneurship Challenge in partnership with the Colorado School of Mines. Over 100 Mines students in attendance were asked to form teams and pitch concepts to the company for repurposing the mill's 10,300 acres of land near Parshall for when the mine's resource is eventually depleted. Last year, the challenge focused on the mine's surface facilities on the east side of the Continental Divide near Empire, Colorado. All ideas for both challenges were required to show a socioeconomic benefit to the surrounding communities, as well as be economically sustainable, socially acceptable and provide a positive and lasting legacy in the State of Colorado. The most important outcome from the Henderson Challenge is for county leadership to understand that there are viable options for supporting long-term economic development once the mine ceases operation.
WHY IT MATTERS?
In addition to mining and mineral processing wastes, such as tailings, waste rock, slags, sludges and other residue, our operations generate non-mining waste which requires proper end-of-life management. Responsible management and disposal of these materials is critical for complying with environmental regulations and to maintaining community and environmental health and social acceptance of our operations.
OUR APPROACH
Freeport-McMoRan is committed to reducing our environmental impact, which includes the effective management of our mining and non-mining wastes alike. The volume of mining and processing wastes varies depending on site operating plans and is managed in designated, engineered stockpiles and impoundments.
For non-mining waste, we continuously evaluate opportunities to reduce the quantity generated. We implement robust practices to identify, categorize, store and manage non-mining wastes, and we strive to increase recycling and reuse of non-mining waste materials in our operations whenever possible. We also evaluate our hazardous waste streams, and when possible, substitute materials with lower toxicity into our processes.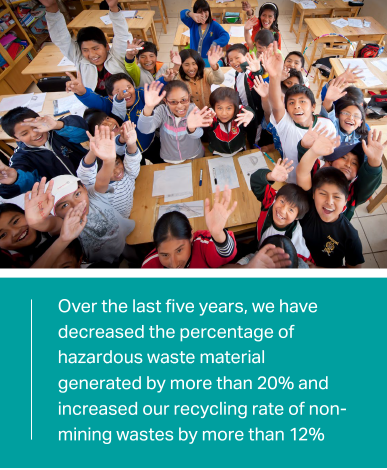 Policies & Programs
Freeport-McMoRan has a dedicated global waste management team composed of subject matter experts from across the company. The team is responsible for advancing our technical expertise and developing leadership skills through multi-site collaboration. Our experts provide guidance on applicable laws and regulations to support global consistency in our waste management programs and the company's Environmental Policy. The program identifies best practices and opportunities for continuous improvement. We follow local and national regulations and seek to meet or exceed industry best practices for disposing responsibly.
PERFORMANCE
Our operations generate relatively small quantities of non-mining waste relative to our mining and processing wastes. Our non-mining wastes fall into two categories: (1) non-hazardous, such as tires, scrap metal, obsolete equipment, HDPE pipe, domestic waste and wood waste, and (2) hazardous, such as used oil, chemicals, solvents, batteries, reagent packaging and fluorescent lightbulbs.
In 2019, we generated approximately 251,000 metric tons of non-mining wastes, of which 23% was hazardous and 77% was non-hazardous. When possible, our materials are evaluated for other end-of-life uses in accordance with applicable regulations and are recycled back into our own operations or into the global value chain.