DUE DILIGENCE
RESPONSIBLE SOURCING
The responsible sourcing programs we are advancing also support human rights due diligence for suppliers of both goods and services of minerals and metals for further processing.
Freeport Compliance eXchange. Our online due diligence platform, the Freeport Compliance eXchange (FCeX), is a survey-based software platform designed to assess risk in the areas of anti-corruption, international trade and human rights.. The system issues a risk assessment questionnaire that must be completed before new business partners at higher risk operations are approved. FCeX is managed by corporate- and site-level Compliance officers and has enhanced our ability to identify, assess and mitigate compliance risks on an ongoing basis.
Minerals & Metals. Per our new Responsible Sourcing of Minerals Policy, we implement the Organization of Economic Co-operation and Development (OECD) Guidelines for Responsible Mineral Supply Chains in Conflict Affected and High Risk Areas in our supply chain of minerals and metals. We assess our incoming metal and mineral supply chains to identify potential "flags" with regard to what are defined as Annex II risks – such as bribery and corruption, trafficking, and child or forced labor – by the OECD Guidelines. We then go through a risk-based due diligence process to help us better understand these "flags." These results are then reviewed by the applicable internal committee and appropriate actions are taken. Actions can include working together with the supplier to identify and implement an action plan, termination, and general collaboration to build capacity. In 2019, we identified two red flags that warranted detailed due diligence out of over 30 sources for our copper smelters and refineries. One supplier was eliminated from our supply chain, and we are working with another supplier to build capacity. Please refer to the Responsible Value Chains section for more information.
Goods & Services. Our Supplier Code of Conduct and FCeX screening processes are the foundation of our responsible sourcing program for goods and services. In 2019, we continued strengthening our approach by developing a more advanced risk and data-based responsible sourcing framework. Our work on this framework in 2019 focused on updating our screening systems for identifying risks across suppliers. This included working to update supplier questionnaires used in our FCeX process as well as subscribing to country-level risk indices. It also included selecting a new enterprise software that supports our new Responsible Sourcing framework. Please refer to the Responsible Value Chains section for more information on this global initiative.
The development of these responsible sourcing programs is partly linked to the site-level HRIAs we have conducted to date, which have highlighted the need for more visibility into potential human rights risks within our supply chains.
HUMAN RIGHTS IMPACT ASSESSMENTS
Our HRIAs are supported by Verisk Maplecroft, a third-party global risk analytics and advisory firm, using a methodology aligned with the UNGPs. They involve direct input from a broad cross-section of internal and external rights-holders and support continuous improvement of our management systems by testing their effectiveness in identifying and addressing potential, actual and perceived human rights risks and impacts. Our Human Rights Dashboard defines the scope of these assessments. Each dashboard topic is mapped to specific human rights to support a comprehensive, rights-driven approach. Certain dashboard topics (like artisanal mining and indigenous peoples) may not be relevant at certain operating locations.
A variety of factors are considered when prioritizing sites for specific human rights due diligence. We consider which sites have a higher human rights risk profile, as well as whether a site has recently undergone or has potential for significant operational change, stakeholder feedback and other practical considerations regarding implementation.
To date, we have conducted four HRIAs and initiated a fifth:
In 2019, we focused on:
Advancing implementation of action plans to address priority risks and impacts at our Chino and Tyrone operations in New Mexico following completion of the New Mexico operations HRIA in 2018
Initiating implementation of an HRIA at our El Abra operation in Chile
New Mexico Operations HRIA
Following completion of a site-level HRIA in 2018, our Chino and Tyrone operations in New Mexico commenced implementation of action plans to address priority risks and impacts during 2019.
The New Mexico Operations HRIA, conducted by two consultants from Verisk Maplecroft, applied our site-level HRIA methodology described below and included:
Conducted an initial desk-based assessment of human rights risks and impacts
Implemented fieldwork, including extensive direct engagement with more than 150 stakeholders in and around our Chino and Tyrone mines in Grant County, New Mexico
Attended two community meetings – a Community Partnership Panel (CPP) meeting in Silver City and a Mining District Public Meeting in Hanover – to observe the company's engagement approach and hear community feedback, questions and concerns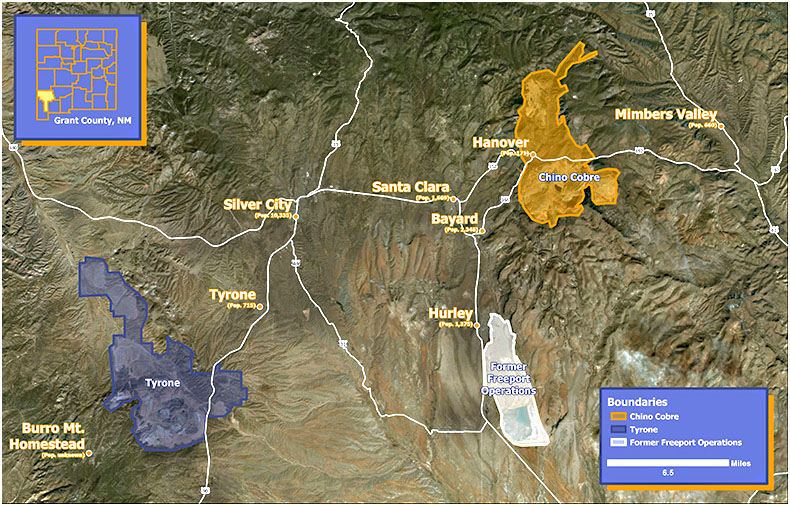 Many of the risks and impacts identified were already subject to established human rights-relevant management systems at Chino and Tyrone. Where the findings identified actual or potential gaps in such management systems, cross-functional teams developed action plans. Actions were prioritized considering the severity of impact, whether there was an actual or potential impact, the time sensitivity of remediation (e.g. the likelihood of continued harm) and company influence / leverage.
Action plans support the continuous improvement of existing systems and processes, and where necessary, establish new measures to investigate, avoid, mitigate and / or remedy human rights risks and impacts. In some cases, action plans required further investigation of alleged impacts as a first step due to uncertainty around supporting facts and / or the causative relationship to Chino and Tyrone. Actions are tracked by New Mexico operations SD Leader via the site's Risk Register process.
The following table summarizes certain priority areas identified for further action as well as actions taken in 2019:
A limited number of alleged breaches of confidentiality by Chino supervisors
In 2019, Chino conducted a series of leadership trainings targeting supervisors emphasizing communication, collaboration and employee involvement with a goal of increasing trust. The results of employee surveys conducted in 2019 indicate that the trainings have been effective in improving leadership among supervisors.
A moderate number of gender-based discrimination allegations
To protect the confidentiality of those who raised concerns, New Mexico Operations leadership opened dialogue with women in its workforce regarding their experience as women working at Chino and Tyrone. Women discussed successes, challenges and potential solutions to increasing diversity within the workforce. Per Company policy and standard practice, any reports of discrimination raised were investigated, and if substantiated, appropriate disciplinary action was taken.

At the corporate-level in 2019, we launched a global initiative to further strengthen our focus on diversity and inclusion in the workplace. Refer to Diversity & Inclusion for more information.
Actual and / or alleged property damage as a result of blasting associated with the construction of the Chino-Cobre haul road
Chino periodically receives grievances from community members related to blasting and has a process in place to investigate associated property damage allegations and process any claims via the sites' community grievance mechanism. In 2019, Chino installed 4 seismographs in the community to improve real time monitoring of vibrations associated with blasting. Monitoring results are shared with community members during quarterly Mining District Public Meetings.
Limited visibility of working conditions beyond Tier 1 suppliers
At the corporate-level in 2019, we advanced the development of a responsible sourcing due diligence program for the goods and services procured by our operations. The risk-based program will support greater visibility of supplier risk exposure and management practices as well as more active assurance of dashboard topics. Refer to Responsible Value Chains for more information.
Actual and / or alleged impacts
on air quality, including dust and odors
Chino periodically receives grievances from community members related to air quality, including dust and odors. These are subject to our community grievance mechanism and discussed during quarterly Mining District Public meetings. In 2019, a small group of neighbors that expressed concerns regarding odors attended a tour of the mine and various processes in an attempt to identify the source. A meteorological station was placed upwind of the neighbors' homes to measure weather conditions. Chino is working with these neighbors to log the date, time and location of the noted odors. This information is being tracked along with weather data in an attempt to identify the source and/or meteorological conditions that make it episodic. Odors continue to be investigated, however complaints have significantly reduced.
Risk related to the potential economic impact of mine closure coupled with requests for greater company support towards local economic diversification to help prepare for a post-mining future
Our work is increasingly focused on supporting our communities to develop the requisite skills to successfully adapt to technological and economic changes in the future in order to reduce their dependency on mining over the long-term. This includes building a foundation of resiliency during times of commodity market fluctuations or other economic disruptions after fluctuations that may have social impacts. The COVID-19 pandemic has highlighted existing vulnerabilities in rural communities and reinforces the importance of supporting community resiliency.

New Mexico Operations' community programs are tailored to the dynamics of the operations and its host communities. They aim to (1) build enduring trust, (2) minimize or mitigate any negative impacts from our operations while maximizing the benefits, (3) support our communities in building resiliency and citizen well-being over the life of the mine, and (4) develop the skills and capacity to thrive beyond the mine. In 2019, social investments and initiatives included:

Providing funds to match a US Department of Agriculture Rural Economic Development Innovation (REDI) grant that is providing technical assistance to organizations and units of government in Grant County to create and implement an economic development plan over a 2-year period. The initiative also focuses on sustainable/affordable housing, outdoor recreation, and provides small business development mentoring/training.
Supporting the efforts of Better City, a consulting group focused on economic development in Grant County. Initially funded by the Company, Better City is now funded by the Town of Silver City and is working to form a non-profit entity to represent business, education and government and facilitate a strategic, unified effort to secure funding for economic development in Grant County.
Engaging with educational partners to collectively work toward improving educational attainment levels in Grant County. This engagement included both investment in and ongoing discussion with Silver City and Cobre Consolidated Districts around the correlation between education and local economic development strategies. In 2019, this included investing $171K in the two Districts to support STEM, teacher professional development and direct student programming.
Chino and Tyrone continue to engage with community members and representatives via quarterly CPP meetings and Mining District Public Meetings. During these meetings, company leadership invites and encourages questions and information sharing to address any stakeholder concerns. These meetings also provide a forum to update participants on progress in addressing relevant HRIA action items following communication of high-level findings. To review the second-quarter 2019 CPP meeting minutes and all other CPP meeting minutes, please refer to freeportinmycommunity.com.
Lessons learned from the New Mexico operations HRIA are helping to guide our global human rights approach and site-level HRIA work at other operations.
El Abra HRIA
In 2019, we engaged Verisk Maplecroft to carry out a HRIA at our El Abra operation in Chile in line with our site-level HRIA methodology. We completed a desktop assessment of the sites' potential human rights risks and impacts, which informed planning for field interviews. Fieldwork, initially scheduled for November, was deferred due to the outbreak of social unrest throughout the country, including in Santiago and Calama where meetings were scheduled. We have deferred field work until conditions improve.
Site-level HRIA Methodology
Our ongoing program of site-level HRIAs act as a form of deep-dive verification. These assessments use a comprehensive, systematic and UNGP-aligned HRIA methodology to identify and prioritize each operation's human rights risks and impacts. In many cases, risks and impacts already have been identified via the site's Risk Register process, management systems and grievance mechanisms. However, the application of a specific human rights 'lens' means these site-level HRIAs are able to:
Supplement findings with hidden or unreported risks and impacts that otherwise are not being captured, including through direct engagement with affected and potentially affected rights-holders
Use a structured framework to prioritize identified risks and impacts using the specific criteria set out in the UNGPs (e.g. scope, scale and remediability)
Deliver additional analytical insight into identified risks and impacts from a human rights perspective
As such, site-level HRIAs help us test our established management systems for effectiveness in identifying, mitigating and remediating human rights risks and impacts.
Assessing Impacts. The first step in our HRIA process is to conduct a desk-based assessment of human rights risks and impacts using:
Verisk Maplecroft's proprietary country-level Human Rights Risk Indices
Third-party sources, including the media and civil society
Site SD Risk Registers, grievance mechanisms, health and safety reports, environmental reports, the ICMM assurance report, five-year Community Engagement and Development Plans, and other relevant sources
An HRIA Self-Assessment Questionnaire completed by senior leadership at both corporate and site levels
This desk-based assessment informs planning for and implementation of fieldwork.
Extensive direct engagement in the field is core to our site-level HRIA process. Consultants from Verisk Maplecroft spend approximately two weeks visiting the operation and surrounding communities. During this time, they engage with a cross section of actually or potentially affected rights holders (or those with insight into the same) in and around the site and surrounding communities. Key criteria for identifying stakeholders to engage as part of our site-level HRIAs include the following:
The likelihood that a stakeholder's human rights may be undermined by our business activities and/or relationships, as well as the potential severity of such an impact
The severity of impacts linked to our business and/or relationships that have undermined a stakeholder's human rights
The specific vulnerability of certain stakeholders to negative human rights impacts linked to our business and / or relationships
The degree to which a stakeholder is either unwilling or unable to use conventional grievance mechanisms (whether public or linked to the company) to raise human rights concerns
The degree to which stakeholders are able to provide insight into the existence and / or nature of any negative human rights impacts our business and/or relationships have on themselves, their communities and / or third parties
Employees, suppliers / contractors, community members and third parties are asked (by reference to the dashboard topics) about any negative impacts associated with the operation. Interviews are conducted on both an individual and collective basis in locations and ways that encourage transparent and constructive discussions. With the exception of our own managers, who offer their professional analysis of the site's human rights risks and impacts, interviewees are offered anonymity before engagement. Engagement is focused on a living list of stakeholders that evolves throughout the engagement, due to stakeholder recommendations and the identification of new lines of inquiry. Interviews are conducted in the applicable local language and sometimes with translation support.
These interviews help us:
Verify the initial desk-based assessment of human rights risks and impacts
Capture less "visible" risks and impacts (e.g. in the event rights holders were unable or unwilling to use sites' established grievance mechanisms or to raise issues with third parties)
Gain insight into broader human rights dynamics that are less focused on specific incidents or complaints likely to be recorded in the sites' established grievance mechanisms – and as such provide a richer picture of risks and issues
Understand the specific impacts associated with identifiable vulnerable groups, such as women, children, minority groups and the very poor
Identify any misperceptions among stakeholders
Direct input from rights holders also helps us test the effectiveness of our established human rights-relevant management systems in identifying and addressing human rights risks and impacts.
The "but-for" test is applied in relation to the identification of human rights impacts caused by, contributed to by, or otherwise linked to the site, its activities or its business partners (i.e. But for the existence of the site, its activities and relationships, would the impact have taken place or been as severe?). Alleged impacts are included in the assessment even if there is uncertainty regarding the supporting facts and/or the causative relationship.
We include a parallel exercise to identify the degree to which the site(s) positively maintains and / or advances human rights within their areas of influence. While understanding that positive human rights impacts cannot offset negative impacts, this exercise provides a more comprehensive view of our overall human rights performance.
Following completion of the assessment, Verisk Maplecroft presents the findings to the site management team and members of the corporate Human Rights Working Group. The results also are reported to both the SD Leadership Team and the Corporate Responsibility Committee of the Board.
Integrating Findings and Taking Action. After completion of an HRIA, operations use the HRIA results to update their SD Risk Registers.
Site-level HRIA reports include recommendations on priority areas for investigation and / or action. These recommendations are reviewed by site management in collaboration with the Corporate SD team. Where HRIAs identify 'gaps' in a site's established human rights-relevant management systems, operations personnel work with cross-functional teams to develop HRIA Action Plans. HRIA Action Plans support continuous improvement of existing systems and processes. Where necessary, they establish new measures to investigate, prevent, mitigate and/or remedy human rights risks and impacts.
We are enhancing our process for integrating HRIA Action Plans into and tracking progress within the site's existing Risk Register process. In 2019, we reviewed our HRIA Action Plan process and developed guidance to assist operations subject to an HRIA implementation process. A desired outcome field was added to our HRIA Action Plan form where sites are asked to indicate the desired outcome associated with each action item (e.g. what would indicate the action item has been completed). Desired outcomes can be measured using qualitative or quantitative indicators. Such indicators are intended to help sites better assess the effectiveness of action item implementation and whether or not the actions taken have produced the desired results. The corporate SD department and senior, multi-disciplinary experts coordinate with site personnel so that prioritization processes are consistent with corporate procedures and provide associated guidance.
Communicating Performance. We report on our human rights programs and due diligence in the Human Rights section of our annual Report on Sustainability. This is in addition to content describing our approach toward managing our focus areas as well as relevant performance outcomes. We also organize periodic international stakeholder calls and make presentations via multi-stakeholder forums during which we provide updates on our human rights programs and report on our site-level HRIAs. This takes place in the context of our broader program of ongoing Stakeholder Engagement.
At a local level, how we communicate our human rights performance varies by site and geographic / social context. For recent examples, please refer to the New Mexico operations HRIA section above and our Annual Reports to the VPs Plenary in the Reports and Documents section.

BACK TO HUMAN RIGHTS > DUE DILIGENCE | Voluntary Principles | UK Modern Slavery Act Statement