COMMUNITY ENGAGEMENT & SOCIAL INVESTMENTS
Early and ongoing community engagement and constructive dialogue is fundamental to understanding our actual, potential and perceived impacts, building trust, and identifying social investment and development priorities. Our regular engagement with communities and stakeholders helps to build a localized understanding of what contributes to community welfare, its sustainability and any gaps that might exist. It also enables us to share information about operational activities and facilitate dialogue.
Our community engagement takes place in a number of different formats depending upon the cultural context. The primary ways we engage with communities are through Community Partnership Panels in the U.S., Community Roundtables in South America and Community Development and Empowerment Teams in Indonesia. All three models focus on transparent communication and dialogue and are comprised of local leaders and citizens representing a broad range of stakeholder groups in each community. In addition to these engagement models, each operation engages with stakeholders frequently through situation or topic-specific meetings, presentations or community outreach office hours.
Our social investment programs are informed by our community engagement efforts and partner inputs and are focused on education, skills development and capacity building, safety and health programs, small-scale infrastructure, and identification and development of alternative economic opportunities. We increasingly are focused on investing in the "sustainability of people." This includes providing enduring and adaptable skills and opportunities individuals need to achieve productive livelihoods, particularly post-mining, and to play a progressively active role in the future prosperity of their own communities.
PERFORMANCE
We held more than 100 community engagement meetings through our formalized processes, such as Partnership Panels and Roundtables, and an estimated 600 additional engagements throughout the year. Our social investment programs are funded directly through each operation and the respective foundation or community trust funds we have established and maintain in the U.S., Chile, Peru and Indonesia. We believe communities understand their needs best, and we seek to continuously understand those needs through our ongoing engagement while also empowering them through community-led processes that direct our investments to the programs that meet their immediate and longer-term needs.
Annually, we seek to invest 1% of the averaged previous three years' revenues into our community programs. Our revenues, and corresponding community investments, tend to vary year to year due to a variety of factors including the cyclical nature of the business. In 2019, Freeport-McMoRan invested $100 million into social programs around the world, less than our 2019 target of $166 million. Because the target is a lagging metric, it can remain high due to prior year revenues in the face of declining commodity prices that decrease revenue and community program spending in current or future years, which was the case in 2019. Over the last ten years, since we first established a community investment target, Freeport-McMoRan has invested more than $1.8 billion dollars in community development initiatives.
AMERICAS
Community & Economic Development
In 2019, we invested over $3.6 million in economic opportunity and small business initiatives among our U.S. operating communities, and an additional $1.5 million in projects to strengthen local systems that create a thriving business environment. The largest of our programs, DreamBuilder, a free, online entrepreneurship education and training program for women, continued to expand its reach. Now in its eighth year, we've helped train more than 60,500 women across 90 countries, primarily the U.S., Chile and Peru where we operate, equipping them with the skills and confidence needed to become financially independent business owners.
We continued our long-standing partnership with Local First Arizona, working with rural businesses to increase local spending, develop a process to attract new businesses and increase local tourism. In 2019, we launched a new pilot effort to provide loans to small business owners in Graham County who could not qualify for traditional bank loans. To date, the program has a 95% repayment rate and has encouraged the city of Safford to commit additional funds to expand the loan pool and stimulate small business growth.
In 2019, Freeport-McMoRan provided matching funds to help secure competitive Rural Economic Development Innovation (REDI) technical grants from the United States Department of Agriculture for multiple rural communities in Arizona, Colorado and New Mexico. The REDI grants are exclusive planning grants that bring together local leaders and economic development experts to create actionable economic development plans addressing entrepreneurial ecosystems, housing and workforce attraction.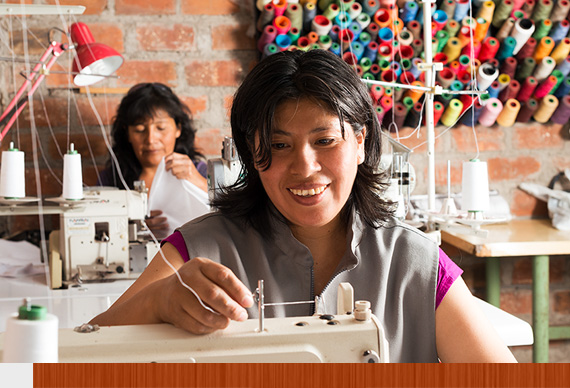 ​
Education & Training
Freeport-McMoRan and College Success Arizona (CSA) have partnered over the past five years to help students statewide leave college with a degree or certification in hand. This comprehensive system of support, encouragement and accountability is the reason more than 70% of CSA scholars graduate from college in six years – a rate significantly higher than the 26% Arizona average. Approximately 70% of CSA scholars, particularly those from rural communities, are first-generation college students, and 85% are from low-income families. In 2019, we finalized an agreement with CSA to administer our scholarship program for Native American students from our partner tribes, a population with an even higher risk of dropping out, providing scholarship funds for tuition and the critical support needed to complete their college education.
In 2019, we continued our partnership with Vital Voices on the VV Engage program, a fellowship supporting outstanding women leaders making and influencing policy across the globe, and taking action to facilitate security, equality and sustainability in their communities. VV Engage aims to increase the capacity, decision-making power and effectiveness of women leaders in politics, government and civil society, shifting culture around women's public leadership and moving towards equality in public representation. The yearlong fellowship, awarded to 25 women in 2019-2020 and 21 women in 2018-2019, works toward a more inclusive and equitable world by advancing the UN Sustainable Development Goals (SDGs) through the policies and activities enacted by its participants.
Our commitment to improving science, technology, engineering and mathematics (STEM) education opportunities remains a priority. Through our STEM Innovation Grants and Mini Grants for Education program, we partnered with 67 local schools and teachers to invest over $150,000 in projects that enriched STEM learning and enhanced classroom experiences. With an ultimate focus on the workforce pipeline, we further invested in higher education programs for skilled trades as well as four-year degree programs related to our business needs. We also contributed to collaborations, such as the 100Kin10 program, that seek to address critical system change to increase the quality of education required to drive innovation and prosperity for the United States economy.
Health & Nutrition
In Peru, anemia in children under five years of age is widespread, impacting intellectual and cognitive development. Cerro Verde's comprehensive nutrition program aims to contribute to the reduction of the anemia rate and increase nutrition education in our neighboring communities. In the Uchumayo district, we provide equipment, screenings, supplements and education in coordination with the health centers and schools. Through 2019, 55% of children under the age of 5 years old have been screened in our direct area of influence – the districts of Uchumayo, Yarabamba, Tiabaya, La Joya and Matarani Port – and to date we have seen a 9% reduction in childhood anemia rates.
We also have trained over 80 public schools in the area of influence through our healthy lunchbox project, which promotes healthy eating habits in the educational community. In coordination with Peru's National School Food Program "Qali Warma," we support equipping kitchens and school canteens and educating mothers and food preparation committees on proper nutrition.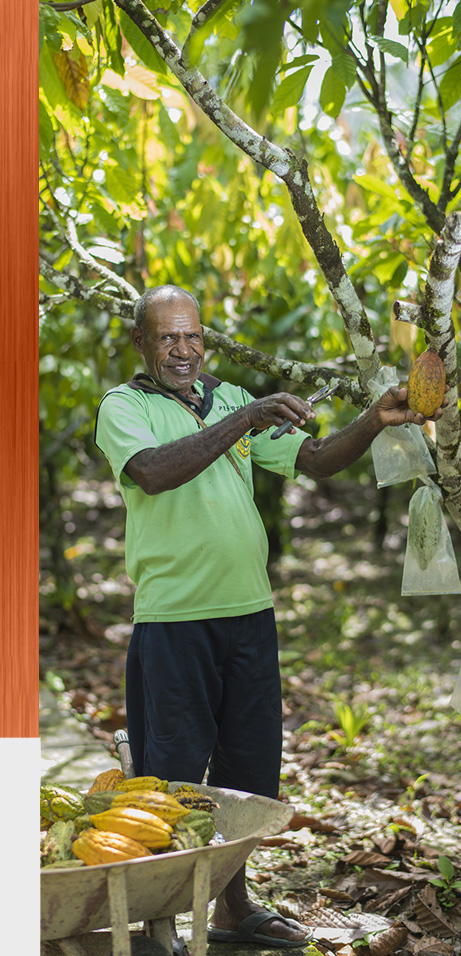 INDONESIA
Community & Economic Development
The Freeport Partnership Fund for Community Development (Partnership Fund), managed by the Amungme and Kamoro Community Development Organization (LPMAK), contributes 1% of annual PT-FI revenues for use in local community and indigenous peoples' development projects focused on health, education, economic development, training and small-scale infrastructure. PT-FI's 2019 contribution to the Partnership Fund was $27.7 million, totaling more than $825 million since its inception in 1996.
During 2019, PT-FI completed a process to convert the management and organizational structure of the Partnership Fund into an Indonesian Foundation with the goal that the new foundation will eventually achieve financial and managerial self-sufficiency and strengthen the long-term effectiveness of PT-FI's social investments.
PT-FI works with the Kamoro to strengthen economic activities and support increased production and marketing of local commodities. This includes a fisheries program in partnership with the Mimika Catholic Church, the introduction of cacao as a cash crop and a karaka (mangrove crab) aquaculture program for Kamoro youth. PT-FI also collaborates with the Mimika government to develop a coconut plantation in Manasari and is working with Kamoro community members to reinvigorate a sago plantation in Nayaro.
New in 2019, PT-FI, Freeport-McMoRan, Arizona State University's School of Sustainability and the Mimika Catholic Church cooperative Maria Bintang Laut partnered to develop sustainable energy solutions to help raise fishing family incomes above the poverty line. The objective is to reduce fish storage costs and improve fish quality by producing ice via a solar panel system. This is one of a number of initiatives to accelerate the establishment of an economic hub in Otakwa village.
Education & Training
Our Nemangkawi Mining Institute (NMI) in Papua, founded in 2003, has placed 2,764 apprentice graduates into full-time employee and contractor positions at PT-FI, 90% of whom are indigenous Papuans. NMI recently evolved its focus on upskilling Papuans to support their entry into the workforce anywhere in Papua for a sustainable future.
NMI also organizes the Papuan Bridge Program (PBP) that equips young Papuans who have completed their tertiary education and are ready to enter the workforce. Through the end of 2019, PBP has trained 203 young Papuans (67% women) providing knowledge and skills needed in the world of work. NMI cooperates with local governments, privatization companies and contractors, other mining companies in Papua and educational institutions so that PBP graduates are equipped to enter the workforce where needed, whether within the PT-FI workforce, or in other industries in Papua or throughout Indonesia.
Please refer to Assessing & Managing Impacts, Public Health, Indigenous Peoples and Land Use & Customary Rights sections for additional information on economic development and health-related social investments.

BACK TO COMMUNITIES > COMMUNITY INVESTMENT & SOCIAL INVESTMENTS | Assessing & Managing Impacts | Public Health | Artisanal Mining | Freeport in My Community