CERRO VERDE HRIA
In 2017, we carried out a site-level HRIA at our Cerro Verde operation in Peru. This included completion of the desk-based assessment of potential human rights risks and impacts initiated in 2016, as well as planning for – and implementation of – the associated fieldwork, which was conducted in the fall of 2017.
The "dashboard" of human rights topics addressed in the Cerro Verde HRIA built on that used for the Corporate HRIA, placing additional emphasis on the local/domestic value chain. This was in response to the need for further investigation of potential and actual impacts linked to local suppliers and contractors.
Topics reflected in the dashboard are mapped against recognized international human rights to ensure a comprehensive, rights-driven approach – while being organized and communicated in a way that is relevant to our mining related activities. Certain dashboard topics have limited relevance to Cerro Verde (such as artisanal mining, resettlement and indigenous peoples).​
Field work for the Cerro Verde HRIA included extensive, on-the-ground engagement with 142 stakeholders in and around our Cerro Verde mine, including the city of Arequipa and its surrounding communities. Twenty-five percent of those interviewed were women. We included engagement with a range of actually or potentially affected rights holders, both on an individual and collective basis – such as:
Employees (including employees, managers, contract workers and union representatives)
Community members (including water and farming groups, teachers, students, doctors, religious leaders/organizations, among others)
Third parties (including public and private security providers, public officials and NGOs, among others)
Suppliers and contractors (including managers and employees)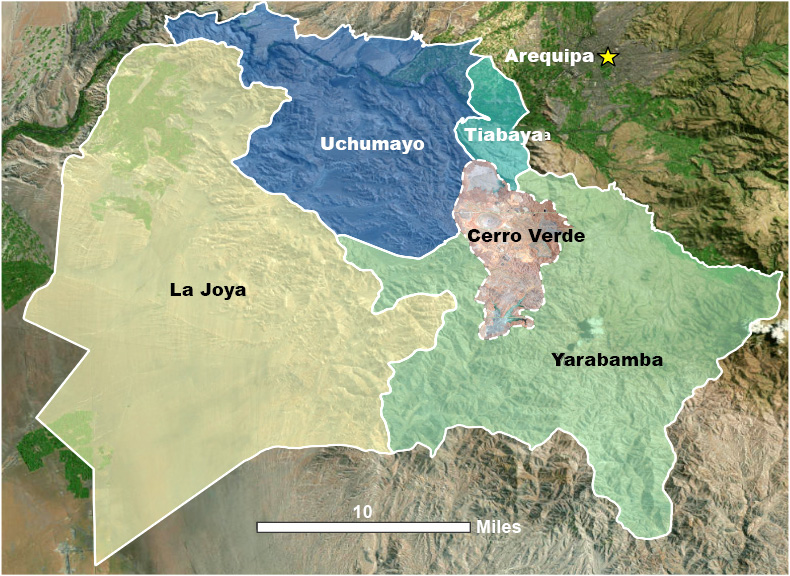 ​
Stakeholder interviews were conducted by two independent consultants in ways that would encourage frank, transparent and constructive discussions. With the exception of Cerro Verde managers, who offered their professional analysis of the mine's human rights risks and impacts, interviewees were offered anonymity before engagement. The offer of anonymity was accepted more often by community members and more junior employees, whereas those representing institutions, those occupying positions of leadership in their respective spheres, and suppliers and contractors tended to decline the offer.
These interviews helped us:
Verify the initial desk-based assessment of human rights risks and impacts
Ensure less "visible" risks and impacts were captured (e.g. where rights holders were unable or unwilling to utilize Cerro Verde's established grievance mechanisms or to raise issues with third parties)
Gain insight into broader human rights dynamics that may collectively affect local rights holders but not to a degree – or in a way – that any one individual or group has been compelled to raise a specific complaint (e.g. dust, traffic, water security)
Understand the specific impacts associated with identifiable vulnerable groups, such as women, children, minority groups and the very poor
Identify any perceptual gaps among stakeholders
As with our previous assessments, the Cerro Verde HRIA applied the "but for" test in relation to the identification of human rights impacts caused by, contributed to or linked to Cerro Verde, its activities or its business partners. Alleged impacts were included in the assessment even if there was uncertainty regarding the supporting facts and/or the causative relationship to Cerro Verde. Many of the risks and impacts identified were of a less visible or severe nature. Similarly, many risks and impacts were ambiguous in terms of evidence and/or causation.
In this context, the assessment required a relatively nuanced approach, including:
The need for further investigation of certain issues to better understand if/how to address them
The factoring-in of collective risks and impacts involving third parties
Analysis of broader, less tangible human rights 'dynamics' over time – and/or connecting factors between individual impacts
Impacts and allegations identified by the Cerro Verde HRIA included the following:
Employees:
Two workplace fatalities in 2017, as well as a broader set of medium severity health and safety impacts, reflecting the risks associated with activities carried out in the mining sector
Claims by an anonymous stakeholder that a small number of workers may be experiencing serious health impacts linked to on-site activity
Concerns among some employees about unofficial barriers that may limit their ability to unionize, as well as union allegations of anti-union practices by Cerro Verde managers – despite the existence of an active and influential trade union at the mine
Potential safety impacts of changed shift patterns in combination with long commuting
A high volume of disputed labor sanctions applied to more than 1,000 striking workers in 2016 and 2017, with more than 700 of these resulting in litigation (subject to ongoing judicial process, which has potential uncertain consequences of decreasing the court's capacity)
A small number of lower severity discrimination allegations (including claims of unconscious bias) from employees, primarily related to gender
Value Chain:
Medium severity health and safety impacts reflecting the latent risks associated with mining
Limited number of lower severity allegations with respect to working conditions in the value chain
Small number of allegations linked to potential anti-union activity and/or management approaches by suppliers
Limited visibility of working conditions beyond Tier 1 suppliers
Community:
A large volume of lower severity impacts to local community members during construction and initial operation of the wastewater treatment plant system, related to noise, vibration, odors and structural damage to homes – as well as a small number of more severe allegations that these impacts worsened pre-existing health conditions of local community members (subject to past and ongoing grievance resolution processes)
Possible contribution to 'ambient' collective impacts linked to Arequipa's status as a regional mining 'base' and its associated economic strength – including vehicular traffic in/around the city, increased living costs and land encroachment by incoming settlers
Third-Parties:
A limited number of lower-severity allegations regarding conflict of interest and improper conduct linked to lower-level employees and third parties
Delays in processing third-party cases at the local labor court due to the high volume of cases brought by employees in relation to disputed labor sanctions applied by Cerro Verde – see above
Environment:
Localized, temporary dust impacts and contribution to the collective generation of traffic-related airborne particulates
Limited number of very low-impact discharges of untreated water from the wastewater treatment plant
A small number of water security impacts reflecting the low-level, downstream economic impact of the mine's water consumption in an arid environment during the dry months
The Cerro Verde HRIA results confirmed that Cerro Verde's existing grievance mechanisms (particularly those operated by the Community Relations and Legal teams) are effective in capturing and addressing human rights-related complaints and incidents.
Nonetheless, the HRIA identified additional actual and alleged impacts relating to Cerro Verde and its partners. This included, for example, claims by an anonymous stakeholder that a small number of workers may be experiencing serious health impacts linked to on-site activity (these claims require further investigation). In addition, the HRIA included reference to the mine's possible, and in many cases, limited contribution to a number of collective impacts that may not get captured by conventional grievance mechanisms (such as dust and water security). Furthermore, it provided useful insight into broader human rights dynamics and stakeholder perceptions.
The assessment also suggested that Cerro Verde's ISO 14001 environmental management system, OHSAS 18001 health and safety management system and application of the Voluntary Principles on Security and Human Rights were, with the exception of two workplace fatalities, effective in minimizing human rights related impacts. Stakeholder feedback also noted "beyond compliance" business ethics and a strong social license to operate.
The Cerro Verde team is reviewing the results of the HRIA with intentions to develop action plans to address any risks and impacts. Due to the uncertainty of the supporting facts behind certain allegations and/or the causative relationship to Cerro Verde, some action plans will require further investigation. Action plans will be embedded within Cerro Verde's sustainable development risk register process to support continuous improvement of existing systems and processes, and (where necessary) establish new measures to investigate, avoid, mitigate and/or remedy human rights risks and impacts. The Cerro Verde HRIA included a parallel exercise to identify the degree to which Cerro Verde positively maintains and/or advances human rights within its area of influence. While understanding that positive human rights impacts cannot offset negative impacts, this exercise provided a more comprehensive view of our overall human rights performance.
Lessons learned from the Cerro Verde HRIA will further shape our global human rights strategy as well as site-level HRIA work at other operations over time.
PHOTO DESCRIPTION: Field work for the Cerro Verde HRIA included extensive, on-the-ground engagement with 142 stakeholders in and around our Cerro Verde mine, including the city of Arequipa and its surrounding communities.

BACK TO RECENT ACTIVITY