CERRO VERDE HRIA
The Cerro Verde Human Rights Impact Assessment (HRIA), conducted by two consultants from Verisk Maplecroft, applied our site-level HRIA methodology and included:
An initial desk-based assessment of human rights risks and impacts based on:

Verisk Maplecroft's proprietary Human Rights Risk Indices
Third-party sources, including the media and civil society
Cerro Verde's Sustainable Development (SD) Risk Register, grievance mechanisms, health and safety reports, environmental reports, and public input into a recent Environmental and Social Impact Assessment (ESIA) process – amongst other internal sources
HRIA self-assessment questionnaires completed by managers at both the corporate and site level

Fieldwork, including extensive direct engagement with more than 140 actually or potentially affected rights holders (or those with insight into such rights holders) in and around our Cerro Verde mine, including the City of Arequipa and its surrounding communities as well as stakeholders in Lima. Engagement took place on both an individual and collective basis and focused on a living list of stakeholders that evolved in line with stakeholder recommendations and the identification of new lines of enquiry during interviews.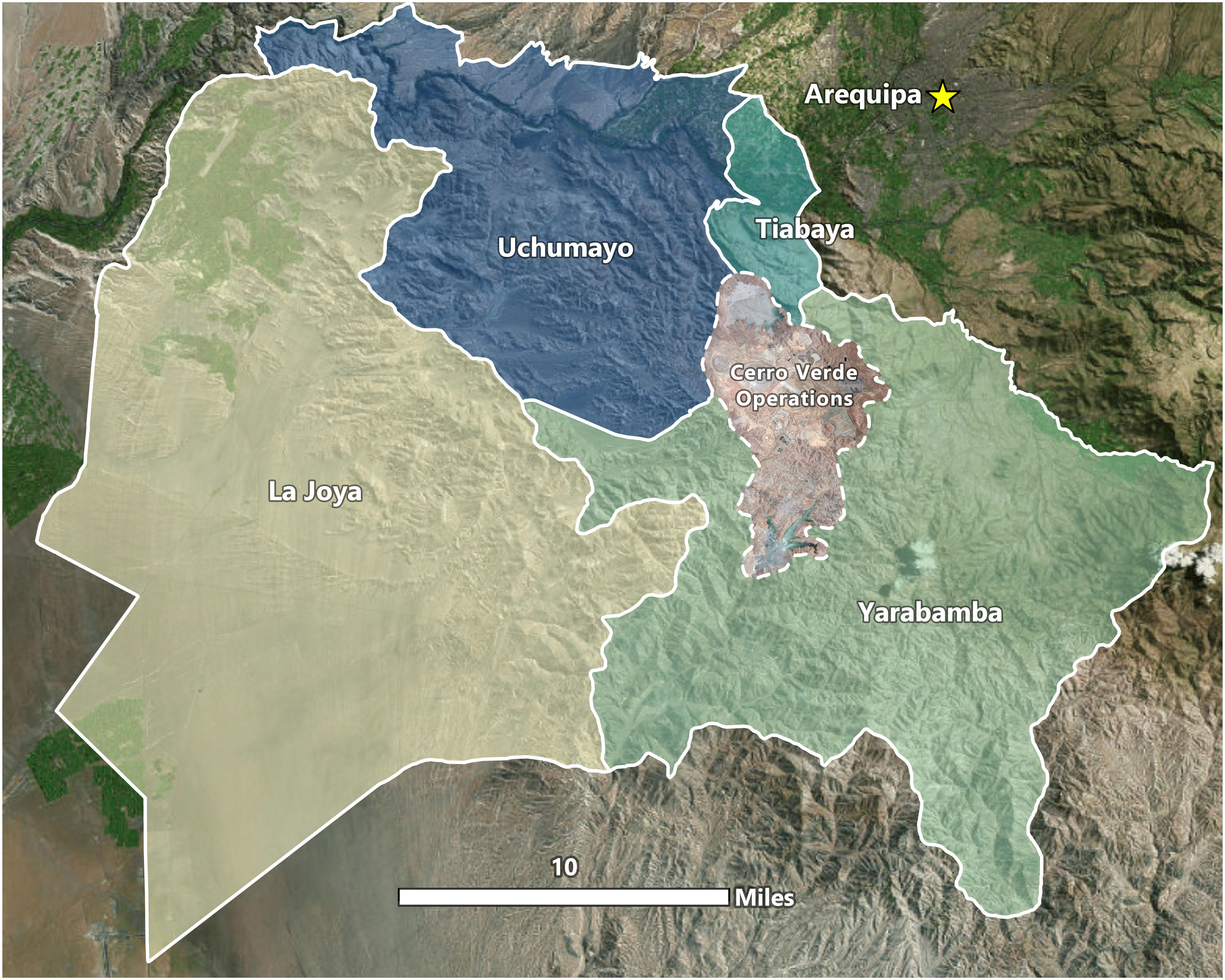 ​
The scope of the assessment was consistent with our Human Rights Dashboard, which summarizes human rights topics relevant to our mining-related activities. However, certain dashboard topics have limited relevance to Cerro Verde given its location and activities, such as artisanal mining, resettlement and indigenous peoples.
Refer to our 2017 WTSD Report for an overview of both the process and key findings.
Verisk Maplecroft presented the HRIA findings and recommended priority areas for further action to the site-level management team in late 2017. In 2018, the team reviewed the findings and recommendations together with the Corporate SD team. They also updated their SD Risk Register to reflect any newly identified human rights risks.
Many of the risks and impacts identified already were subject to established human rights-relevant management systems at Cerro Verde. Where the findings identified actual or potential gaps in such management systems, cross-functional teams developed action plans. Actions were prioritized considering the severity of impact, whether there was an actual or potential impact, the time sensitivity of remediation (e.g. the likelihood of continued harm) and company influence / leverage.
Action plans support the continuous improvement of existing systems and processes, and where necessary, establish new measures to investigate, avoid, mitigate and/or remedy human rights risks and impacts. In some cases, action plans required further investigation of alleged impacts as a first step, due to uncertainty around supporting facts and/or the causative relationship to Cerro Verde. Actions are tracked by the Cerro Verde's Human Rights Compliance Officer.
The following table summarizes certain priority areas identified for further action as well as actions taken to date:
Priority Area(s)

Actions Taken
Allegation by an anonymous stakeholder that a small number of workers may be experiencing serious health impacts linked to on-site activity

Like all company operations, Cerro Verde maintains a comprehensive occupational health program to assess the risk of exposure to occupational health hazards and identify controls for those risks. At the request of Cerro Verde, Verisk Maplecroft reached out to the stakeholder who made the anonymous claim to ask if they would be willing to provide further details about the allegation to enable Cerro Verde to focus its investigation. The stakeholder unfortunately declined. Nonetheless, the Cerro Verde Health and Safety team conducted a technical assessment using the information initially provided. The analysis did not identify any gaps in Cerro Verde's occupational exposure limits or standards. Cerro Verde proactively monitors employees' exposures to potentially hazardous substances so that they are adequately protected. In addition, the site worked with its medical services partner, International SOS, to review and enhance its medical monitoring procedures. The process now includes an improved mapping of the agents that the workforce may be exposed to as well as associated screening protocols for physicals. Medical monitoring procedures verify whether workforce members are fit for duty, look for early indications of occupational health impairment and provide opportunities for early intervention.

A small number of lower severity discrimination allegations (including claims of unconscious bias) from employees, primarily related to gender

All new Cerro Verde employees receive training on our Principles of Business Conduct, which forbids harassment or discrimination, as well as additional human rights training. They also receive a booklet on human rights and internal labor guidelines. Supplementary human rights training is provided to supervisors on an annual basis. In 2018, this training addressed the concerns and allegations raised during the HRIA as well as our expectations regarding equal treatment for all employees and zero tolerance for harassment, discrimination, favoritism and retaliation. Supervisors were reminded of (1) the importance of speaking up; and (2) what to do if they suspect a policy has been violated, have a question about a policy or practice, or have a suggestion to improve practices within the company.

In November 2017, Peru promulgated a law prohibiting gender pay discrimination; regulations were published in March 2018. Cerro Verde's Legal and Human Resources teams are reviewing these against the site's policies and practices to determine any actions necessary to help us meet the requirements by the end of June 2019.

In 2019, we are launching a corporate-level initiative to further strengthen our practice in relation to workplace inclusion and diversity. The initiative will build on efforts in key areas, such as hiring practices and women's leadership development.

Potential safety impacts of changed shift patterns in combination with long commutes

Starting in 2018, operators were offered the option of working one additional hour of paid overtime per shift to support operational continuity. The updated working schedule had been subject to on-site, pre-implementation review by a specialized consulting firm in cooperation with two employee representatives. The review considered the extension of each shift in the context of workforce commuting patterns and indicated that associated fatigue risk levels would fall within the recommended range for the industry. Cerro Verde also implements a fatigue management program with real-time in-cab monitoring as a control for fatigue risks in mobile equipment.

Although a related safety allegation cited in HRIA interviews was unsubstantiated, the HRIA provided a more holistic view of employees' work / rest patterns. While shift patterns and associated working hours at Cerro Verde are compliant with Peruvian law and the company Fatigue Management Guideline, we are nonetheless reviewing our approach and any risks it may pose.

Medium-severity health and safety impacts (including those linked to onsite contractors) reflecting the latent risks associated with mining


Limited number of lower-severity allegations with respect to working conditions in the value chain


Small number of allegations linked to potential anti-union activity and / or management approaches by suppliers Limited visibility of working conditions beyond Tier 1 suppliers

In line with corporate practice, Cerro Verde's contract templates include standard language on human rights expectations. Suppliers receive our Supplier Code of Conduct and are expected to perform in accordance with it.

On-site contractors are subject to Cerro Verde's OHSAS 18001-certified health and safety management system. Refer to the Safety and Health section of our website and our Contractor Health and Safety Manual for further information.

On-site contractor employees are subject to an onboarding process, which consists of a review of company policies, procedures and security protocols as well as the validation of required certifications. In 2018, Cerro Verde's Supply Chain department and Compliance team also implemented a training program for on-site contractors focused on both our Supplier Code of Conduct and Human Rights Policy. The training program, delivered via 80 on-site training sessions targeting supervisors, focused on the risks, impacts and allegations reported in the HRIA. It also reminded on-site contractors of how to raise questions and report concerns and that reporting can be done anonymously.

At the corporate-level in 2018, we advanced the development of a responsible sourcing due diligence program applicable to goods and services procured by our operations. The risk-based program will support greater visibility of supplier risk exposure and management practices as well as more active assurance of dashboard topics – including safe and healthy working conditions, working conditions, and freedom of association and collective bargaining.

Contribution to local traffic congestion and off-mine road traffic risks

Cerro Verde periodically receives grievances from community members regarding excessive speeding and reckless driving by vehicles that stakeholders believe are associated with the mine or its contractors, including two in 2018. These are subject to our community grievance resolution process.

In 2016, Cerro Verde installed a series of road safety gates on the Uchumayo road to the mine to mitigate impacts identified in the 2014 expansion project ESIA. The gates monitor traffic volume and vehicle speed and display public service announcements regarding road safety.

There is a widespread view among internal and external stakeholders that Cerro Verde contributes (directly and indirectly) to high levels of road traffic and congestion in its area of direct influence, including Tiabaya and Uchumayo – particularly during shift changes. However, data gathered via the road safety gates in 2018 indicates that Cerro Verde is associated with less than 2 percent of the traffic reported during the day, including up to 8 percent during rush hour and 4 percent during shift changes. This information continues to be regularly communicated to local stakeholders.

Cerro Verde is engaging with its employees and on-site contractors on both on- and off-mine road traffic risks via its Fatal Risk Management Program (FRM). Heavy, light and mobile equipment operation is a potentially fatal risk included within the FRM, which is applicable to employees and on-site contractors driving within and outside the mining concession. Health and safety training is conducted with employees and contractors – it is tailored to critical control implementation and includes the FRM policies and processes.

In addition, Cerro Verde provided road safety training for approximately 7,800 residents of Tiabaya, Sachaca and Uchumayo in 2018. An engineering plan was also prepared to pave and add sidewalks to a road associated with the wastewater treatment plant collection area to improve access for both pedestrians and vehicles and to encourage the use of public transportation, thus reducing private vehicle traffic on community roads.
Case Study: Participatory Environmental Monitoring
The Cerro Verde HRIA identified certain perceptions in relation to the mine. This included the view held by many community stakeholders that Cerro Verde is a major, ongoing contributor to dust and particulate matter (PM) in the City of Arequipa, communities in the mine's area of direct influence and beyond. While all mining operations have environmental impacts, Cerro Verde maintains a transparent air quality monitoring program as well as ongoing publication of its monitoring results. This view seems to largely ignore both this and other potential causes behind general dust exposure levels, including the arid, windy desert context, other economic activities, and an ongoing increase in private traffic in a city of a million people. Such perceptions highlight the importance of Cerro Verde's participatory environmental monitoring program and the desire to build more trust.
Air monitoring program
Cerro Verde has undergone two large-scale expansion projects in recent years, with the most recent completed in 2015. The ESIAs associated with these expansion projects highlight the mine's robust air quality monitoring program. This includes seven air monitoring stations in operational areas and five air monitoring stations in non-operational areas in Quequeña, Tiabaya, Uchumayo, Hunter and Yarabamba. This monitoring program tests for parameters, including PM10, PM2.5, PM10 arsenic, PM10 copper and PM10 lead, in addition to certain gases. The frequency of monitoring varies from every six days to every six months depending on the parameter. Results are reported to the Peruvian Environmental Agency (OEFA) on a quarterly basis, and they consistently have complied with OEFA regulations.
Participatory air monitoring program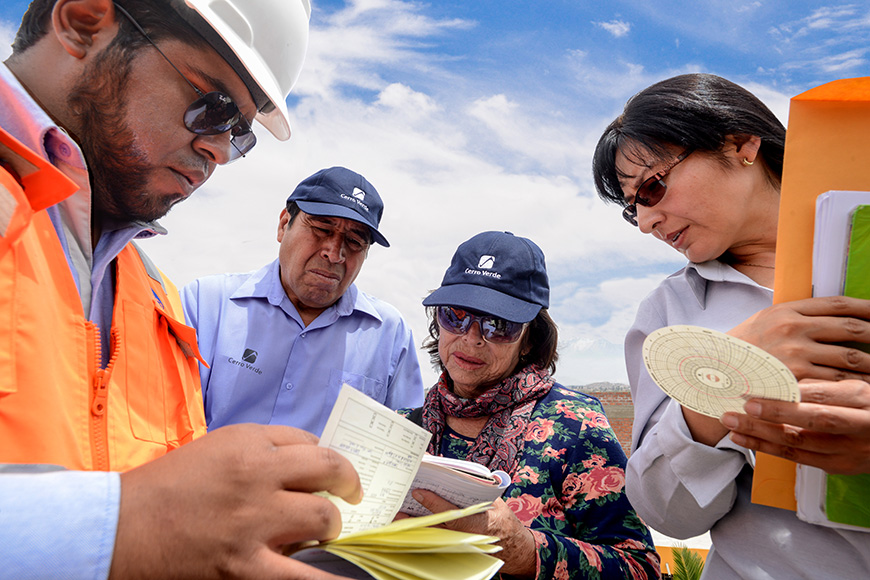 In parallel, Cerro Verde implements a participatory air monitoring program in five districts. The program is a voluntary commitment established in the 2004 ESIA that has been implemented since 2005. Under this program, participatory air monitoring is conducted four times a year with municipal authorities, national government, civil society and Cerro Verde all participating. Participants take part in a one-day training session prior to sampling activities. During training, Cerro Verde presents the previous session-monitoring results, explains the legal, technical and social aspects of the program, and addresses questions and suggestions from participants. Air samples (PM10 and PM2.5) are then taken from the monitoring stationsby an accredited laboratory (in the presence of a notary) over a 24-hour period. The laboratory processes the samples and reports the results to Cerro Verde, which then communicates the results to both the municipality and OEFA. Stakeholder group participants have included environmental specialists, engineers, local, regional and / or national authorities, farmers, professors, doctors, community leaders, institutions such as public and private universities, professional associations, and community members. As specified in the 2004 ESIA, participatory monitoring takes place in Uchumayo, Yarabamba and Tiabaya (all within the area of direct influence of the mine) as well as in Hunter (at the request of the district) and Quequeña (due to wind patterns).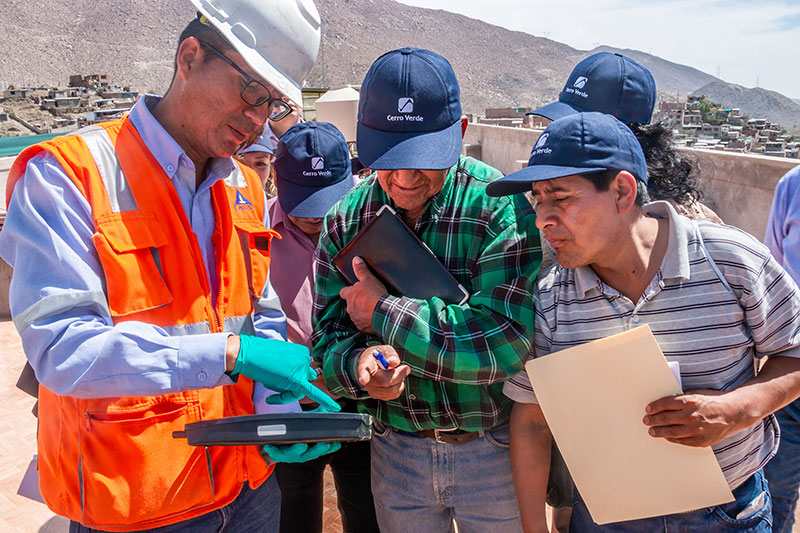 In 2016, Cerro Verde also voluntarily initiated a separate three-year participatory air monitoring program in Socabaya at the request of the municipality and local residents. In addition to responding to stakeholder concerns regarding Cerro Verde's impact on local air quality, the program will establish a baseline for comparison. Results to date show no air quality impacts by Cerro Verde in Socabaya. The Socabaya air monitoring program extends beyond the voluntary commitments set out in the ESIA and reflects a beyond compliance approach on the part of the mine.
Between 2011 and 2018, more than 5,000 people participated in Cerro Verde's participatory air monitoring programs. The results of all participatory environmental monitoring activity (including air monitoring) is available at Cerro Verde's Community Information Offices in Arequipa, Uchumayo and Yarabamba. Monitoring results confirm that, since 2004, Cerro Verde has not negatively impacted baseline air quality levels.
OEFA environmental evaluation process
In 2018, OEFA conducted an environmental evaluation process in the Cerro Verde area of influence. OEFA measured Cerro Verde's environmental performance based on a set of indicators related to air quality (emissions) and underground and surface water quality. During the yearlong process, air and water monitoring locations were identified, existing conditions were verified and subsequent monitoring was conducted. The air monitoring stations used for this process were the same as those used for the two programs described above. OEFA data is public information, and OEFA is expected to publish the results of the evaluation in 2019. By providing another mechanism for third-party verification, the OEFA-led process is providing Cerro Verde an opportunity to address perceptions identified in the HRIA.
The Cerro Verde HRIA results confirmed that Cerro Verde's grievance mechanisms, particularly those operated by the Community Relations and Legal teams, are effective in capturing and addressing human rights-related complaints and incidents. Nonetheless, the HRIA identified additional actual and alleged impacts relating to Cerro Verde and its partners. This included, for example, claims by an anonymous stakeholder that a small number of workers may be experiencing serious health impacts linked to on-site activity as addressed above. In addition, the HRIA included reference to the mine's possible, and in many cases, limited contribution to a number of collective impacts that may not get captured by conventional grievance mechanisms, such as dust and water security. Furthermore, it provided useful insight into broader human rights dynamics and stakeholder perceptions.
The assessment also suggested that Cerro Verde's ISO 14001 environmental management system, OHSAS 18001 health and safety management system, and application of the Voluntary Principles on Security and Human Rights were, with the exception of two workplace fatalities, effective in minimizing human rights-related impacts. Stakeholder feedback also noted beyond compliance business ethics and a strong social license to operate.
The Cerro Verde HRIA included a parallel exercise to identify the degree to which Cerro Verde positively maintains and / or advances human rights within its area of influence. Cerro Verde's adverse impacts are of a relatively low severity while the mine generates significant positive benefits, making for a net positive contribution to its stakeholders. While understanding that positive human rights impacts cannot offset negative impacts, this exercise provided a more comprehensive view of our overall human rights performance.
In early 2018, the results of the Cerro Verde HRIA were shared via a set of international stakeholder teleconferences focused on our human rights program. Key findings also were included in Cerro Verde's 2017 Sustainability Report (pages 24-25), which is in Spanish and available on Cerro Verde's public website as well as its intranet site. Copies of the report also are available in Cerro Verde's three community information offices, which are located in the districts of Arequipa, Uchumayo and Yarabamba.
Lessons learned from the Cerro Verde HRIA are helping to guide our global human rights approach and site-level HRIA work at other operations.
In 2018, as part of a voluntary commitment established in its ESIAs, Cerro Verde worked with more than 1,100 community members, engineering associations, government institutions and local universities to test air and water quality around its operations. Above, participants examine an air filter after 24 hours of monitoring.

BACK TO HUMAN RIGHTS DUE DILIGENCE > Site-level HRIA Methodology | CERRO VERDE OPTIONS HRIA | New Mexico Operations HRIA