Respect for human rights is a long-standing commitment of our company. Our Human Rights Policy, first established in the late 1990s and most recently updated in 2017, requires us to conduct business in a manner consistent with the Universal Declaration of Human Rights and the United Nations Guiding Principles on Business and Human Rights (UN Guiding Principles).
We promote human rights awareness through engagement with host governments and local communities, as well as by providing training to employees and contractors. We protect the confidentiality of anyone who reports suspected violations. We conduct our security activities in line with the Voluntary Principles on Security and Human Rights. Our human rights compliance officers oversee compliance and training, as well as grievance mechanisms for reporting, documenting and investigating allegations made in our areas of operation.
In 2017, we continued to advance the integration of the UN Guiding Principles into our business. Activities included:
Updating our Human Rights Policy to reflect an explicit, full commitment to the UN Guiding Principles
Organizing two international-level stakeholder meetings to provide updates on our human rights program and updates to our Human Rights Impact Assessment (HRIA) methodology (i.e., additional emphasis on the value chain)
Advancing a global grievance review project to test our internal and external grievance mechanisms against the UN Guiding Principles effectiveness criteria (e.g., legitimate, accessible, predictable, equitable, transparent, rights-compatible, a source of continuous learning, and based on engagement and dialogue)
Developing the concept for an internal Human Rights Working Group to support our implementation of the UN Guiding Principles and integration of human rights considerations across our business (launched in 2018)
Continuing regular engagement with the financial community, civil society and value chain partners to discuss and receive feedback on our human rights program
We also continue to engage on the Corporate Human Rights Benchmark. Pilot results released in 2017 ranked our company 12th overall across multiple sectors for our transparency and performance. While we are pleased with our relative performance, we are continuing to advance site-level HRIAs using a risk-based approach to further embed human rights considerations across our business and enhance our reporting.
Our participation in multi-industry dialogue on respect for human rights continued via the Business for Social Responsibility human rights working group and Sustainability 50, an executive-level, peer-to-peer collaboration forum.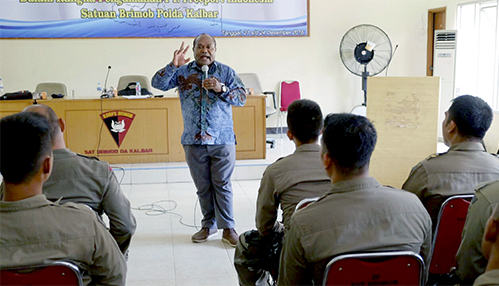 Our commitment to respecting human rights is underpinned by our implementation of the United Nations Guiding Principles on Business and Human Rights (UNGPs). The information in this regard is set out below and organized in line with the UNGPs Reporting Framework. We will continue to enhance our human rights reporting over time as we advance site-level Human Rights Impact Assessments using a risk-based approach and continue to embed human rights considerations across our business.
PHOTO DESCRIPTION: PTFI's Human Rights Compliance Officer conducts a training session on the Voluntary Principles on Security and Human Rights for host government security personnel prior to their deployment to the project area.

The Voluntary Principles on Security and Human Rights serve as guidelines for our security and human rights programs, including interactions with host government police and military personnel, as well as private security contractors. We are committed to the Voluntary Principles and have remained an active participant in the Voluntary Principles Initiative since it was first established in 2000. We completed a two-year term on the Voluntary Principles Initiative Steering Committee and Voluntary Principles Association Board of Directors in early 2018. Our 2017 Annual Report to the Voluntary Principles Plenary includes country implementation details for Indonesia and Peru, as these countries represent our higher risk environments in terms of security and human rights. The report includes information on a series of sporadic shooting incidents experienced by our PTFI operation in Indonesia starting in August 2017..
PT Freeport Indonesia
Security risks near our PTFI operations in Papua, Indonesia stem from the presence of in-migration, separatist activists and advocates in the region, the presence of illegal gold panners in the project area, as well as periodic social and ethnic tensions within the local community and in other areas of the province.
In 2009, there were a series of shooting incidents within the PT-FI project area, with sporadic shooting incidents continuing through January 1, 2015. More recently, from August 2017 through December 31, 2017, there were 20 shooting incidents within the PT-FI project area in the highlands and five shooting incidents in nearby areas. These shooting incidents resulted in ten injuries to workforce members transiting the Main Supply Road, as well as two injuries to medical services contractors administering care to a community member (who was also injured). During related law enforcement actions, government security forces personnel suffered seven injuries and two fatalities. In response to the security conditions, dependents were temporarily demobilized from the affected project area from November 24, 2017 to January 8, 2018. The safety of our workforce is a critical concern, and PT-FI works cooperatively with the Indonesian government to address security issues. The investigation of these incidents by the Indonesian authorities remain ongoing. We also restrict use of the road leading to our mining and milling operations to secured convoys, including transport of personnel by armored vehicles in designated areas.
PTFI experienced two additional security incidents in 2017. In April, PT-FI experienced civil unrest in Timika involving employees and the police. In August, a group, estimated at between 400 to 500 persons, injured four contractors and one employee, and destroyed company and personal property with an estimated loss exceeding $3 million. Both security incidents were described in reports to the Voluntary Principles Plenary. These incident reports are included as attachments in our 2017 Report.
The PT-FI Security and Risk Management Department employs approximately 575 unarmed security personnel and approximately 600 unarmed private security contractors and transportation/logistics personnel on a rotational basis. These security arrangements have been necessary to enhance the protection of our employees, contractors, and assets, especially considering the nature of security challenges and the remote and challenging terrain.
PT-FI's Memorandum of Understanding (MOU) with the National Police was last revised and signed in 2016. The MOU covers a three-year term and details the working relationship between the company and the public security personnel assigned to it, such as areas of support, coordination and commitment to PT-FI policies and procedures, including business ethics and human rights. The Voluntary Principles are incorporated by reference and included as an attachment to the MOU.
From the outset of PT-FI's operations, the Indonesian government has looked to PT-FI to provide logistical and infrastructure support and assistance for these necessary services because of the limited resources of the Indonesian government and the remote location of and lack of development in Papua. PT-FI's support for the Indonesian government security institutions assigned to the operations area represents a prudent response to its requirements to protect its workforce and property, better ensuring that personnel are properly fed and lodged, and have the logistical resources to patrol PT-FI's roads and secure its operating area. The provision of such support is consistent with the scope of PT-FI's project area comprising approximately 2900 square kilometers, and our obligations under our Contract of Work. It also reflects our philosophy of responsible corporate citizenship, and is in keeping with our commitment to pursue practices that will promote human rights. In 2017, the majority of PT-FI's security budget (70%) was directed to PT-FI's own industrial security requirements (including employee and contractor direct costs, and associated overhead). The remainder of the budget (30%) represented PT-FI support to host government security elements and totaled $23 million. Please refer to our 2017 Report for more information.
Cerro Verde
Cerro Verde, like all businesses and residents of Peru, relies on the Peruvian government for the maintenance of public order, upholding the rule of law and the protection of personnel and property. The Peruvian government is responsible for employing police personnel and directing their operations.
Cerro Verde employs ten security employees and approximately 321 private security contractors. Some private security contractors assigned to the protection of expatriate personnel and explosives storage are armed. Cerro Verde also has limited public security forces in support of its operation, with the arrangement defined through an MOU with the Peruvian National Police (PNP). Under Peruvian law, PNP officers may volunteer to be assigned to operations such as Cerro Verde during their scheduled leave. This allows the officers to supplement their government salaries at a rate set by Government. They retain their full powers as officers of the law when performing this role and wear their police uniforms, but are not armed. The MOU was last updated in December 2017. It covers a two-year term and details the working relationship between Cerro Verde and the PNP, including areas of support and coordination. The MOU also includes a commitment to the United Nations Code of Conduct for and Basic Principles on the Use of Force and Firearms by Law Enforcement Officials, Peruvian human rights law and the related the human rights manual, and other applicable national or international norms related to human rights and international humanitarian law. The total cost to Cerro Verde for this support totaled approximately $1 million in 2017. This support is primarily remuneration, but also includes a limited amount for in-kind support (e.g., daily bus transportation to and from the mine, food and incidentals) provided by the Company.