TAILINGS MANAGEMENT AND STEWARDSHIP SUMMARY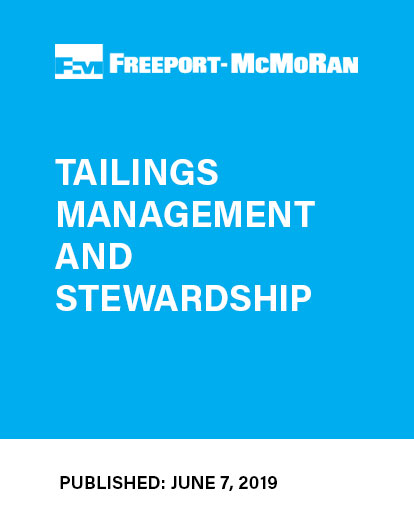 Affiliates of our company, Freeport-McMoRan Inc., currently operate 18 tailings storage facilities and manage 59 that are inactive or reclaimed. Our subsidiary, PT Freeport Indonesia, operates a controlled riverine tailings management system.
We recognize that the failure of tailings and other impoundments at any of our mining operations could cause severe, and in some cases catastrophic, property and environmental damage and loss of life. Many of our tailings impoundments are located in areas that have the potential to impact individual dwellings and communities. As a result, our programs take into account the significant consequences resulting from a potential failure, and we apply substantial financial resources and technical resources, both internal and external, to the safe management of all those facilities. Accountability and the importance of careful design, management and monitoring of large impoundments have been emphasized in recent years by large-scale tailings dam failures at unaffiliated mines, which resulted in numerous fatalities and caused extensive property and environmental damage.
We believe our tailings management and stewardship program is robust and mitigates safety and environmental risks. We have a strong commitment from our Board of Directors and executive management team to commit the necessary resources to protect safety.
For more information on this topic please refer to the Tailings Management and Stewardship summary document and site-specific tailings information.
CONTROLLED RIVERINE TAILINGS MANAGEMENT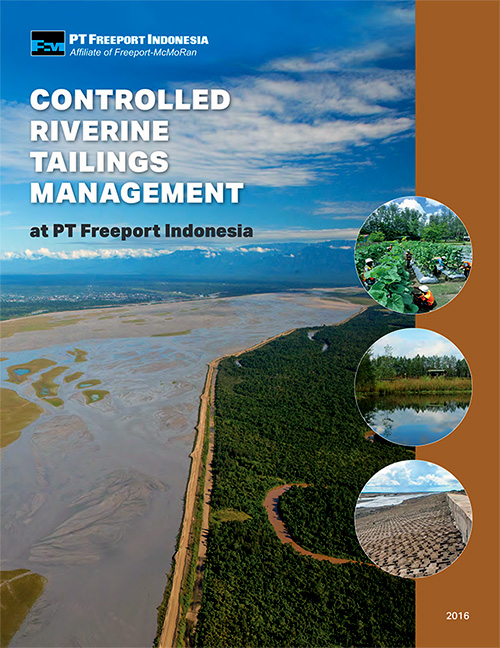 In 2017, PTFI produced approximately 50 million metric tons of tailings, which were managed using a controlled riverine tailings management system approved and permitted by the Government of Indonesia. The site-specific system, chosen after extensive evaluations of over a dozen alternatives, uses an unnavigable river to transport tailings out of the highlands (from approximately 3,000 meters elevation) to an engineered deposition area in the lowlands referred to as the Modified Ajkwa Deposition Area (ModADA). The river is not used for potable water, agriculture, fishing or other domestic or commercial uses, nor was it used for these purposes before operations began. Levees have been and continue to be constructed to laterally contain the footprint of the tailings and natural sediment within the ModADA while quantities of finer tailings and other sediments deposit in the estuary and the sea. Independent environmental management expert audits have reaffirmed the controlled riverine tailings management system is the best site-specific management alternative considering the topographical, seismic and geotechnical, geological, climatological and environmental conditions of the project area. The system was chosen and approved following numerous technical studies (including 14 tailings transport and disposal options) and a multi-year review process including an Environmental Impact Study and an Ecological Risk Assessment. More conventional management systems were rejected due to the extreme terrain in a seismically active area with high precipitation, which created unacceptably high risks of catastrophic failure.
Periodic independent environmental audits confirm that the company's tailings management plan represents the best alternative, considering the applicable geotechnical, topographic, climatological and seismic conditions. The management of tailings in the lowlands is the largest contributor to the footprint of disturbed areas. The ModADA is the term used to describe the terrestrial portion of the designated tailings management area, covering approximately 230 square kilometers with east and west levees preventing lateral distribution of tailings and natural sediment.
In addition to internal and external audits and assessments, PTFI uses the ModADA Management Board (MMB) for oversight of the tailings system. The MMB is a multi-disciplinary expert panel that meets on site to assess system performance and risks associated with the ModADA and coastal zone area. The MMB focuses on the structural integrity of the levees and the geochemical stability of the deposition area, as well as associated stakeholder engagement. The MMB provides recommendations to PTFI leadership and engineering teams on priority activities and tracks progress on detailed recommendations
PTFI's environmental impacts are well documented, monitored and managed, and have been subject to the Government of Indonesia's regulatory oversight, including the approval of the AMDAL for PTFI operations, and the approval of annual work plans. Impacts of the system, including increases in sedimentation, were predicted in numerous studies and are consistent with the design and operation of the chosen alternative. Monitoring programs have established, except for elevation changes, the environmental impacts of tailings deposition are reversible at the end of mine life.
Data from biological sampling continue to demonstrate that the estuaries downstream of the tailings deposition area are functioning ecosystems, based on both the number of species and the number of specimens collected of nektonic, or free-swimming, organisms such as fish and shrimp. Large-scale demonstration reclamation projects show that several land-use options are possible after final closure of the deposition area. When mining is completed, this area can be reclaimed with natural vegetation or used for agriculture, forestry, grazing of livestock and aquaculture among other options, depending on stakeholder ambitions.
For more information on this topic, including our extensive biological monitoring system and beneficial use of tailings opportunities, please see the Controlled Riverine Tailings Management at PTFI summary document.

BACK TO TAILINGS