GRIEVANCE MANAGEMENT SYSTEMS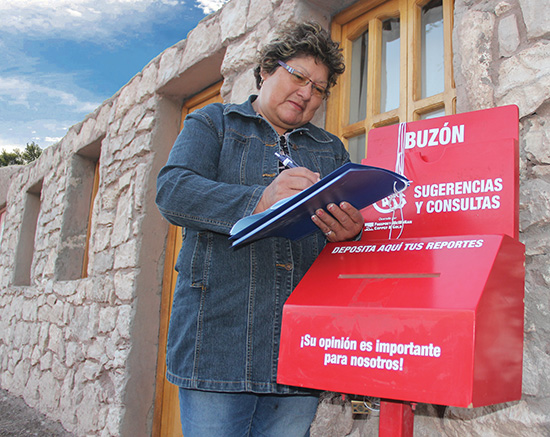 Our operations utilize a community grievance management system for recording, processing and responding to local concerns. Grievances may be received by Community Liaison Officers in the field, through engagement at established company/community forums, at physical drop boxes or via local hotlines. Site-level Community Grievance Officers ensure grievances are handled in a timely and transparent manner. During 2017, 152 community grievances were recorded at our global operations. Regardless of the type and credibility of the allegations, all cases reported were documented, reviewed and closed, or are currently being processed.
As previously reported, Cerro Verde successfully worked with community members to address 146 grievances regarding noise, vibrations, property damage and odors from pumping stations in 2016. The stations are an integral component of the Arequipa Region's first ever wastewater treatment system. Upon receipt of noise, vibration and property damage related grievances, Cerro Verde's Grievance Officer organized property inspections with complainants to assess the impacts, and then collaborated with property owners to set up monitoring equipment. Cerro Verde contracted a third party to provide monitoring services in addition to its own monitoring. Cerro Verde's Grievance Officer and Community Relation team engaged with the complainants throughout the process, and agreed remedies with property owners based on the analysis conducted. Grievance remedies ranged from home relocations to replacement of windows. Cerro Verde also commissioned a technical study to inform operational improvements to the system to mitigate the risk of impacts recurring. Adjustments to the pumping, air injection, valve, sparger and ventilation systems were made to reduce noise and vibrations. Upon receipt of odor related grievances, Cerro Verde's Grievance Officer organized field visits with both complainants and on-site pump station management. Sludge collection procedures were then improved to mitigate odors. As a result, the number of grievances related to the wastewater treatment system was significantly reduced in 2017. Community grievances, including these grievances related to the wastewater treatment system, were included within the scope of the Cerro Verde Human Rights Impact Assessment.
Our site-level community grievance mechanisms complement our global, publicly-available reporting options associated with our Principles of Business Conduct, which are available to our employees and supply chain partners (via our Supplier Code of Conduct). Both mechanisms reflect our commitment to remedying adverse impacts we cause or to which we contribute. They also help us manage and reduce risks by identifying and addressing problems before they escalate into larger conflicts. We do not tolerate retaliation against any employee, community stakeholder, or supplier for raising a question or concern about the Company's business practices in good faith through mechanisms including the FCX Compliance Line or cooperating in the investigation of such a concern. Use of our grievance mechanisms does not preclude access to judicial or other non-judicial grievance mechanisms.
In 2017, we initiated a project to review our internal and external grievance management procedures against the effectiveness criteria outlined in the UN Guiding Principles (i.e., legitimate, accessible, predictable, equitable, transparent, rights-compatible, a source of continuous learning, and based on engagement and dialogue). In addition to conducting our own internal benchmarking, we are engaging with a set of employee and community stakeholders to obtain their feedback.
PHOTO DESCRIPTION: El Abra maintains three mailboxes in Alto El Loa for neighboring community members to raise concerns, ask questions, submit grievances and offer suggestions, with a commitment to respond within 30 days.

BACK TO ASSESSING AND MANAGING IMPACTS