INDONESIA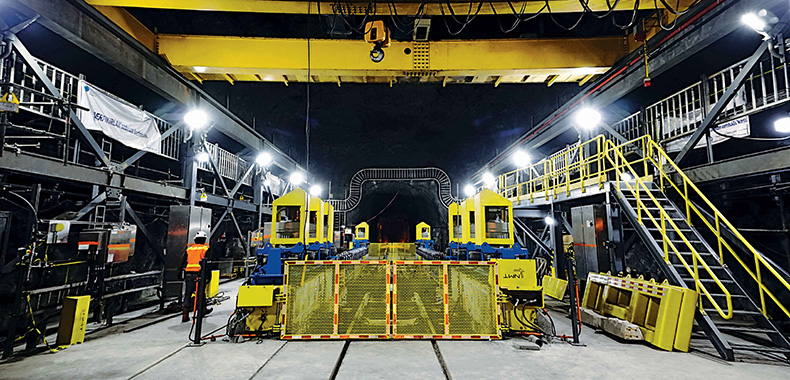 PTFI periodically commissions the University of Indonesia's Institute of Economics and Social Research to conduct an economic impact assessment of PTFI's operations. The most recent assessment, completed in 2015, measured PTFI's economic impact on a local, regional, and national level. The study revealed that in 2014 PTFI contributed to up to 93 percent of the gross domestic product (GDP) of the Mimika Regency, 32 percent of the GDP of Papua Province, and 0.45 percent of the GDP of Indonesia. PTFI's presence has spurred rapid economic development in Timika, which has transformed it into an important economic center in the region. As a result, Timika has witnessed high population influx from other parts of Papua and greater Indonesia in search of employment opportunities.
In addition to the direct economic impact of the operations, PTFI has implemented a number of village-based economic development programs in targeted areas in the highlands, lowlands and coastal areas in order to stimulate livelihoods independent from the mining sector. These programs include agriculture, animal husbandry, coastal economy, and Micro, Small and Medium-Scale Enterprises. PTFI invested over $7 million on these programs in 2017.
The highland agricultural development program is focused on the development and production of Arabica coffee in four villages (Tsinga, Aroanop, Hoea and Waa Banti). This program involves mentoring approximately 80 coffee farmers, technical guidance and market accessibility. During 2017, PTFI continued its mentoring program with a focus on improving the technical and managerial skills of the Amungme Gold Coffee Cooperatives boards and members in implementing its coffee business. As a result, the 2017 coffee cooperative annual revenue increased by 17 percent to approximately $86,000.
In Tsinga, Aroanop, and Hoea, a vegetable farming program was launched in 2017. PTFI worked with 68 local community members to plant vegetable gardens. Together, these individuals harvested 25 tons of vegetables, which were distributed through a local cooperative and marketed to companies servicing PTFI. All activities related to these food security programs were conducted utilizing land around community homes.
In the lowlands, PTFI implements programs to encourage economic activities as part of its "post-recognition" program. PTFI introduced cocoa as a cash crop to the area and continues to support cocoa farming in fifteen targeted villages. PTFI partners with a local cooperative to distribute cocoa seedlings and provide training to cocoa farmers. As of December 2017, over 300 farmers were cultivating 195 hectares of cocoa. These farmers sold 3.5 tons of cocoa beans via the local cooperative to buyers from Makassar in 2017. PTFI also collaborated with the Mimika government to develop a coconut plantation in Manasari, where 30 hectares of coconut seedlings were planted by approximately 450 farmers in the coastal zone.
In addition to these agriculture programs, PTFI continues to support a fisheries program in partnership with the Catholic Church and introduced a karaka (mangrove crab) aquaculture program. In 2017, the program distributed crab balls to and provided training for 25 Kamoro youth. PTFI also worked with Kamoro community members to reinvigorate a sago plantation in Nayaro. These programs support the development of local commodities and provide alternative sources of income for Kamoro community members.
Through its Micro, Small, and Medium Scale Enterprise program (MSME), PTFI has assisted and mentored a total of 118 Papuan entrepreneurs, of which 86 percent are from the seven Papuan tribes that are indigenous to the area. These MSMEs are generally engaged in trade/retail businesses, services, manufacturing, farming and animal husbandry. The assisted entrepreneurs provided goods and services to both PTFI and others in the region. This MSME Program has provided employment to more than 1,090 people.
PTFI also continues a multi-year agreement with Bank Rakyat Indonesia (BRI) to increase Papuan entrepreneurs' access to financial capital in order to grow their small businesses. BRI administers the micro-loans and PTFI underwrites the loans and connects Papuan entrepreneurs from its Micro, Small, and Medium Enterprise Development (MSME) program to the bank. Since 2004, PTFI has delivered over 460 loans to approximately 215 Papuan entrepreneurs with a value of approximately $3.8 million through its revolving fund (Yayasan Bina Utama Mandiri: YBUM). This partnership between PTFI and BRI will transition borrowers from YBUM to BRI and, as a result, increase the professional support and access to capital for Papuan entrepreneurs participating in PTFI's economic development program.
In 2017, the Amungme and Kamoro Community Development Organization (LPMAK) invested $3.5 million in economic development programs, which supported local businesses, agriculture, and fisheries. LPMAK supported over 700 micro-businesses that were engaged in a range of services, trade, and home industry businesses. These micro-businesses generate income, which leads to job creation. They stimulate local economic growth within villages, and provide families with funds to pay for education and health expenses and to further invest in their businesses.
PHOTO DESCRIPTION: FCX has completed key milestones in the development of the Grasberg Block Cave mine, including the rail connection that will anchor the world's largest underground copper mining complex.

BACK TO ECONOMIC IMPACTS > North America | South America | INDONESIA