DEMOCRATIC REPUBLIC OF CONGO
TFM's mining operations generated significant economic stimulus in the DRC. Indirect economic effects were created from spending by TFM contractors, employees and local small businesses. The surge in economic activity in the TFM concession and surrounding area attracted a high and sustained influx of people from elsewhere in the DRC. In search of economic opportunity, new arrivals drove demand for a wide variety of locally produced goods and services but their presence also increased competition for jobs, public services and natural resources. Since TFM could not provide jobs to everyone, TFM's economic development program aimed to support the creation of economic opportunities not directly linked to the mine. As agriculture is the primary economic activity in the region, TFM continued to focus on agriculture-related programs to reduce community dependence on mining and provide an alternative livelihood to illegal artisanal mining.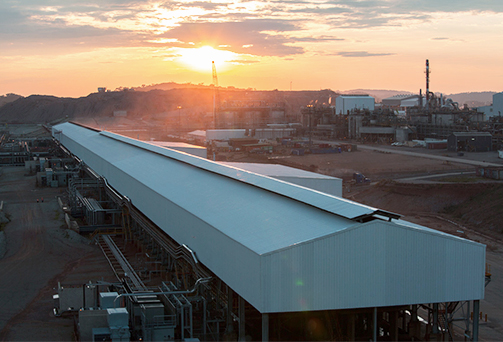 Under the maize credit program, TFM facilitated the purchase and delivery of seeds and fertilizer, and provided technical assistance to local farmers. Agronomists in the TFM Community Development department provided extension services, training farmers in improved agricultural practices with the goal of improving yields to increase household income. The maize credit program enabled participating farmers to increase their yields from a baseline of 0.8-1.2 metric tons per hectare in 2008 to an average 5.1 metric tons per hectare in 2016. The 2015-2016 program supported 610 maize farmers (including 34 traditional authorities and 163 women) in 27 villages farming 690 hectares. Based on the total estimated yield of 3,512 tons and an average market price of $580 per ton in November 2016, this program created approximately $2,037,018 in economic value in 2016.
Beans were introduced to complement maize as a rotational cash crop in 2014. This nitrogen-fixing crop helped improve soil quality and reduce total production costs. The 2015-16 bean credit program supported 507 farmers (including 8 traditional authorities and 146 women) farming 201 hectares. TFM facilitated the purchase and delivery of seeds, and provided technical assistance to the farmers. Based on the total estimated yield of 120.6 tons of beans with an average market price of $1,060 per ton, this program created approximately $127,836 in economic value in 2016.
A goat husbandry project aimed to improve the socioeconomic conditions of households in the TFM concession by supporting food security, diversifying sources of income and supplying quality animal protein. An initial distribution of 473 goats (462 females and 15 males) to 153 households in 13 villages had grown to approximately 1,270 animals as of November 2016. Each participating family received three ewes while each village received one buck. The ewes were bred, and the first female and all male kids were kept by the family or sold. The second female kid was returned to the TFM Community Development department for distribution to other households. Disease impacts goat productivity in the region and is estimated to result in losses of up to 40 percent. However, the project only recorded 3 percent losses due to deworming and mineral supplementation for all goats, as well as application of prophylactic and curative treatment as needed. The total economic value of the goats produced in 2016 was approximately $50,800.
A pilot project aimed at improving program sustainability by facilitating access to financial services was introduced in 2016, whereby 100 farmers were organized into 5 savings groups. Each group saved $2000, which they advanced as a down payment to purchase agricultural inputs to cultivate 5 hectares of market gardening crops. By working together, the savings groups built solidarity and confidence among members, while providing protection against abusive lending. The pilot also facilitated the construction of a micro-dam at Lukotola to facilitate irrigation of 5 hectares for market gardening.
Meanwhile, TFM's Social Community Fund (the Fund) continued to shift its focus toward projects in the areas of agriculture and livelihoods in response to the need for job creation and income generating activities within the concession. To this end, the Fund expanded the agriculture training program at the Nkando demonstration farm. As of November 2016, 74 farmers had planted 100 hectares of maize, soy and ground nuts. Farmer trainees learned best practices on planting, maintaining, and harvesting their crops, in addition to how to work in groups to increase productivity. The goal of the demonstration farm is to increase the average revenue of farmers in the concession through improved technology and farming practices, introduction of crop diversification, and value-adding of crops through food processing.
The Fund also continued to provide technical and material support to four farmer associations involved in fish farming, greenhouse tomato culture and management of tractors via the Integrated Villages Program. Under the tractor management program, Fungurume and Tenke farmers prepared 400 hectares of land for cultivation. Two associations coordinated tractor use, while a local NGO provided training and supervision. Congo Equipment assisted with equipment maintenance, and organized training to help prepare the associations to assume responsibility for maintenance. The program aims to increase maize production by providing tractor services to local farmers at an affordable cost. The Integrated Villages project was developed as a complementary initiative to the Fund's demonstration farm since not all concession farmers will benefit from training courses at the farm. From January 1 through November 2016, 95 concession farmers in 6 villages benefited from the program.
From inception through November 2016, the Fund accrued approximately $26.6 million, allocated $25.1 million to projects on the concession and spent approximately $14.6 million on projects and operational support. Since its establishment, the Fund has strived to engage local contractors on its projects and to prioritize local procurement. During this period, Fund projects employed an average of 125 direct temporary employment opportunities each month.
PHOTO DESCRIPTION: TFM

BACK TO ECONOMIC IMPACTS > Indonesia | Democratic Republic of Congo | South America | North America