DEMOCRATIC REPUBLIC OF CONGO
Our overall community investment in the DRC was approximately $12.6 million from January 1 through November 16, 2016, which included contributions to the TFM Social Community Fund (the Fund) ($3 million) and investments in economic development and infrastructure; education and training; resettlement; and safety, health and the environment.
During this period, TFM's physical infrastructure additions included expansion of the Fungurume water system, as well as construction of two public latrines in high traffic areas, such as the Tenke train station. Infrastructure improvements of the resettlement program included construction of a soccer field and a basketball court, as well as drainage improvements and installation of public lightning at New Mitumba. Civil works were also initiated at the New Kyamba resettlement site.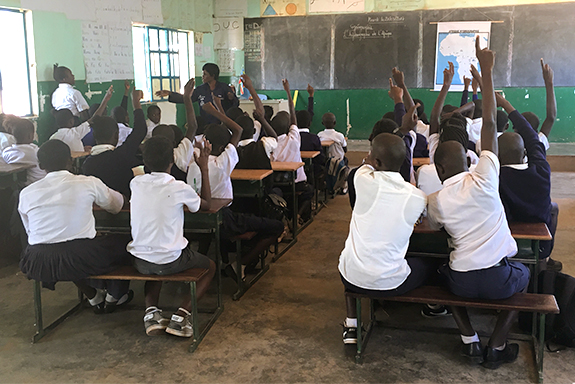 For continued investment in education, TFM financially supported the operation of six schools on the concession, which served approximately 4,000 students. TFM also began a partnership with the consulting firm Chemonics on a five-year USAID and DFID funded program called Accélère! aimed at improving primary education by strengthening teachers' learning methods and curricula knowledge. Accélère! selects "teacher-trainers" for intensive training, following which they return to their schools to train other teachers. TFM provided in-kind support for these trainings in the form of classroom space, transportation for project supervisors and distribution of textbooks. In addition to upgrading teaching quality, TFM provided essential teaching aids to all 6 TFM supported schools to enhance the learning environment for students.
Through November 2016, the Fund invested $14.6 million in projects proposed by the concession population in the areas of health, education, agriculture, and infrastructure. The Fund-investment in health infrastructure included construction of a new health center in Buyobia. This facility, together with the Lumbwe and Kilusonsa health centers previously constructed by the Fund, and the Lukotola health center renovated by the Fund, now serve a population of more than 28,000 people. Health sector investments, including providing health centers with essential medical and non-medical supplies, were intended to improve the scope of prenatal care available to women and to enable access to a higher standard of basic care for villagers in the concession.
Public infrastructure investments by the Fund in 2016 included commencement of a 4-year, $5 million project to extend the Fungurume primary electric power distribution network. The Fund anticipates that upgrading the power network in Fungurume will increase economic activity in the area.
Investments in education and training aimed to increase female literacy in concession communities and improve access to vocational training. The Fund continued to support the literacy and life skills program for women and girls launched in 2015, which provided training on reading, writing, basic math, household savings, and other topics related to human rights, health and hygiene to more than 700 women and girls in 12 villages. In response to community desires, the Fund approved the construction and initial operation of two community centers in the urban areas of Fungurume and Tenke. The community centers benefit concession youth who have not completed formal schooling with vocational training. Training in tailoring and cosmetology has been initiated for 90 students at the Tenke Community Center.
For information on TFM's other community investment programs, please see the Public Health, Economic Impacts, and Assessing and Managing Impacts sections of the website.
PHOTO DESCRIPTION: In 2016, TFM provided essential teaching aids to all 6 TFM supported schools and 10 TFM Social Community Fund constructed primary schools as part of an initiative to enhance the learning environment for concession students.

BACK TO COMMUNITY INVESTMENT > Indonesia | Democratic Republic of Congo | South America | North America