PRINCIPLES OF BUSINESS CONDUCT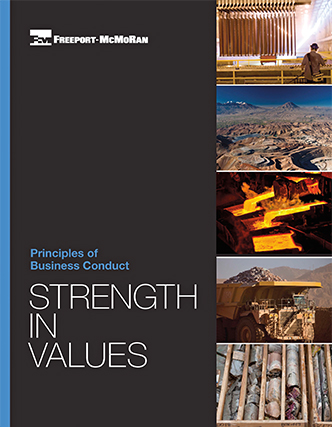 In February 2017, we launched the updated Freeport-McMoRan Principles of Business Conduct (PBC), which highlight our core values of Safety, Respect, Integrity, Excellence and Commitment, and help guide how we do business, from top-level management to entry-level employees. The PBC sets forth a variety of business principles, from promoting a safe workplace to complying with laws and avoiding conflicts of interest to developing positive relationships with local communities. Freeport-McMoRan and its affiliates have established multiple mechanisms for employees and others to report concerns regarding potential violations of the PBC. One of the primary mechanisms is the Freeport-McMoRan Compliance Line, a phone system managed by an independent third party that allows for anonymous reporting. In addition, the company offers a web-based reporting system, also operated by a third party, along with an option for direct email to our Compliance Department. These accessible channels complement our long-established community and human rights grievance systems. By providing multiple reporting mechanisms, including anonymous communications, our workforce is encouraged to Speak Up if something violates, or could possibly violate, the PBC.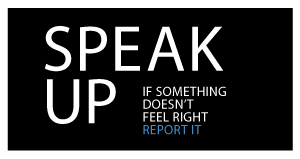 In addition, the Freeport-McMoRan Supplier Code of Conduct sets forth our expectations for our supply chain partners in areas such as safety, respect for human rights, anti-corruption, community and environment. These policies, along with external standards and initiatives, form the overall framework that guides our sustainability programs. Supporting this framework are internal governance and management systems that detail how we operate.
PHOTO DESCRIPTIONS: (top) Our new Principles of Business Conduct continues to reflect the company's commitment to doing what is right, from top-level management to entry-level employees. (bottom) Freeport-McMoRan is committed to a workplace where everyone follows the PBC and is encouraged to speak up and share ideas. When we 'Speak Up' we find strength in our core values.

BACK TO BUSINESS ETHICS > Principles of Business Conduct | Policies | Governance | Transparency of Government Payments