GOVERNANCE
The Freeport-McMoRan Board of Directors (Board) as a whole is responsible for risk oversight, with reviews being conducted by the relevant Board committees that regularly report to the full Board. In its risk oversight role, the Board reviews, evaluates and discusses with members of management whether the risk management processes designed and implemented by management are adequate in identifying, assessing, managing and mitigating material risks facing the company.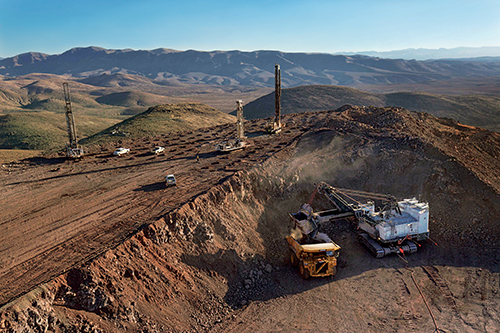 Our non-executive chairman regularly meets and discusses with our chief executive officer a variety of matters including business strategies, opportunities, key challenges and risks facing the company, as well as management's risk mitigation strategies. Senior management attends regularly scheduled Board meetings where they present on various strategic matters involving our operations and are available to address any questions or concerns raised by the Board. The Board oversees the strategic direction of the company, and in doing so, considers the potential rewards and risks of our business opportunities and challenges, and monitors the development and management of risks that impact our strategic goals.
The Board has five standing committees: Audit, Compensation, Nominating and Corporate Governance, Corporate Responsibility, and Executive, each of which is composed entirely of independent directors. The Corporate Responsibility Committee assists the Board in fulfilling its oversight responsibilities with respect to the management of risks associated with our safety and health policies and programs, environmental policy and implementation programs, human rights policy and practices, community health programs and related public health and medical matters, community policy and practices, governmental and stakeholder relations and social investment and sustainable development programs, programs to evaluate and address climate-related impacts and opportunities, charitable contributions, and political activity and spending practices.
During 2017, the Corporate Responsibility Committee received various reports and considered numerous items with a particular focus on safety, which included reviewing the root causes of fatal accidents, corrective actions implemented to prevent future accidents and overall improvement in our safety procedures and practices. In addition, the Corporate Responsibility Committee reviewed climate-related disclosures, community medical and public health services, political activity and spending practices, the safety reporting processes at our operations, our human rights program and the settlement with the U.S. Department of Justice and Navajo Nation regarding cleanup funding for former uranium mines on Navajo tribal lands. The Corporate Responsibility Committee also amended the company's Human Rights Policy and adopted the company's UK Modern Slavery Act Statement. The Corporate Responsibility Committee reports to our Board, which provides oversight on all matters.
PHOTO DESCRIPTION: Sustainability programs are fundamental to our pursuit of investments in mine expansions to grow our production profile. Pre-stripping activities have commenced at the Lone Star oxide project near the Safford operation in eastern Arizona.

BACK TO BUSINESS ETHICS > Principles of Business Conduct | Policies | Governance | Transparency of Government Payments