Successfully recruiting, retaining, developing and advancing talented employees from diverse backgrounds is key to achieving our business objectives. We offer rewarding careers as part of a team that, every day and everywhere, embraces our core values of SAFETY, RESPECT, INTEGRITY, EXCELLENCE and COMMITMENT.
Turnover
In 2018, Freeport-McMoRan experienced a total employee turnover rate of seven percent, the lowest rate in many years. Turnover by operating region varied as follows: North America (10 percent), South America (5 percent), Indonesia (3 percent) and Europe/Other (5 percent). North America is typically the region with the highest turnover rate in times of normal business operations. Total turnover rate was six percent among male employees and nine percent among female employees. Employees under the age of 30 represented the age group with the highest turnover at 13 percent.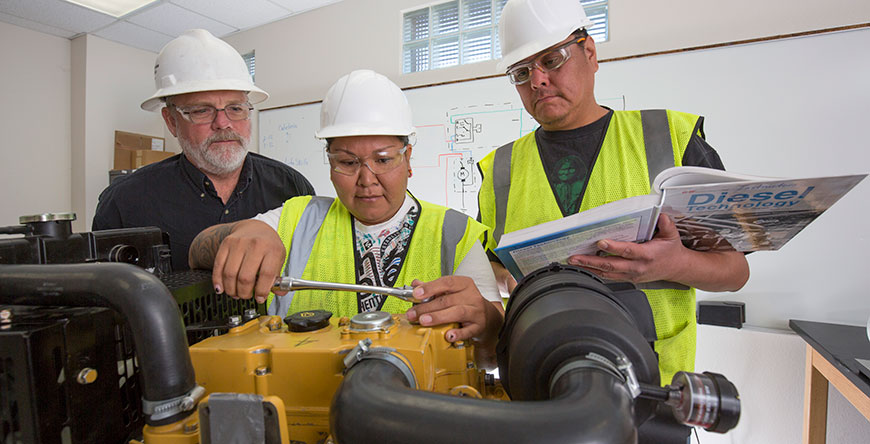 ​
Hiring talent from regions where we operate incorporates local cultures and knowledge into our business systems while supporting local economies. We maintain tailored training programs to facilitate this objective.
In Arizona, our training partnership program with the San Carlos Apache Tribe is designed to increase the skills and employability of Apache students with our company or within other industries. Training, which includes life skills coaching, ranges from heavy equipment operations and maintenance to electrical applications. Over 1,200 students have entered the program through 2018, and approximately 50 percent have graduated. We currently employ 420 Native Americans and/or Native Alaskans, an increase of 24 percent year over year.
At PT Freeport Indonesia (PTFI), located in the remote province of Papua, Indonesia, we prioritize hiring indigenous Papuans. Approximately 98 percent of PTFI employees are Indonesian, 41 percent of whom are indigenous Papuans (up 5 percent since 2016). We are progressing our Papuan Sustainable Human Capital Development program to increase opportunities for indigenous Papuans – particularly those from the seven neighboring tribes – to join our workforce. The program includes a three-week course to enhance life and work skills by teaching teamwork, behavioral safety and workplace compliance expectations. To date, approximately 200 Papuans completed the program and have been hired by contractor organizations to work throughout PTFI operations.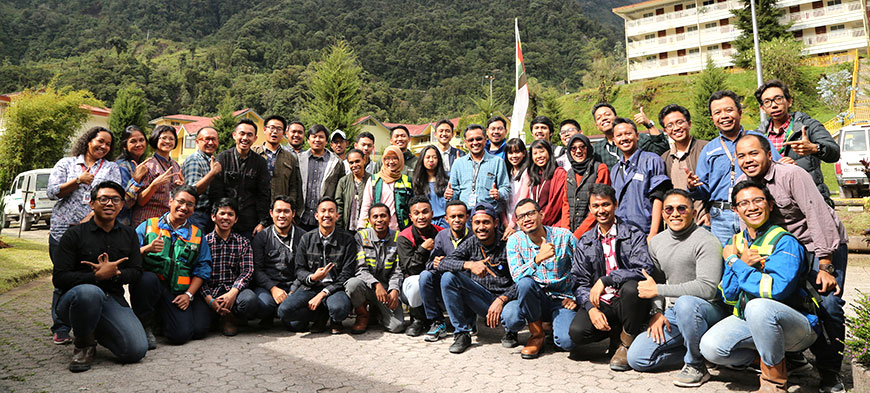 Our Nemangkawi Mining Institute (NMI) in Papua has placed over 2,700 apprentice graduates into full-time employee and contractor positions at PTFI, 90 percent of whom are indigenous to Papua. NMI continues to address skill sets needed for PTFI's underground mining operations.
PTFI has supported the continuing education of nearly 300 of its employees in recent years (including 118 Papuans), through a combination of scholarships and partnerships with exchange programs both in Indonesia and other countries. The PTFI internship program also has provided educational opportunities to nearly 600 interns (including 120 Papuans) since 2013.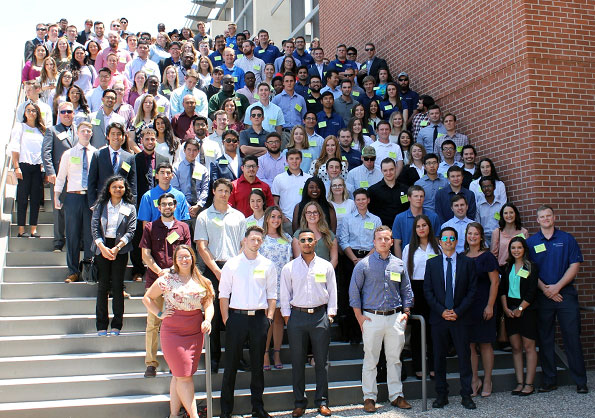 In addition to these training programs, our global Organizational Development Team facilitates organizational performance improvement utilizing varying tools and processes with our employees throughout their careers. For example, our Leadership Development Program includes courses aimed toward enhancing the skill sets of existing and future leaders in areas including communication methods, mentoring and time management.
Our internship program in North America is tailored to students and recent graduates and has been referred to as one of the top programs in the mining industry. By providing access to top minds and technology in mining today, our program equips students with the skills and experience needed for a successful career. Each summer, approximately 300 student interns learn about everything from Accounting to Mining Engineering. Successful internships often can result in return internship offers or regular full-time offers, based on business needs.
As part of the company's onboarding process, all employees participate in new hire orientation, which includes overarching training on our Principles of Business Conduct. New hires also receive safety, health and environmental training. Employees do not perform work until they receive the training necessary to enable safe performance of job tasks. New employees, as with all workforce members, are instructed and empowered to stop work if something seems unsafe in the workplace.
PHOTO DESCRIPTIONS: (top) Freeport-McMoRan's training partnership program with the San Carlos Apache Tribe in Arizona provides vocational skills and job opportunities to Native American men and women. Above, instructor Rick Opitz (left) leads Harvina Bendle and Anthony Gooday in a Heavy Equipment Maintenance lesson. (middle) One of Freeport-McMoRan's key long-term investments in human resources is supporting recent graduates with limited work experience. PTFI implements the Fresh Graduate Program for prospective employees from qualified universities to gain developmental instruction in their fields of study. Since 2014, PTFI has mobilized more than two hundred new graduates into the program. (bottom) Summer interns from across the company's North American operations gathered at the University of Arizona in Tucson for the annual Intern Conference held in August. The 287 summer interns hailed from 73 different colleges and universities.

We operate in regions of varying ethnic, religious and cultural backgrounds and are generally the largest employer in local communities. The diverse backgrounds, experiences and perspectives within our workforce are assets, and we promote the acceptance and inclusion of different perspectives and backgrounds. We prohibit discrimination and harassment, and our PBC and Human Rights Policy require that all employees treat everyone in and around our operations with dignity and respect.
We promote a positive and productive work environment where every employee is respected and valued. We do not tolerate any form of harassment or discrimination against individuals on the basis of race, color, sex, religion, national origin, disability, age, veteran's status or any other characteristic protected by applicable law.
It is our policy to make all employment decisions on the basis of the essential functions of a position and the qualifications of each individual for that position, and provide equal pay and benefit opportunities to persons with substantially similar skills, performance and job responsibilities. Such decisions are also based on facts and business needs rather than favoritism or bias.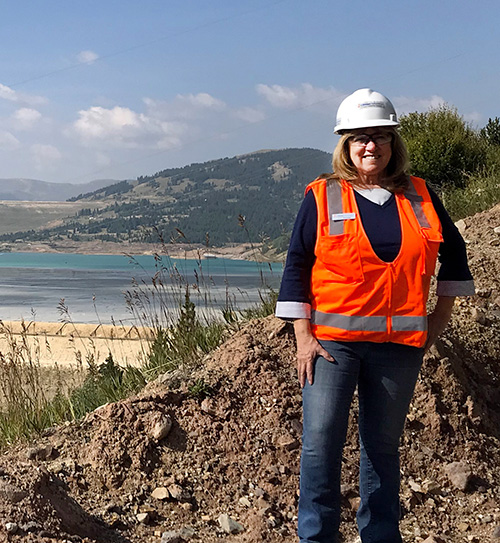 Seeking ways to recruit and foster career development for women in our company is important, as women historically have been underrepresented in the mining sector. Women serve in key management roles within our organization, including our Chief Financial Officer and two members of our Board, while approximately 330 women hold manager-level or higher positions. We continue to make progress toward our target of increasing women in our global workforce as well as in managerial roles to a minimum of 15 percent. The percentage of women in our company is about 13 percent globally (up from 11 percent one year prior) and varies across geographies, from a high of 18 percent in North America to a low of 7 percent in both South America and Indonesia.
We continue to make progress toward our target of increasing women in our global workforce as well as women in managerial roles to a minimum of 15 percent. The percentage of women in our employee base is approximately 13 percent globally (up from 11 percent in 2017) and varies across geographies, from a high of 18 percent in North America to a low of seven percent in South America and Indonesia.
In 2018, we used feedback from a survey of female employees in North America to determine the best interventions for raising internal awareness, increasing training opportunities, creating a more inclusive culture, improving female retention rate and giving women equal opportunities for career advancement. In 2019, we are launching a global initiative to further strengthen our focus on inclusion and diversity in the workplace.
At Freeport-McMoRan, we believe a workforce comprised of people with varying ideas, perspectives and life experiences makes us stronger. A key to our success is the ability to recruit, retain, develop and advance talented, qualified employees from diverse backgrounds.

PHOTO DESCRIPTIONS: (top) Chief Engineer Agnes Tiert prepares work programs for tailings levee construction and maintenance at PTFI. (bottom) Seeking ways to foster career development opportunities for women is a company-wide objective. Vicki Seppala held numerous engineering and supervisory roles at our operations in North and South America before becoming General Manager of the Climax Mine.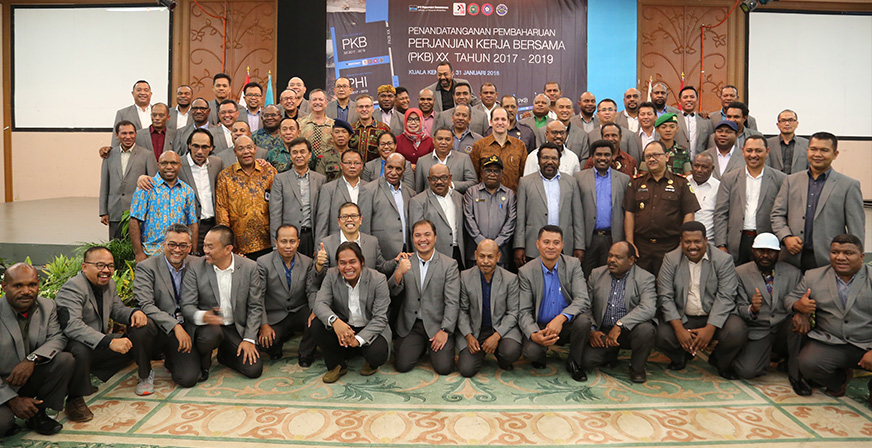 We respect the rights of our workers to freedom of association and collective bargaining and insure that workers' rights to join a union are maintained. We do not tolerate any form of harassment, discrimination or retaliation, including violent or threatening behavior, within our workforce, including against union or non-union members. This is reinforced in our mandatory Principles of Business Conduct training for all employees and the ability for anyone to report violations without retaliation through our global Compliance Line. We pay our workers in our core business a competitive wage, which is regularly reviewed and compared to the appropriate market and economy. Where applicable, the wages are negotiated through the collective bargaining process.
As of December 31, 2018, our workforce consisted of approximately 26,800 employees and 38,800 contractors. We work cooperatively with 15 unions in eight locations worldwide. Thirty-seven percent of our employee population is covered by collective bargaining agreements (CLA), with 21 percent of employees covered by agreements scheduled to expire in 2019. When we engage with unions to develop CLAs, facility accommodations are made onsite or in satellite offices for worker's representatives to assemble. Collective bargaining is conducted at locations of mutual agreement.
During 2018, a new CLA agreement was reached at Cerro Verde with no work stoppages and ahead of the legally regulated process. At Rotterdam, a CLA was also agreed on with no interruptions to operations and within the legally appointed time frame.
A revision to our Guiding Principles Handbook, which applies to the majority of our North America workforce, was completed in 2018. Focus groups were held with employees at all sites to understand challenges with associated policies and programs. Input from employees helped shape changes to the updated handbook.
Subject to certain statutory requirements, Freeport-McMoRan has retained the authority and freedom to suspend, limit, curtail or restructure its operations, as it deems appropriate, to respond to varying economic conditions. When such decisions are made, they are communicated to employees at the earliest appropriate time along with information on whose employment may be affected by the change in operations and the benefits that are available should reductions in employment occur. The company's established policies and collective bargaining agreements set forth the processes used for determining who may be affected by any reductions in workforce associated with such operational changes.
PHOTO DESCRIPTION: PTFI's CLA was renegotiated with two unions in a spirit of collaboration and without threat of operational interruptions. The agreement covers the period October 1, 2017 to September 30, 2019.