NEW MEXICO OPERATIONS HRIA
In 2018, we engaged Verisk Maplecroft to carry out a Human Rights Impact Assessment (HRIA) at our New Mexico operations in the U.S. (i.e. our Chino and Tyrone mines). As a first step, we completed a desktop assessment of the sites' potential human rights risks and impacts based on:
Verisk Maplecroft's proprietary Human Rights Risk Indices
Third-party sources, including the media and civil society
The sites' Sustainable Development (SD) Risk Registers, grievance mechanisms, health and safety reports, environmental reports, ICMM Assurance Report, 5-Year Community Engagement Plans, minutes from Freeport-McMoRan's Grant County Community Partnership Panel meetings, and minutes from Chino's Mining District public meetings, among other sources
HRIA Self-Assessment Questionnaires completed by managers at both corporate and site levels
This informed planning for and implementation of field interviews conducted by Verisk Maplecroft in September 2018. The scope of our site-level HRIA methodology is reflected in our dashboard of human rights topics relevant to our mining-related activities.
Fieldwork included extensive direct engagement with more than 150 stakeholders in and around our Chino and Tyrone mines in Grant County. This included a range of actually or potentially affected rights holders (both on an individual and collective basis) as well as those with insight into such rights holders. Engagement was focused on a living list of stakeholders that evolved throughout the engagement, due to stakeholder recommendations and the identification of new lines of inquiry.
Examples of stakeholder types engaged during fieldwork:
Stakeholder interviews were conducted in a range of locations, including:
Communities: Bayard, Hurley, Cliff, Hanover, Tyrone and Santa Clara
Company locations: Chino mine, Tyrone mine and our Community office in Silver City
Other locations: Including offices / facilities of institutional stakeholders and suppliers / contractors, and individual homes of Grant County residents
By phone: Subsequent calls with additional stakeholders following the fieldwork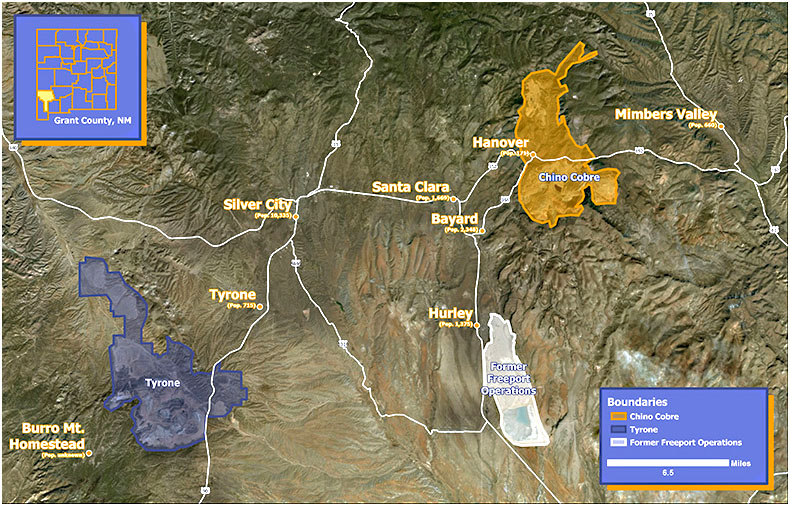 ​
Fieldwork for the New Mexico operations HRIA included extensive direct engagement with more than 150 stakeholders in and around our Chino and Tyrone mines in Grant County
Verisk Maplecroft consultants also attended the following meetings: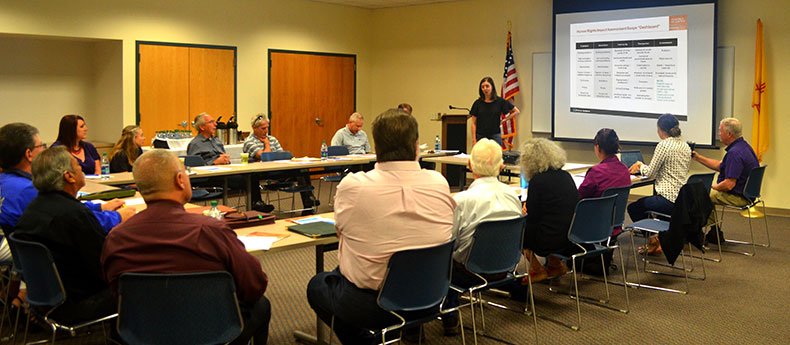 ​
The New Mexico operations HRIA project plan was shared at both meetings, and an invitation to participate in HRIA interviews was extended to participants (or others who attendees suggested). The Verisk Maplecroft consultants observed the company's engagement approach and heard community feedback, questions and concerns during the meetings. A Silver City-based NGO, Gila Resources Information Project (GRIP), also was invited to and did propose stakeholders for engagement.
Stakeholder interviews were conducted by two Verisk Maplecroft consultants in locations and in ways that would encourage transparent and constructive discussions. With the exception of managers at Chino and Tyrone, who offered their professional analysis of the operations human rights risks and impacts, interviewees were offered anonymity before engagement. The offer of anonymity was accepted in approximately 50 percent of cases. Acceptance was more prevalent amongst employees (approximately 60 percent) and suppliers / contractors (approximately 60 percent). In contrast, a minority of community members (approximately 35 percent) and third parties (approximately 25 percent) accepted anonymity.
As with our previous assessments, the New Mexico operations HRIA applied the "but for" test in relation to the identification of human rights impacts caused by, contributed to by or otherwise linked to Chino and Tyrone, their activities or their business partners. Alleged impacts were included in the assessment even if there was uncertainty regarding the supporting facts and / or the causative relationship to Chino or Tyrone.
The New Mexico operations HRIA included a parallel exercise to identify the degree to which Chino and Tyrone positively maintain and / or advance human rights within their areas of influence. While understanding that positive human rights impacts cannot offset negative impacts, this exercise provided a more comprehensive view of our overall human rights performance.
Many of the risks and impacts identified were relatively subtle, reflecting the nature of the U.S. operating environment (e.g. strong rule of law, institutions, civil society, etc.). Similarly, many risks and impacts identified in the assessment were ambiguous in terms of evidence and / or causation.
The adverse impacts, allegations and issues identified by the New Mexico operations HRIA included the following:
Employees:
A set of medium-severity health and safety impacts reflecting the risks typically associated with mining-related activities
A moderate number of gender-based discrimination allegations
A limited number of alleged breaches of confidentiality by Chino supervisors
Value Chain:
Medium-severity health and safety impacts reflecting the risks associated with activities carried out in the mining sector
Limited visibility of working conditions beyond Tier 1 suppliers
Community:
A relatively significant volume of moderate- and low- severity impacts relating to standards of living / quality of life, including those linked to noise, vibration, speeding vehicles, traffic, light pollution, impacts on views, etc.
Actual and / or alleged property damage as a result of blasting associated with the construction of the Chino-Cobre haul road
A small number of allegations related to impacts on property prices and debated valuations in the context of property purchases by Chino
Low- severity impacts on local heritage, including views of the "Kneeling Nun" rock formation and damage to a local church (as a result of the Chino-Cobre Haul Road-related blasting)
Environment:
Actual and / or alleged impacts on air quality, including dust and odors
Possible impacts related to 'legacy' contamination (notwithstanding the Whitewater Creek Administrative Order on Consent clean-up project addressing legacy pollution in the creek)
Alleged impacts regarding absolute water use in an arid area, plus a small number of alleged, localized impacts on local peoples' domestic wells
One of Chino's and Tyrone's most important risks ironically relates to its most important positive impact – its contribution to the local economy. When asked to identify negative impacts, the majority of stakeholders cited risks rather than actual negative impacts. In this context, the most commonly cited risk related to the potential economic impact of mine closure. Stakeholders often coupled their feedback with requests for greater company support towards local economic diversification to help prepare for a post-mining future.
In addition to the nature of the U.S. operating environment, the New Mexico operations HRIA also reflects the effective nature of Chino's and Tyrone's management systems and associated positive impacts. Along with their internal and external grievance mechanisms, examples include:
The application of OHSAS 18001 health and safety management systems (as well as a strong, well-recognized safety culture and dissemination of safe working practices beyond the workplace)
The maintenance of mature and well-used human resources mechanisms
Superior pay and benefits for employees compared to equivalent jobs in Grant County, making employment at Chino and Tyrone sought-after
A strong, well-recognized anti-discrimination culture (notwithstanding the gender discrimination allegations referenced above)
Active support for community development via social investments and employee volunteerism
Ongoing engagement with Native American groups in relation to local cultural and spiritual interests
An increasingly open approach to local-level public engagement, including the initiation of regular Mining District Public Meetings (in response to community feedback) with affected communities as well as engagement with critics
Application of our Principles of Business Conduct, covering a range of issues including diversity and inclusion, respecting human rights and anti-corruption. This includes relevant training, enforcement mechanisms and whistleblowing channels
The application of ISO 14001 environment management systems, including extensive water quality monitoring around the mines' hydrological sinks and a strong regulatory compliance record
Chino's and Tyrone's management systems have proven effective in recording the significant majority of impacts identified during the HRIA. These were supplemented by a range of actual or possible impacts that have not necessarily been captured in these systems, as well as those impacts that have not been recognized as such due to their ongoing, debatable or 'contributory' nature or because they are seen as too 'indirect'.
The New Mexico operations HRIA provided useful insight into broader human rights dynamics and stakeholder perceptions. This included a desire for more information on emissions to water and air. Some stakeholders believe that Chino is negatively impacting local groundwater quality and availability as well as emitting toxic substances into local air, which they speculate could undermine their health. This is despite local hydrological studies showing otherwise, Chino's compliance with all relevant environmental regulations and its use of air quality modelling, in accordance with relevant regulatory requirements. This suggests an opportunity for enhanced, evidence-based communication to a broader audience to help address a perceived information vacuum and to provide community members with evidence of assurance around environmental management.
In support of our Global Grievance Review Project, additional questions were integrated into interviews to generate insight into stakeholders' knowledge of, and trust in, Chino and Tyrone's grievance mechanisms for employees, community members, and those in the supply chain – as well as how they think these might be improved. Employees tended to have a higher degree of trust in corporate-level grievance processes and human resource management approaches than they had in front-line supervisors. Community members tended to rely on personal contacts in case of questions or concerns, with a high-level of reliance on trusted individuals in our Community Development team. A small number of individuals also relied on a local NGO as an alternative channel for their complaints. Within the supply chain, onsite contractors were more likely to be aware of existing grievance mechanisms at the mines, with a primary focus on safety. Outside of this, suppliers and contractors had more limited levels of awareness.
The Chino and Tyrone teams are reviewing the results of the New Mexico operations HRIA to develop action plans to address priority risks and impacts. Due to the uncertainty of the supporting facts behind certain allegations and/or the causative relationship to Chino and Tyrone, further investigation is required in many instances. Action plans will be embedded within Chino and Tyrone's SD Risk Register Process to monitor progress and support the continuous improvement of their existing systems and processes. Where necessary, these will establish new measures to investigate, prevent, mitigate and/or remedy identified human rights risks and impacts.
We have committed to reporting key findings and next steps to local stakeholders via existing engagement mechanisms.
As with previous HRIAs, lessons learned from the New Mexico operations HRIA will further shape our global human rights strategy, as well as future site-level HRIAs.
PHOTO DESCRIPTION: Megan Kuefler, Manager-Business and Human Rights, presents the New Mexico operations Human Rights Impact Assessment project plan at a Grant County Community Partnership Panel meeting.

BACK TO HUMAN RIGHTS DUE DILIGENCE> Site-level HRIA Methodology | Cerro Verde Operations HRIA | NEW MEXICO OPERATIONS HRIA