Freeport-McMoRan is committed to the highest level of ethical and legal conduct in all of our business activities. Acting ethically involves more than simply complying with laws and regulations. It involves recognition that our decisions affect others. By keeping this in mind, we aspire to earn the respect, trust and confidence of our stakeholders.
Please refer to the Policies & Practices and Corporate Governance sections for additional information.
Freeport-McMoRan maintains zero tolerance for corruption of any kind, and we expect the same from our employees, contractors and suppliers. Freeport-McMoRan does not obtain a business advantage through bribery, improper payments, kickbacks or any other illegal means. No employee or contractor may offer, pay, solicit or accept bribes in any form or under any circumstance, including facilitation payments. In addition, payments to government officials are forbidden.
Our Anti-Corruption Policy and Guidelines require compliance with the United States Foreign Corrupt Practices Act (FCPA) and other applicable laws of the countries and jurisdictions where we operate. We recognize that any violation of the FCPA or other anti-corruption laws of jurisdictions where we operate could result in significant criminal or civil fines and penalties, litigation and loss of operating licenses or permits, as well as significant reputational risk.
In addition to our annual PBC training, we provide mandatory annual anti-corruption training for specific groups of employees using a risk-based approach. For example, senior-level employees who may interact with government officials are required to complete the training. The online training course supplements our classroom training programs to extend the reach of our overall compliance efforts.
In recognition of the potential legal and reputational liability that could result from actions of our business partners and contractors under the FCPA and other laws, the company implements an online due diligence platform, the Freeport Compliance eXchange (FCeX). FCeX is a survey-based software platform designed to assess risk in the areas of anti-corruption, international trade and human rights. FCeX has enhanced our ability to identify, assess and mitigate compliance risks.
Annually, we perform company-wide audits with the assistance of our internal audit firm, Deloitte, to assess risk and plan for the following year's audit strategy. Formal fraud risk assessments have been implemented at Atlantic Copper, El Abra, Cerro Verde, PT-FI and our corporate offices and mapped with business controls, which are tested and reviewed annually.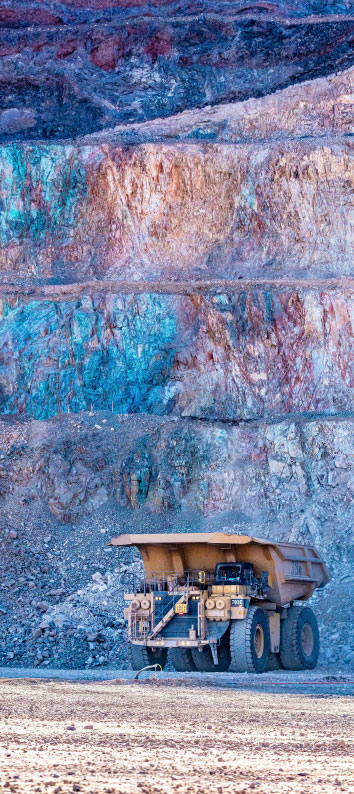 Freeport-McMoRan is committed to the highest level of ethical and legal conduct regarding its political activity and spending practices, and to rigorous compliance with applicable laws and regulations.
We recognize that public policy decisions can significantly affect our operations, future business opportunities, employees, shareholders and the communities where we operate. For this reason, we exercise our right and responsibility to participate in public policy matters by following public matters that are important to us and interacting, where appropriate, with elected and appointed government officials, regulators and their staff.
We are a member of various trade associations and other organizations that provide information and assistance with policy issues of concern to the company. When we fund a trade association, we do so because we believe the association generally represents our best interests, although importantly, we may not support an association's position on every issue.
In addition to operating in the United States, we have significant operations in Chile, Indonesia, Peru and Spain. We work cooperatively with local, regional and national governments wherever we have operations. From time to time, issues may arise in these jurisdictions that affect our operations. With concurrence from senior management, we may engage in dialogue with government officials on issues that affect our business goals and objectives, and the jobs that are thereby created. We only engage in non-partisan political activity and spending outside of the United States as permitted by, and in strict compliance with, applicable laws and regulations, including the FCPA.
The company's political activity and spending practices are overseen and approved by senior management. Annually, the Board's CRC reviews our political activity and spending practices. Our political spending also is subject to legal review and external audit.
Our practice is to make information concerning all political contributions available to our stakeholders annually by posting our political contributions.
Freeport-McMoRan operations contribute significantly to national, regional and local development through payments to host governments via taxes, royalties and other financial obligations. Increased transparency of natural resource revenues and payments promotes better governance and accountability regarding the distribution of natural resource revenues.
The Extractive Industries Transparency Initiative (EITI) is a global standard to promote transparent and accountable management of natural resources. Freeport-McMoRan has endorsed and committed to support the EITI since 2008. This support includes direct financial contributions from the company as well as contributions through the ICMM of which we are a founding member. Freeport-McMoRan maintains significant mining operations in Indonesia and Peru, both of which are EITI-implementing countries, and we actively support and participate in associated in-country processes.
In addition to our country-level EITI commitments and regulatory reporting obligations, our practice is to voluntarily report cash payments to governments in all jurisdictions where we conduct business, as presented in the table below.
Click here for a reconciliation of payments to governments presented in the 2019 Key Economic Contributions by Operating Region table and 2019 Cash Payments to Governments tables.
Over 70% of the world's copper is used in applications that deliver electricity. This makes copper a crucial contributor to the energy transition and a decarbonized world. As the energy transition continues, copper use is expected to increase in electric vehicles and their charging stations, renewable energy technologies such as solar and wind, as well as the necessary connections for these technologies to grids. The increased copper demand should not come at a cost to sustainability. As one of the world's largest copper producers, we understand that we play a critical role in this transition and we work hard to responsibly deliver our copper to customers and markets around the world. We do this in three key ways: (1) through our own responsible sourcing efforts, working to identify and mitigate risks in our supply chains; (2) managing the risks of our products and by-products in use by ensuring these risks are well understood and managed; and (3) working to better understand the full life cycle impacts of our products along the value chain.
RESPONSIBLE SOURCING OF MINERALS & METALS
In 2019, we adopted and published our new Responsible Sourcing of Minerals Policy, which commits the business to identifying and mitigating human rights violations in our supply chains of minerals and metals used in our downstream processing facilities. The policy describes how we implement the Organization of Economic Co-operation and Development (OECD) Guidelines on Mineral Supply Chains in Conflict Affected and High Risk Areas in our supply chain of minerals and metals. It is critical to address the requirements of the new London Metals Exchange Policy on Responsible Sourcing, where we trade several of our products. It is also a requirement of both the ICMM Mining Principles and the Copper Mark. While we had previously implemented a similar policy at our Kokkola cobalt refinery in Finland, in 2019, we began extending this focus to the rest of the business with a first priority on our two copper smelters where we buy concentrates and other mineral bearing materials.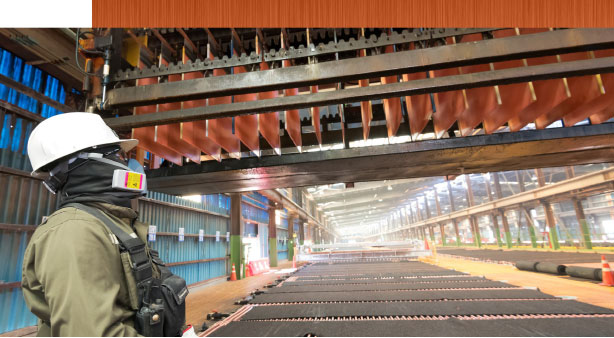 To do this we assess our incoming metal and mineral supply chains to identify potential "flags" with regard to what are defined as Annex II risks – such as bribery and corruption, trafficking, and child or forced labor – by the OECD Guidelines. We then go through a risk-based due diligence process to help us better understand these "flags." These results then are reviewed by the applicable internal committee and appropriate actions are taken. Actions can include working together with the supplier to identify and implement an action plan, termination, and general collaboration to build capacity. In 2019, one supplier was eliminated from our supply chain, and due diligence was initiated for several more.
In 2020, we will begin implementing the program in the molybdenum business and will strengthen training globally to help improve our management system. For a complete report on these activities, please visit the Reports and Documents section.
RESPONSIBLE SOURCING OF GOODS & SERVICES
Our Supplier Code of Conduct and compliance screening processes are the foundation of our responsible sourcing program for goods and services. This is a significant task, as it equates to over 20,000 suppliers that provide a wide breadth of goods and services – from small catering businesses in remote locations to large multi-nationals that produce heavy machinery. In 2019, we continued strengthening this approach by developing a more advanced risk and data-based responsible sourcing framework.
Our work on this framework in 2019 focused on updating our screening systems for identifying risks across suppliers. This included working to update supplier questionnaires used in our FCeX process as well as subscribing to country-level risk indices. It also included selecting a new enterprise software that supports the new Responsible Sourcing framework.
In 2020, we will be implementing this system along with the updated screening process to: (1) enable efficient risk assessment, which includes identification and management of risk; (2) track progress against any required action plans; and (3) support collaboration with our suppliers. As we continue to implement this Responsible Sourcing framework in 2020, we also will focus on improving visibility of local spend and increasing opportunities for local suppliers where feasible.
HOLISTIC ASSESSMENT OF OUR VALUE CHAINS
In 2019, we continued our work to update our Life Cycle Assessments (LCA) of cobalt and molybdenum. LCAs enable us to contribute meaningfully to the global dialogue on the circular economy and the energy transition by providing comprehensive data on the environmental aspects or our products to stakeholders, such as industry associations or customers. This data supports industry associations in their development of industry averages, which are useful for larger studies conducted by regulators and researchers that capture the use of our products in downstream applications such as power cables and automobiles. The data is also useful to customers who are evaluating sourcing options. Internally, LCAs help us better understand the positive and negative impacts of changes in technologies and mine plans on environmental issues such as climate change and local air pollution. Over the next two years, we will utilize these studies to assist in more advanced climate change assessments.
Among other reporting mechanisms, Freeport-McMoRan maintains a Compliance Line to provide guidance and assistance to workforce members with any questions or concerns related to our PBC, policies or procedures. To encourage our workforce to report potential violations of business conduct, our Compliance Line enables anonymous reporting. The Compliance Line also is available to suppliers (including contractors) through our Supplier Code of Conduct. During 2019, 285 reports were made through the Freeport-McMoRan Compliance Line relating to various topics, including employee workplace conduct, environment, health and safety, protecting company assets, and conflicts of interest. All reports are investigated and, if substantiated, the appropriate disciplinary action is taken, up to and including termination of employment.
During 2019, 285 reports were made through the Freeport-McMoRan Compliance Line relating to various topics, including employee workplace conduct, environment, health and safety, protecting company assets, and conflicts of interest. All reports are investigated and, if substantiated, the appropriate disciplinary action is taken, up to and including termination of employment.